A recent PricewaterhouseCoopers (PwC) report on media diversity and a raft of other initiatives show corporate and quasi-government cultural agencies may suddenly have woken up to the fact that Australia's media are, well, white.
It is a generation on from revelations about the lack of diversity in the Australian media at the dawn of the digital era. But what is pushing this concern now? And what's changed since then?
There's diversity, and then there's diversity
The Turnbull government has proposed rejigging the diversity of media ownership rules. These are mainly aimed at liberating the Murdoch media from the last sliver of public interest constraints.
Meanwhile, the big end of town has discovered the media have scarcely any cultural diversity in either producers or content. Even Mark Scott remarked on this phenomenon when leaving the ABC.
Attention has turned over the past year to how to "fix" the problem. This is partly triggered by the unexpected appointment of Michelle Guthrie to head the ABC (she is both part-Asian and a woman), partly by Muslim TV presenter Waleed Aly winning the Gold Logie, and partly by the rising hubbub among "multiculturals" about racism, thwarted opportunities and boringly bland media.
Ongoing initiatives include:
What do the facts show?
The statistics paint a monochromatic picture. The PwC report indicated a staggering 82.7% of the Australian media workforce is monolingual, speaking only English at home, and that a lack of diversity is stunting the industry's growth and future.
A monocultural media workforce is a problem across all areas of the entertainment industry. But, radio broadcasting is particularly bleak. Of the nation's on-air talent, 75% are male, Caucasian and over 35.
Behind these statistics are systemic problems like unconscious bias and similarity attraction in the recruitment of employees. Yet studies have shown embracing diversity is good for business in what are uncertain and digitally disruptive times for the media and entertainment industry.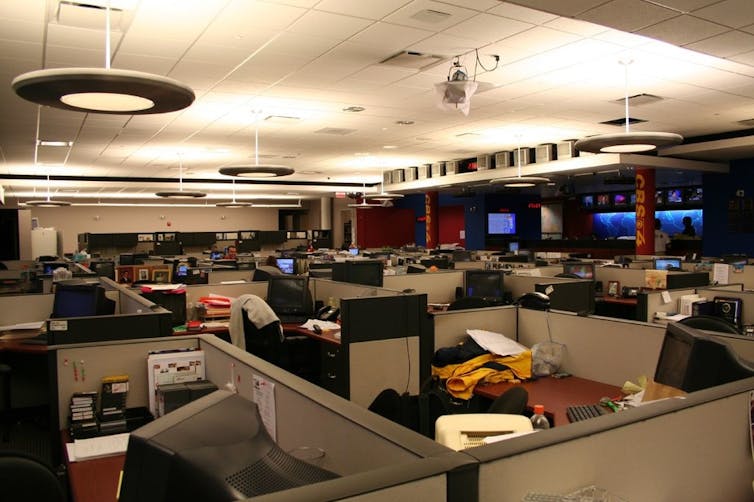 Where were we a generation ago?
A ground-breaking 1994 book, Racism, Ethnicity and the Media, discovered many anomalies in the media representation of minority communities and indigenous peoples in Australia.
For many Australians of indigenous, diverse and indeed Anglo heritage, the nation represented on media outlets was not one they felt a part of.
In an eerie foreshadowing of the current results, most decision-makers in media organisations then were nearly all men aged over 40 and of Anglo heritage.
The book concluded that, as ethnicity and racial differences were likely to become increasingly important, equitable access to communication was crucial to ensure a socially just society. It argued:
Unless those practitioners are consciously and actively provoked to change, they will reproduce themselves and their world views endlessly.
Resistance to such changes inevitably would come from media bosses and owners.
Whose Australian stories are told?
In 2016 the ABC's Australian Story celebrated its 20th year on air with a two-part retrospective special. This particular program showcased overwhelmingly white Australian stories.
There have been double episodes on iconic Australians like Kerry Packer. There have also been stories about white Australians rescuing, helping and saving non-whites. But even on this flagship, high-rating, highly awarded program, things have had to change.
When Scott finished his ten-year tenure as the ABC's managing director earlier this year, his biggest regret was that he employed "too many Anglos". Yet under his watch and with his full knowledge, the percentage of content-makers of non-Anglo background hired had declined during his last year at the helm from 8.2% to 7.4%.
In 2015, and under the stewardship of new executive producer Deborah Masters, Australian Story began to broadcast interviews with subtitles.
It had always been believed that a program with high production values and a voiceless script could not work with foreign-language interviews and subtitles; that it would detract from the storytelling by forcing the audience to read. Well, it does – and it worked.
The Australian Story on Socceroos coach Ange Postecoglou included an interview with his Greek-speaking mother – and the ratings did not collapse. Perhaps this has given the program some new impetus to normalise the way it depicts subjects who are not Anglo-Australians.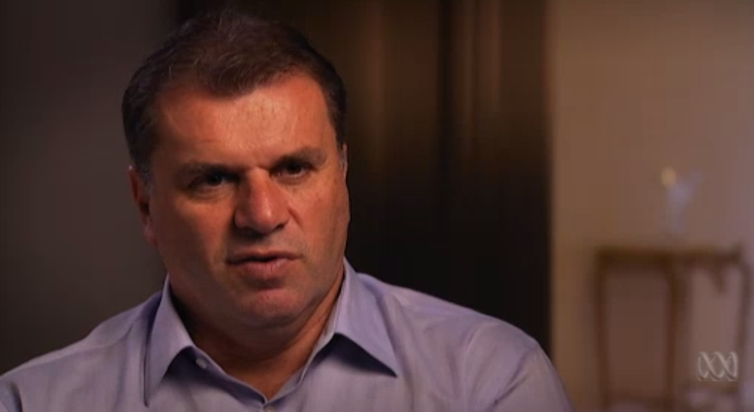 Who makes the news?
The culture of the journalist plays a role in the selection of news, particularly the lens through which a news story is reported.
Journalists with diverse ethnic backgrounds could provide nuanced insights, views and perspectives beyond the white-only narrative of events within Australian media organisations.
A study on the ethnicity of journalists working in Australia found 55.9% of journalists identified as being "purely Anglo-Saxon"; an additional 17.4% were "partly Anglo-Saxon"; and another 4.8% considered themselves "Australian".
This means 73.3% of Australian journalists surveyed had some Anglo-Saxon background – a percentage the study says is not that different from 20 years ago.
Is advertising becoming more responsive and adventurous?
At least one space in national media has appeared remarkably open to cultural diversity: advertising. This is both deeply ironic and glaringly logical.
In their calculated and cautious pursuit of market share, advertisers dare not alienate potential consumers. Yet, in a multicultural context, potential consumers are culturally diverse – and therein sits the proverbial carrot.
That said, big brands court both reward and risk when they engage representations of cultural diversity. When Medibank Private reworked its "I am Better" tagline into an array of ethnicities, sexualities, lifestyles and religions, mainstream accolades ensued.
These expressions of difference matter. While there can be commercial gain in showcasing diversity, there are still stubborn pockets of xenophobic resistance, which draw from, and thus strengthen, dominant cultural anxieties.
It's all Chinese …
The rapid spread of Chinese-language media has transformed the political and cultural environment for Chinese communities in Australia.
In the past few years, mainland Chinese media have been adopted into local press, such as the China Daily in Fairfax newspapers.
Uncontrolled digital media such as Weibo and Wechat have inundated the communication worlds of contemporary Chinese, placing them in a contemporaneous zone of intense immediacy. Essentially, this has allowed the Mandarin-speaking population to get their news from Beijing or Guangzhou, and allows them to be protected from Australian media perspectives.
During the 2016 Australian election, anti-gay activists in the Mandarin-speaking cyber-world activated support for the Christian Democratic Party, doubling its vote in some seats and returning preferences to the government (helping secure its re-election). Without this activity the vote could have resulted in a hung parliament.
The possibility that Chinese Australians will become more alienated, and other Australians more prejudiced against them and China, is increased by mainstream media channelling anti-Asian hostility.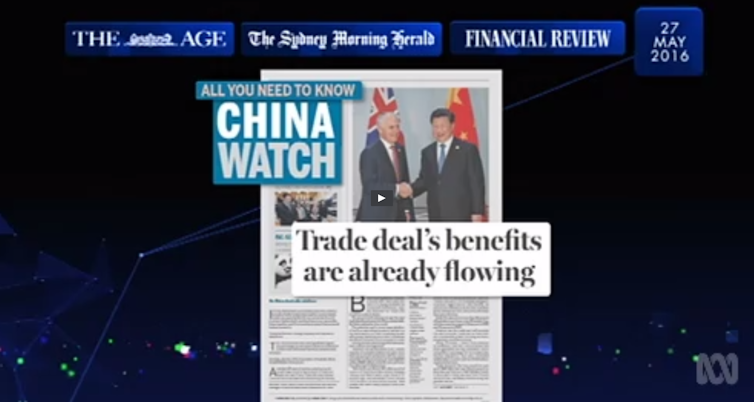 Digital transformations
Digital companies are swamping mainstream Australian media with a mix of serious news and entertaintment. Huffington Post, Buzzfeed and Mashable are redefining news and its consumption.
Nearly one in five Australians source their news exclusively from digital social media. This is higher than in the European Union (10%) and the US (14%).
Such digital outlets carry a major push for diversity. Their global sensibilities alert them to the critical importance of reaching every pocket of possible audience.
Of the three sites mentioned above, Buzzfeed is the only one that discloses the statistics on its diversity numbers. They are now pretty close to The Washington Post's levels.
Media diversity is becoming an essential business strategy in the US, a country that will be majority non-white by 2044. The Australian subsidiaries now have the opportunity to lead the way here.
Do we wait for another generation?
So while the government is focused on one sort of diversity – profiting from the media and who gets to do it – multicultural Australia faces another dimension of limited diversity.
PwC made what would appear to be a call to business to focus its energies on growing the diversity dividend:
Similar to the world we see depicted by media, entertainment and media businesses do not reflect an Australia that's becoming more diverse by the day … Studies have shown diversity improves business outcomes. To move the dial in the entertainment and media industry greater focus needs to be placed on tackling unconscious bias and similarity attraction in recruitment.
The arguments from economic self-interest may strengthen the wider impetus for government and industry. But it is actually the arguments from social cohesion that are far more important.
A society that cannot look itself in the face is unlikely to be able to ensure that its complexity can be drawn on to build a more creative, integrated and resourceful population and a more civil society at a time of rising racism and xenophobia.