It is sometimes said that sport ought to be separate from politics, or that politics should be removed from sport. These sentiments are well meaning – if idealistic.
Sport is variously part of government policy, international relations, commercial interests, integrity issues, gender dynamics, and so on. Sport has never been, and never will be, a cocoon within which wider societal issues are unrelated.
All that said, there is robust debate about the nature and extent of political influence in sport, and the contributions of sport to social and political issues.
Athlete voices
The role of athletes is intriguing: as representatives of a sport or even a nation, they have substantial public profiles.
Athletes are well-known for on-field exploits, though much less so in terms of their off-field persona, about which the public rarely hears – unless media draws attention to an indiscretion.
The off-field contributions of many athletes, such as by contributing to charities or virtuous social causes, are rarely the subject of media discussion. There is, nonetheless, much more public interest should an athlete present a dissenting perspective in respect of a sociopolitical issue via sport.
Negative refrains typically include: athletes should "stick to sport"; that they are "using sport" to advance a political agenda; and (like other celebrities) they are not credible advocates because they live in an elitist "bubble".
Perspectives past and present
Timing and context are crucial. In 1968, the Black Power salute at the Mexico City Olympics was widely reviled in the US. During the 21st century that protest has, for the most part, been acclaimed as courageous.
In 1964, Cassius Clay converted to Islam and changed his name to Muhammad Ali. In 1966, when drafted to serve in Vietnam, Ali was a conscientious objector – speaking openly against the war. Taken together, these decisions made Ali:
… a national pariah — perhaps the most hated man in the country.
Today, by contrast, Ali is very fondly remembered and widely admired for sticking to his principles and demonstrating leadership for minority causes.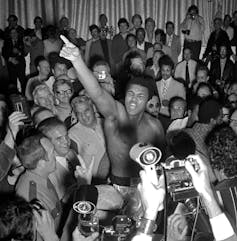 In Australia, sport has also been a forum for robust debate about sociopolitical issues. In 1994, Cathy Freeman – both Australian and Aboriginal – carried the flags of those groups during a victory lap at the Commonwealth Games. To some non-Indigenous critics, this suggested that Freeman was less than patriotic – to them there was only one flag, not two.
Fast forward to the Sydney 2000 Olympics: Freeman was anointed to light the cauldron at an opening ceremony, where the symbolism of reconciliation for all Australians was manifest.
Freeman handled the pressure of the spotlight, going on to win gold in the 400m track event. She again carried the two ensigns entwined during a victory lap, despite the Aboriginal flag not being recognised by either the Australian or International Olympic committees. This time the officials looked the other way and there was no public hullabaloo.
Geopolitics
The Beijing 2008 Olympics played out amid a backdrop of international debate about the sovereign status of Tibet, which China was now claiming as its own territory.
In the lead-up to the Olympics, several athletes took a vocal public position against the colonisation of Tibet. Among them was Australian cyclist Cadel Evans. His personal website sold "Free Tibet" t-shirts, and he promoted the cause during the famous Tour de France.
At Beijing, Evans complied with the International Olympic Committee expectation that athletes do not engage in political matters, but once his commitment was over Evans flew to Switzerland to meet with the exiled Tibetan Olympic team.
The annexation of Tibet by China is now complete. Its spiritual leader, the Dalai Lama, remains in exile, and is derided as a "terrorist". From a sport perspective, athletes from Tibet no longer represent that country. Tibetans are now Chinese.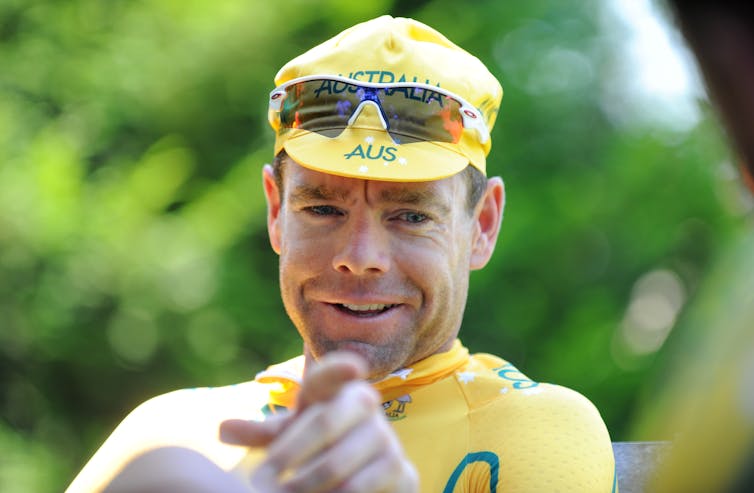 Change agents
How sports respond to an athlete's sociopolitical sensibility is key.
In 2012, when amateur AFL player Jason Ball became the first footballer to come out as gay, he was roundly supported by teammates – and, after a concerted effort, won the support of leading professional players in a campaign to welcome LGBTI athletes to sport.
The AFL endorses an annual "Pride Game" between Sydney and St Kilda, replete with goal umpires waving rainbow flags.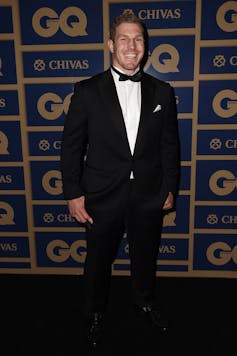 Ball was given vocal support by Australian rugby player David Pocock, who said he and his female partner would not marry until their gay friends could do so. He was alluding to same-sex marriage not being legal in Australia.
One year later the marriage legislation had not changed, but the ARU was persuaded – in part because of Pocock's advocacy – to produce an "inclusion" policy for rugby that focused on education against homophobia.
Athlete protest: risk-reward
How, why and when athletes take a stand on sociopolitical issues is a question of timing, context, purpose and strategy.
Sometimes, as with NFL star Colin Kaepernick, who has declined to stand for the national anthem because of what he sees as systemic racism in American society, there is substantial public backlash – even if his 49ers teammates are not affronted by his actions.
When NFL ratings fell this season, some suggested that Kaepernick's politicising of the game had prompted disaffection. Only time will tell whether a kneeling protest will eventually be viewed more sympathetically: John Carlos and Tommie Smith, the villains-turned-heroes of the Black Power salute, hope so.
---
This is the first piece in a short series of articles on equality in, and access to, sport. Catch up on the others here.