With the NSW government rushing to approve a new casino in Sydney, the prospect of more casinos in Brisbane and the Gold Coast, and a planned expansion of Adelaide casino, a new wave of gambling proliferation seems imminent.
The prospect of more and larger casinos is worrying because when it comes to gambling-related harm, venue size really does matter. Bigger venues such as large clubs and casinos are more dangerous than their smaller counterparts – other clubs and pubs.
This was a key finding from our comprehensive 2010 survey of gambling behaviour in the urban centres of the Northern Territory (NT). This finding is important because gambling researchers have often thought the opposite, namely that smaller gambling venues are the most dangerous. For example, in 2009 the Productivity Commission summarised what little evidence was available at that time, which suggested that the highest risk venues were pubs and clubs rather than casinos. In a similar vein, an exploratory study using a convenience sample in New Zealand found that playing the pokies was a stronger predictor of problem gambling in pubs and clubs than in casinos, after controlling for demographic factors and gambling activities.
The evidence though was meagre, and the argument of small is dangerous was more one of convenience than science. Smaller venues, so the argument went, are more widely dispersed and therefore more spatially accessible to compulsive gamblers. They also have fewer resources for staff training and less opportunity to monitor the well-being of their patrons. We know, for example, that that smaller clubs and pubs are less able to implement responsible gambling measures.
It is not surprising that the proposition that smaller venues are more risky has been vigorously promoted by big players in the gambling industry. The national casino lobby group has repeatedly argued that so-called "destination-style gambling" at large venues like casinos is less dangerous than gambling in smaller, local venues:
Casinos are destination gaming venues. Destination venues involve a premeditated decision to travel to the venue, often over a significant distance. Convenience venues on the other hand provide facilities a consumer may encounter during their daily activities, leading to an impulse decision to gamble.
Our research project, funded by the Australian Research Council, set out to test this proposition. We sent a questionnaire to every household in the NT to which Australia Post would deliver mail asking people which pokie venue they visit most frequently as well as the standard set of questions used to measure problem gambling in Australia. We received over 7,000 responses from Darwin, Alice Springs and Katherine. For purposes of analysis, we clustered the venues in our study into six groups: casinos; inner city nightclubs; bars near supermarkets; small bars in dispersed locations; large clubs near supermarkets; and small clubs in dispersed locations. We asked people to specifically report on the venue they visited the most frequently.
Our findings debunked the myth that larger venues are safer (see the table below). In particular, 6.7% of all casino visitors were problem gamblers. The proportion increased further to 15.5% if gamblers considered 'at moderate risk' were included.
In sharp contrast, patrons to inner-city nightclubs had the lowest level of problem gambling, at just 1.4%. The clubs and pubs located next to supermarkets fell somewhere in between, with 3.6% and 3.8% of visitors reporting problem gambling. Pubs and clubs in less central locations were associated with lower levels of harm, although not as low as nightclubs.

Our results show that while larger venues are most closely associated with problem gambling, the argument that conveniently-located venues are dangerous also contains a kernel of truth. In our survey, clubs and bars situated in highly accessible locations near to supermarkets were associated with a greater level of harm than those sited further out of the way.
This does not mean, however, that smaller venues are more dangerous. It means that gambling harm is related to both size and accessibility. Overall, the larger venues are the more dangerous. Casinos were clearly the most dangerous of all venues in our study.
No doubt the poker-machine lobby will argue that our study should be ignored since it is the first of its kind and reports only on gambling in the admittedly unique geographic circumstances of the NT. We agree that our study should be repeated in large urban settings but expect our findings will be replicated in other contexts.
Two pieces of evidence suggest that our findings are not limited to the NT. First, in Victoria, where the government makes player loss data for pokies available at the venue level, gamblers lose more money per machine in bigger venues (see graph below, where the blue line represents the average annual earnings per poker machine ).
Second, research conducted in 2002 by David Marshall found that residents of Richmond-Tweed who gambled at large venues spent more time gambling on poker machines than those at smaller venues. While gambling harm is not directly measured in either of these cases, they strongly suggest that the relationship between venue size and gambling harm exists beyond the NT.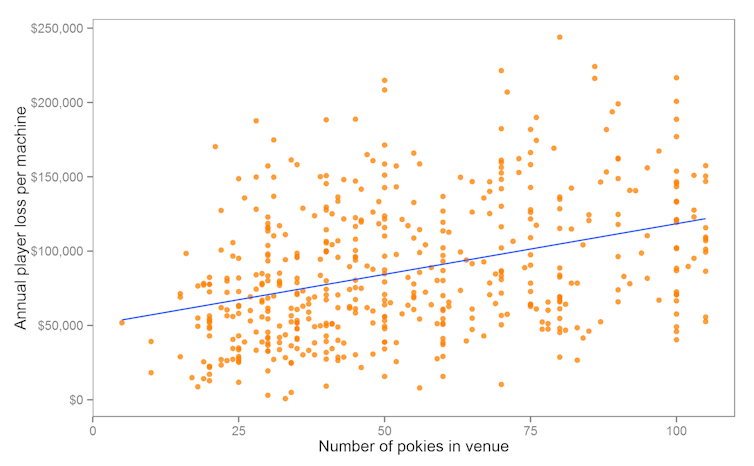 This raises the question of what makes larger venues so risky? Larger venues can provide more enticing gambling offerings. Not only can they provide more pokies, they can also provide a greater range of machines and more features such as linked jackpots. These initiatives attract gamblers as demonstrated in research by the Centre for Gambling Education and Research, Southern Cross University, which identified service, security, range of pokies, membership costs, social mix, linked jackpots, and specific 'bonus features' as significant gambling attractors. Moreover, Professor Matthew Rockloff, at Central Queensland University, has conducted research that shows that gamblers are influenced by social effects – simply put, people tend to gamble more when a lot of others are doing the same.
Government and regulators need to be aware that gambling in larger venues is more dangerous, and take steps to limit, not increase, venue size. Our survey suggests that regulators should take steps to reduce the level of gambling harm within casinos as a matter of urgency nationwide.
Read the full Northern Territory study here.