Some of the most enthralling events at the Winter Olympics in Pyeongchang will involve snowboarders and freeskiiers. Athletes will compete in spectacular events such as Slopestyle, Big Air and Boarder-X and Ski-X events.
In Slopestyle, athletes navigate down a course with obstacles in which they perform jumps, spins and grinds. Big Air is the extreme version, involving a super-ramp propelling the snowboarders and freeskiiers in the air to perform their tricks. And in both Boarder- and Ski-cross, four athletes simultaneously race down a feature-laden course in an attempt to cross the finish line first.
Relatively new to the Games, these sports are part of the Olympics' push to win a wider audience. For some time, there has been increasing concern that the Olympic Games has lost some appeal for audiences. A recent study showed that the median age of Olympic Games viewers is around 55 years. In response to these concerns, the International Olympic Committee has taken various actions, such aiming for parity of gender representation.
Probably the most notable change has been the inclusion of "action sports" to the Olympic program. Action sports are activities like BMX, skateboarding, surfing, climbing and snowboarding that come with an element of risk and are particularly popular among the younger generations.
These are different to other sports in that many action sport stars have become elite without traditional training and coaching programs. Instead, athletes have honed their skills and tricks on their own and through their peers, with the help of social media. While these sports are becoming increasingly professionalised, it is this innovation that is the key to their success - and what makes them so exciting to watch.
Freedom to create
Many people have been involved in swimming, cricket, football, or tennis training through school or through clubs. But it is difficult to think of someone going to snowboard training after school, and it's hard to imagine a coach teaching someone how to do a backside triple cork.
There are a number of reasons for this. First of all, action sports such as snowboarding and freeskiing have only risen in popularity since the late 1960s.
The participants of action sports have also tended to hold a unique anti-establishment attitude that flies in the face of sports institutions. Most action athletes developed their skills independent of traditional sporting structures. Without rules or boundaries to these activities, creativity was given free reign. As a result, action sportspeople and their sports have developed at rapid speeds, and have now gone Olympic.
Thanks to their sports' inclusion in the Olympics, snowboarders and freeskiiers now have access to regular coaching and training opportunities to prepare them for competitions such as the X Games and World Championships, advancing their professional careers. But often their skills have been honed among their peers.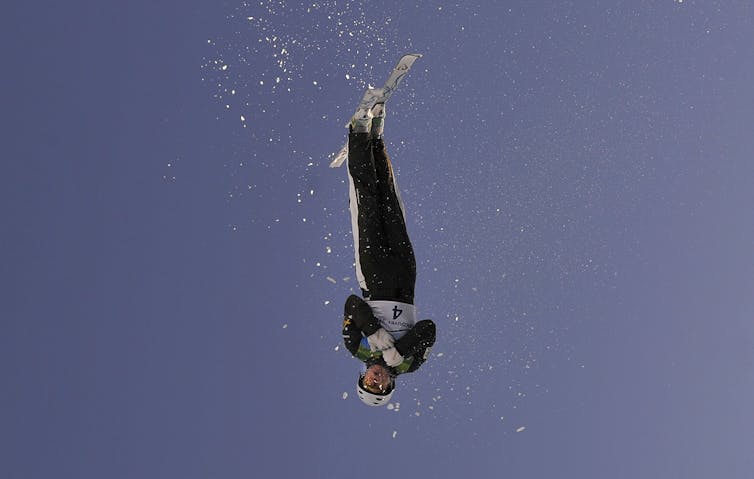 The social side of learning
Even more so than their traditional Olympic sport counterparts (who have generally received highly-structured, coach-supervised training from young ages), many action sports athletes have learned their skills through trial and error, and by turning to their peers for support and feedback.
Social media has played a significant role in the rapid advance of action sports athletes. Athletes research, film, analyse, and edit their own performances individually or in small communities. They are then able to share these with their followers through social media platforms such as YouTube, Twitter and Facebook (amongst others).
Now, if someone lands a NBD ("never been done" - slang for a newly created trick), athletes and their audience don't have to wait for it to be showcased in the next magazine or major competition.
This was the case for some of Australia's Olympians when snowboarding first debuted at the Olympic Games in 1998. Even as a two-time Olympic qualifier, snowboarder Ben Mates received comparatively limited support from sporting organisations and only worked with a coach for a limited time leading up to the 2010 Olympic Games.
Going pro
With the increasing professionalisation of snowboarding and freeskiing, and significant investment from federal governments (such as the Olympic Winter Institute in Australia), commercial operators (such as Red Bull), and individual athletes, the training and Olympic preparation has now significantly changed for our action athletes.
High tech training equipment and facilities, dedicated coaches and sports scientists, and specialised technologies to support athlete skill development are all now commonplace in Australian Olympic snow sports. Athletes and teams will also typically have access to a variety of other support personnel such as sports nutritionists, sports psychologists, and sport physicians and physiotherapists.
Alex "Chumpy" Pullin, Australian boarder-X world champion (2011) and three-times Olympic qualifier, for example, trains at least six days a week and has a scheduled training plan that he attends to daily, whether this involves a structured gym session, "flying" down the mountains, or surfing the (ocean) waves.
While snowboarding and freeskiing are becoming increasingly professionalised, we must not forget the sports' outsider roots, which made them spectacular Olympics events today.