It's been an ugly week in English soccer. Up north, outrage of many persuasions flowed around Paolo Di Canio's politics. Down south, supporters from Championship side Brighton & Hove Albion presented the Football Association with a disheartening dossier on the homophobic abuse they constantly suffer.
As media outlets reported on Thursday, Brighton fans - whose hometown hosts one of Britain's best-known gay communities - are subjected to anti-gay insults in an appalling 72% of their games.
Intriguingly, recent academic research suggests that some of their abusers might well applaud their demands for the game's English governing body - the Football Association (FA) - to take action.
English soccer's record on homophobia is lamentable. The history of research on popular culture shows that communities value being reflected in the entertainment they enjoy. When it comes to English soccer, gay fans have two figures to choose from: one quit, and the other hanged himself.
Last week, Robbie Rogers, formerly of Leeds United, spoke of his relief at coming out as gay. The cancellation of his playing contract had given him the chance to achieve something he never felt able to accomplish as a player. However, at just 25, the United States international isn't sure if he wants to play again. The reason is clear enough: the precedent for gay footballers in England couldn't be worse.
There's only one: Justin Fashanu. At the turn of the 1980s, Fashanu seemed unstoppable. Raised by foster parents, the talented heavyweight amateur boxer had transformed himself into a skilled striker, coveted by the top clubs, while playing for the unfashionable Norwich City.
In 1980, Fashanu scored the goal of the season against Liverpool. Back to goal on the edge of the penalty area, the 19 year-old flipped the ball into the air with his right foot, swivelled and volleyed with his left into the net past stunned defenders. If Cristiano Ronaldo did that today, he'd run around the pitch twice, twirling his shirt around his head.
Fashanu simply raised an index finger and strolled back to the centre circle. When his genius was sold to Nottingham Forest, managed by the redoubtable Brian Clough, glory seemed certain.
But the transfer was a disaster. According to human rights campaigner Peter Tatchell, things started to unravel as Fashanu came to terms with his sexuality in an unsupportive professional sporting environment.
Famously, after hearing rumours of his star player's sexuality, Clough told Fashanu:
"Where do you go if you want a loaf of bread?," I asked him. "A baker's, I suppose". "Where do you go if you want a leg of lamb?" "A butcher's". "So why do you keep going to that bloody poofs' club?"
He came out in 1990, playing on for a few years, drifting from club to club with little success. Facing a sexual assault case in 1998, Fashanu committed suicide. Obituaries of the time emphasised that the player had paid a heavy price for his honesty. It's easy to see why Robbie Rogers has trepidation about a dressing room return.
Recent sociological studies in the UK connect the abuse directed at Brighton fans with the absence of gay players on the pitch. In an internet survey of 3500 supporters, Jamie Cleland and Ellis Cashmore found 93% of respondents think that there is no place for homophobia in the game.
Studies of online soccer communities discovered that homophobic posts are regularly and roundly criticised. Most fans think that the presence of more gay players would help make homophobia a thing of the past. They would welcome this demise.
This data does not contradict Brighton fans' experience. The researchers acknowledge that ostensibly anti-homophobic fans continue to spew homophobic abuse. Supporters still view this as jocular banter. Clearly, this is something that needs to be educated out of crowds. And the question that must follow is: if there is so much policing of homophobia online, why doesn't it happen on the terraces?
One answer is that the architecture for action isn't in place. In their work on racial abuse, Cleland and Cashmore have found that spectators at live games are frequently intimidated out of reporting incidents by officials who don't want to know.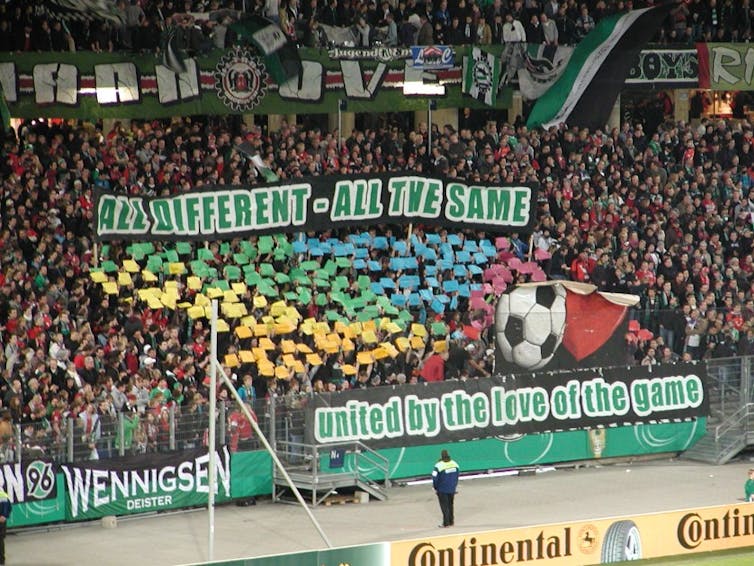 Similarly, fans blame the FA, clubs, player agents and the media for building a culture of fear around sexuality. Authorities have been slow to mount official anti-homophobia campaigns, arguing supporters aren't ready to receive the message.
Supporters in England disagree, arguing that nothing can change whilst gay players are urged by those around them to stay quiet, tortured further with nightmares of lurid media stories and baying crowds who don't want to understand. Brighton was right to take their evidence to the FA, because the others who taunt them seem to want the authorities to help them help themselves.
Not that these survey responses can be taken entirely at face value. Internet soccer communities now play an important role in the governance of clubs. Online activities often affect things that happen in live games in important ways. So if there really is an anti-homophobic groundswell among English fans, then they do have the capacity to make these feelings known in a coherent and effective way. But they also need leadership from authorities who, the research suggests, largely adopt a fatalistic view that ends up cultivating homophobia.
At any rate, Brighton fans have set an admirable example. Now it's up to the FA, the clubs, and other fans to follow suit.