We are two of the researchers affected by Simon Birmingham's intervention in last year's Australian Research Council (ARC) funding grants. The title of our application, "Greening Media Sport: The Communication of Environmental Issues and Sustainability in Professional Sport", was on a list of 11 projects rejected by the then minister for education and training's office after the ARC had recommended these for funding.
Birmingham's action has been condemned across the higher education sector and reported extensively. The UK Times Higher Education Supplement noted that this "censoring" of humanities research sits uncomfortably alongside the free speech credentials of the government Birmingham represents.
---
Read more: Simon Birmingham's intervention in research funding is not unprecedented, but dangerous
---
One of the motivations of our project was to try to move beyond needlessly partisan political debate by investigating the capacity of professional sport – arguably the most popular form of media on the planet – to communicate environmental issues and awareness.
The potential for sport in this area is shown by any number of widely publicised examples including the International Olympic Committee's Sustainability Strategy, the efforts of Formula One racing teams to achieve carbon-neutral status and the Melbourne Cricket Ground's investment in large-scale waste and water recycling facilities.
Our project seeks to investigate and map a growing range of environmental programs and initiatives around the world, and to help Australia – in the face of serious ecological challenges – capitalise on the fact that it is a sporting nation. It is certainly an objective thought worth pursuing by members of the Sports Environment Alliance, which include the AFL, Tennis Australia, Netball Australia and Cricket Australia.
One cannot help but wonder: did the minister or any of his staff read our application or any of the other ten he chose to reject?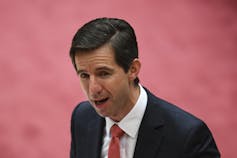 Our decision to speak publicly is to pose necessary questions about what has happened here and why. As professors in the discipline of communications and media studies, we are familiar with the risks and realities of producing research on matters of social, cultural and political significance.
Both of us have, for example, made unexpected appearances in news stories and state and federal parliamentary Hansards at different points in our careers. This speaks to the sometimes contradictory nature of producing university-based research. Depending on the issue at hand, evidence-based research is invoked by political actors and citizens to support a particular position and declared hopelessly arcane and out-of-touch by those who hold a different position. This is precisely why decisions about ARC funding are usually made at arm's length from government.
We can live with rejection – it is a professional byproduct of producing research. However, the rules through which funding decisions are reached should be transparent and the reasons for rejection should be communicated clearly to researchers and their universities. Neither has occurred on this occasion.
A lack of transparency
Last November, we received the following notification from the ARC about Greening Media Sport, relayed via the Monash Research Office: "This proposal is in the Top 10% of unsuccessful proposals within the discipline panel".
It was not until last Friday morning, when news of a video posted by Labor Senator Kim Carr to YouTube started to circulate, that the truth of why our project was deemed unsuccessful became apparent.
Given that our project was, in fact, recommended for funding by the ARC and then sent to the minister's office for sign-off, it turns out that the ARC's November 2017 statement – in the context of its Humanities and Creative Arts discipline panel – was demonstrably incorrect. Who is ultimately responsible for this misleading statement? The minister? His office? The ARC?
This intervention raises a number of further questions. Why has it taken almost 12 months for information about the exclusion of the 11 grants to be made public? Why was this information not disclosed to the applicants and the universities that employ them? It might have at least stopped many of the researchers, including us, rewriting and resubmitting applications regarded as undeserving of ministerial sign-off.
Researchers should have the right to know if the minister has introduced an additional criterion for funding into the grant system. Birmingham has defended his intervention with confidence on Twitter. Can he further explain why he rejected the applications – and why his actions remained concealed until last week?
Why were the 11 projects targeted by the minister attached to only one panel out of eight: Humanities and Creative Arts? If different rules apply to applications sent to this panel, reviewers, panel members and possibly the ARC itself should be informed of this fact.
Finally, a new round of ARC grants will be announced shortly. Is the current minister for education, Dan Tehan, about to exercise the same discretion as his predecessor in relation to these?
The lives and careers of researchers are negatively affected, sometimes heavily, by funding decisions. This reality needs to be remembered in the midst of political debate about this issue. One applicant in the Discovery Early Career Researcher Award scheme has communicated that he and his family had to move overseas for employment because the minister rejected his application.
We all rely on the transparency, if not fairness, of institutional decision-making in order to accept the legitimacy of the systems that govern our lives. Academics are no different to other citizens and professionals in this respect.