Doing something about improving housing affordability, particularly for people on low and moderate incomes, is difficult for Australian politicians. The core of the problem is simple: until those trying to buy a home outnumber those who own one, governments will not adopt policies to bring down house prices. As John Howard once observed, no-one came up to him complaining their house price had increased.
Given the public anxiety about the issue, particularly among young people, governments are showing renewed interests in doing something about housing affordability. So what sort of government interventions are effective? A new report from the Australian Housing and Urban Research Institute (AHURI), released today, explores these issues state by state. And some are clearly doing better than others.
What have governments been doing?
In the last six months governments at all levels have released housing affordability plans. The Victorian government released a broad proposal with interventions across the housing continuum (see figure 1).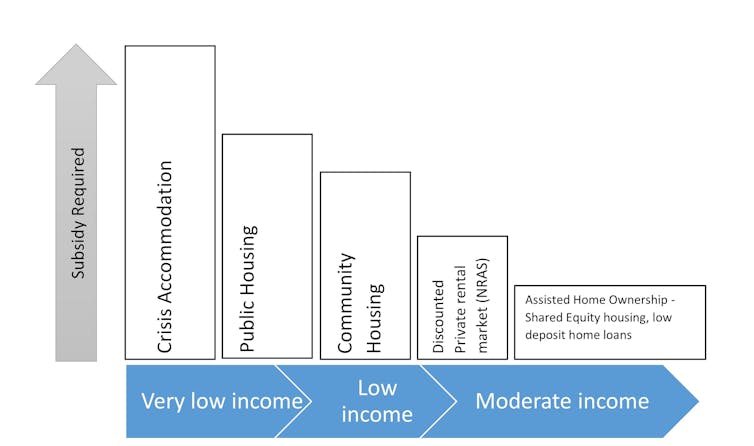 The state with the largest housing affordability problem, New South Wales, released a package of measures in June this year. The cornerstone of the plan is a reduction in stamp duty charges for first home buyers and increasing availability of some grants for the same group.
Most economists agree that these measures are likely to put upward pressure on prices as first home buyers compete in the property market with more dollars. However, politicians seem to like these sort of measures because they are popular with voters.
The NSW plan also focused on increasing housing supply through changes to the planning system and accelerated provision of infrastructure. The headline goal used to measure the results of the package is an increase in the number of dwelling completions to 61,000 per year.
What's unusual about this target is that there is no indication of the intended price levels of completed dwellings. Left to the market, the supply will not reach those most in need.
A recent AHURI study found focusing only on supply as a strategy to reduce housing prices was a blunt instrument. The study reported:
Most of the growth in housing supply has been taking place in mid-to-high price segments, rather than low price segments. There seems to be structural impediments to the trickle-down of new housing supply.
The same study concluded:
Targeted government intervention might be needed in order to ensure an adequate supply of affordable housing.
How do the states compare?
Drawing on the new research, Table 1 compares established state and territory schemes designed to deliver affordable housing.
It's clear some states and territories, by adopting a multi-pronged approach, have been more active and innovative than others.

The research focused on a review of state-level affordable housing delivery. To identify what sort of conditions maximised the chances of success, this included an evaluation of two effective strategies – one in the Australian Capital Territory and the other in Western Australia.
Both strategies delivered thousands of dwellings for households in need of affordable housing across the continuum. Both have clear targets.
What are the secrets of success?
Strong and sustained leadership is critical to both the implementation and ongoing delivery of an affordable housing strategy. Leadership is required both within the organisation responsible for the strategy, ideally a single entity, but also at a political level, ensuring a whole-of-government approach.
Both the ACT and WA strategies had the support of the treasurer during development. This ensured implementation was not hamstrung by a lack of resources.
A strategy needs to be resilient; it should not be easy to roll back following a change of government. It also needs to be developed in close consultation with the private sector and relevant areas of government to ensure all stakeholders are on board.
The organisation implementing the strategy needs to be flexible and innovative. This includes taking advantage of poor housing market conditions to develop joint ventures with the private sector.
When unexpected funding sources arise, state government needs to take advantage by using funding to leverage additional outcomes.
These established strategies offer several lessons for a state government seeking to implement an affordable housing strategy.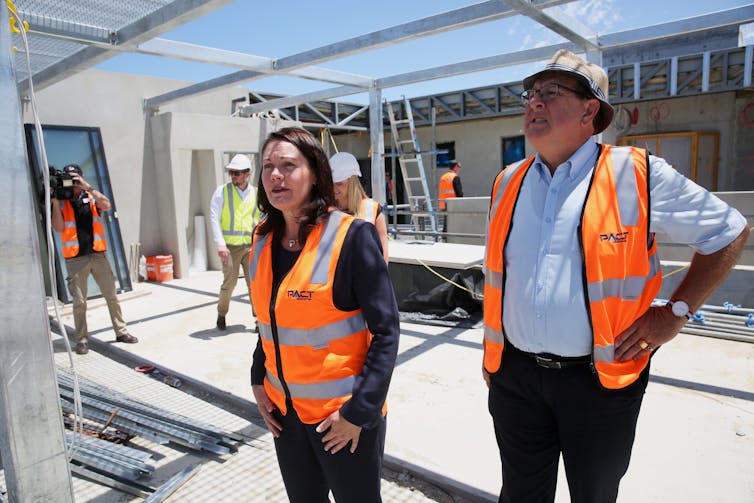 Land release is a key factor
Governments have focused on a broad goal of increasing supply as an affordable housing solution, (such as the NSW strategy).
In most cases this is a blunt tool because the government cannot directly influence the amount of land or housing stock made available (which are private sector decisions) or the price at which it is released onto the market.
States with an effective government land agency have an advantage. Land release then becomes an important part of an affordable housing strategy.
The ACT has been able to increase land supply and also to target the supply at a particular price point. WA has used its land effectively within private sector joint ventures to secure affordable housing.
Being able to guarantee increased land supply (and not just planning approvals for land development) as well as the price points of that land is a very powerful tool for a government trying to deliver affordable housing.
An effective affordable housing strategy
An effective affordable housing strategy is essential to deliver a range of supply options. At present, blockages along the housing continuum prevent households exiting social housing, which would free up supply for households in greater need.
WA in particular has demonstrated a successful strategy. Having reached its target of 20,000 dwellings five years early, the government committed to a further 10,000 homes by 2020.
Other states in the early stages of strategy implementation could learn much from the multi-pronged approach in the West.