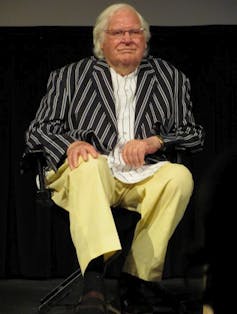 The arts have been left a legacy of courage in the face of moral "guardians", with the death in England yesterday of one of mainstream cinema's least understated directors, Ken Russell, at the age of 84.
Bruce Arnold, a law lecturer at the University of Canberra said that Russell's groundbreaking outrages have contemporary resonance. The British iconoclast did much of his work "in a period where the avant-garde was under attack and [moral] guardians such as Mary Whitehouse were ready to foster the sort of moral panic we've seen in the treatment of Australian photographer Bill Henson," Mr Arnold said.
"In the age of YouTube and Lady Gaga we underestimate the chutzpah and creativity of Russell at his peak, and the debt owed by figures such as Guy Ritchie, Christopher Nolan and Peter Greenaway," Mr Arnold said.
A freelance photographer in his pre-directing days, Russell threw every visual outrage he could at his audiences, breaking taboo after taboo including showing penises in his 1969 Oscar-winning adaptation of DH Lawrence's novel, "Women in Love", erotic scenes with Jesus (while crucified) in 1971's "The Devils", and injecting disabled people with LSD in 1975's "Tommy". Russell even turned his sights on academia, depicting a professor of abnormal psychology experimenting on himself with shamanic hallucinogens in 1980's "Altered States". Hallucinatory states also featured in 1986's "Gothic".
Mr Arnold said that Russell was not a great artist: "he was too undisciplined and too ready to epater the critics for that. He was, however, a good artist. He loved his art. He struggled with - and for - it. He got up every time he was knocked down and went on to do something else."
Mr Arnold said that the Russell's films have kept their vitality, unlike many other avant-garde works. "Four decades later most of the films of the seventies remain inert on the slab, piously embalmed by cinema studies academics and dissected with tools provided by Kristeva, Derrida, Lacan, Zizek or other gurus du jour. Few are films that you remember. Few are films that you love. Most deserve to stay in cold storage. Ken Russell's films are different. They were outrageous. They were often made on a shoestring budget. They challenged conventions of good taste. They threw mud at idols and offered a distorted, manic picture of the world. They were beautiful. They were watchable. They were what film - outside the frottage of cinema studies - is all about. Russell's achievement deserves to be respected," Mr Arnold said.
One of Australia's foremost DH Lawrence scholars, Dr Christopher Pollnitz of the University of Newcastle, said that "Russell's "Women in Love" was overdone, like his other films, but the overdoing made shrewd points about Lawrence's novel."
"Colliery streets were ghoulishly dark, the opulent Edwardian interiors tableaux of decadence. Scenes in the Midlands countryside or the Austrian Tyrol were lush and glowing, or a glacial white, backdrops against which the players froze or boiled. Glenda Jackson's Gudrun had an ice to her suavity, Oliver Reed's Gerald was a boiling kettle with his lid tied on, Alan Bates's Birkin tried to laugh them out of their rigidities with a leering recital of Lawrence's poem "Fig". Only Jennie Linden's Ursula was not always memorable. But neither is Lawrence's Ursula in this, his second novel about her. A film that shocks career academics is always a good idea, but to be a good film the director needs to have good ideas of his own." Dr Pollnitz said.
---
Adjunct Professor Bruce Molloy of Bond University's Centre for Film and Television has sent in these remarks:
Always sad to see a filmmaker pass, especially one as quirky as Ken Russell.
My earliest recollections of his work are of his TV bio-docs, particularly "Isadora" and "Mahler" - which seemed to me to offer a new and insightful style of bringing historical figures and their artistic work to life (or maybe that should be larger than life).
In terms of his films, "Women in Love" is for me the standout, even if one contemporary reviewer described it as "An Obscene Undertaking" in, from memory, Sight and Sound. The reason I admire that film is that it came closest of all adaptations of Lawrence to the spirit of the original novel in my opinion, and of course it had an outstanding performances from Alan Bates, Oliver Reed and Glenda Jackson at the top of their form, and with a great supporting cast. It's not to everyone's taste of course, but Russell's films are nothing if not polarising. Unfortunately I don't think he ever quite reached those heights again, though he certainly made some outrageous films often so diabolically bad that they command some respect.
I believe Russell was something of a practical joker. I recall Fred Schepisi telling stories about Russell in a minor role in "The Russia House" delighting in upsetting the continuity people by arriving each day with subtle changes to his wardrobe, so maybe this quirk influenced his filmmaking too?