Stella Rambisai Chiweshe, affectionately known in Zimbabwe as "the queen of mbira" or "Ambuya (grandmother) Chiweshe", passed away on 20 January 2023.
Chiweshe was born in July 1946 in the rural area of Mhondoro in the Mashonaland province of northern Zimbabwe. She began playing the mbira, an ancient thumb piano, in the early 1960s. At the time she was reproached by both men and women because she had dared to play an instrument that was ordinarily played by men.
Chiweshe was not only a singer, songwriter and musician who performed extensively across Africa, Europe and the US. She was also a cultural activist, a pioneering woman and an educator. She founded the Chivanhu Centre in Zimbabwe, home to the preservation of traditional music and culture.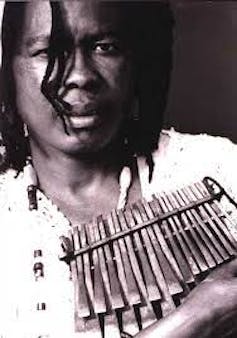 Chivanhu is a Shona word for humanity. One of her goals was to ensure that the mbira continued to be the heartbeat of Zimbabwe's people. As the African adage goes: "When an old person dies, a library burns to the ground." Her death is indeed a great loss to the country.
Pioneering force
The mbira, a powerful spiritual instrument used to communicate with the ancestors, was often played at traditional ceremonies by men. Historians trace its origins to 3,000 years ago on the west coast of Africa and to 1,300 years ago in the region that is now Zimbabwe. Chiweshe explained in an interview that:
Men played mbira, and for me to play mbira meant that I had to sit with men on either side of me. It made the women very uncomfortable.
Not only did the young Chiweshe face criticism from her family and community. She also had to contend with a ban on the instrument by the British colonial administration because the idea of ancestral worship went against their Christian values.
Chiweshe was a rebel by nature. She defied the British and played at underground night ceremonies. She would go on to be a pioneering force in several other ways.
She took mbira music beyond Zimbabwe and did important work in popularising the art form.
She was able to help fight the stigmatisation of this spiritual musical instrument.
She championed, with great pride and reverence, the dominant Shona ethnic group's tradition and folklore through her music, which evoked a deep spirituality and connection to the ancestors.
Finally, she blazed a trail for other women, especially musicians.
I explain in a book chapter in Victors, Victims and Villains: Women and Musical Arts in Zimbabwe that her performances combined mystery, presence and the use of traditional lyrics to challenge not just patriarchy but also colonial rule.
Her music, like that of other Zimbabwean musicians such as Thomas Mapfumo and Oliver Mtukudzi, was the soundtrack of the Second Chimurenga (the war of liberation against the white minority Rhodesian regime).
Female trailblazer
Although she did not openly call herself a feminist, as a female mbira custodian and practitioner she was one. British music writer Dominic Valvona explains:
Trumpeted in our modern virtue-labeling climate as a 'feminist', the outspoken star was certainly strong-willed, even a rebel. Making a name for herself overcoming the obstacles of tradition and a patriarchal-dominated society, her obstinacy soon garnered attention, not only in Zimbabwe but further afield.
Chiweshe fought for recognition as a talented artist and gave voice to Zimbabwean womanhood, in all its complexity. By making her body visible and her voice heard, she defied musical and cultural rites deeply rooted in ancestral tradition. This defiance challenged the marginalisation of women which denies them autonomy and agency.
Chachimurenga (It's Time for Revolution) is probably her most famous song. This timeless song is a call to arms. It refers to the liberation war against the Rhodesian regime and highlights the bloodshed and sacrifices made to liberate the country. The song, like most of her songs, features a fusion of mbira and other traditional instruments like marimba, drums and hosho (rattles).
Inspiring musician
Chiweshe inspired many young female mbira players, even though the mbira remains an instrument predominantly played by men. One of the notable musicians she inspired is the late, award-winning singer and mbira player Chiwoniso Maraire. Maraire emerged in the early 1990s and showed that the mbira could still evoke deeply spiritual emotions when combined with western musical instruments. Her songs resonated with people at all levels of society and offered messages of inspiration and hope as well as resistance.
Chiweshe also inspired Hope Masike, affectionately known as the "princess of mbira", the contemporary custodian of this mystical instrument. Masike's bold, urban fusion music shows that the mbira should not only be considered in its traditional role. She has coined the term "Gwenyambirakadzi" to describe female mbira players. Popularising the mbira among young people, Masike has helped debunk the myth that the mbira is an instrument associated with the occult.
Queen of the mbira
Stella Chiweshe refused to bow down to oppression, discouragement or even threats to her musical aspirations. She used her music to comment on and highlight issues relating to tradition and contemporary socio-political and economic issues.
---
Read more: Madosini, a South African national treasure whose music kept a rich history alive
---
She entered a male-dominated domain and made her mark as one of the first women ever to play the mbira in public. And she showed considerable staying power. In a musical career spanning five decades, she enjoyed the spotlight as the queen of the mbira. Through her music, she cut across social limitations and geopolitics to emerge in a class of her own as spirited, talented and playful – yet always spiritually grounded in her traditional beliefs.