Clementine Ford is no stranger to speaking out. This makes her a near-perfect poster person for the Stella's schools program and their latest project Girls Write Up – a day-long wordfest and workshop for high school students – held for the first time this week to sell-out crowds in Sydney and Melbourne.
It quickly became apparent that Girls Write Up is not just about teaching young women how to write, but more fundamentally about breaking down the cultural barriers to women's writing. Women's writing is about more than putting pen to paper. It's about the need to cut loose from a cultural history in which, as Clementine Ford put it,
Men get to be the heroes, the victors, the creators, the inventors […] every discussion of women's rights needs to start with an apology.
The most pressing questions of the day were less about good, bad or better writing – or even "How do I speak out when I feel shy and vulnerable?" which was repeatedly asked in a variety of ways – but about name calling, gender dilemmas, and body issues. "What do I do when people call me a boy?" or "How do you define the word pretty?" Or what do you do when you are "too tall, too big, too loud, or too freckly" to fit the model of a girl?
In a room full of smart and sassy women, there was no easy answer. Panellists said dealing with it becomes easier the more you do it. "It becomes something that shapes you, and adds layers," said writer Bec Kavanaugh.
Ford said that speaking out is a little bit like writing.
You don't wake up one day as an amazing writer or as a writer who never struggles with an idea. The more you practice, the more skills you develop.

I actually think its less about thinking how do you overcome writer's block, or how do you come up with an idea, and more about going right back to the start – which is how do you figure out what you want to write about.
"Luckily," said Ford, "Australia's really sexist so there's always a lot to write about."
Luckily also, the Stella plans to make Girls Write Up an annual event, with the aim of teaching high school students to use their writing to shape themselves and the world around them – to learn to use their writers voice to give expression to things that they care about, to learning to speak loudly or louder. To be, in Ford's words, "proud attention seekers".
Another thing that is heady and exciting about Girls Write Up is the recognition that the possibilities for writing have dramatically expanded. The event featured not only panels with novelists and story writers, but also panels on making zines, graphics and comics. Speakers explored different types of media writing, from radio journalism to news commentary, with a particular focus on the ways in which the Internet has opened out new spaces for writing, allowing new voices to be heard outside of the publishing mainstream.
Graphic writer Nicky Minus described her writer's life as one of a "motley crew" of "dorks and brilliant artists" on the margins but whose work was coming back into the culture in a bigger way. "You no longer need permission to write and get published," said Minus. "You can make zines, put it on the Internet on Tumblr or Instagram and if you tag it right people will look at it."
"Even if you're still in school," said Ford, "it doesn't mean that you don't have the right to write to an editor even of the Age or the Sydney Morning Herald and send them your work."
Often the barriers to women's writing are not just structural and economic, but political and cultural – and some of them are internal. Why, asked panellists, do women invariably apologise before they pitch a story to an editor? How, asked panellists, do you deal with the comment boxes, which, as any writer who has ventured into online commentary knows, are alarmingly male dominated?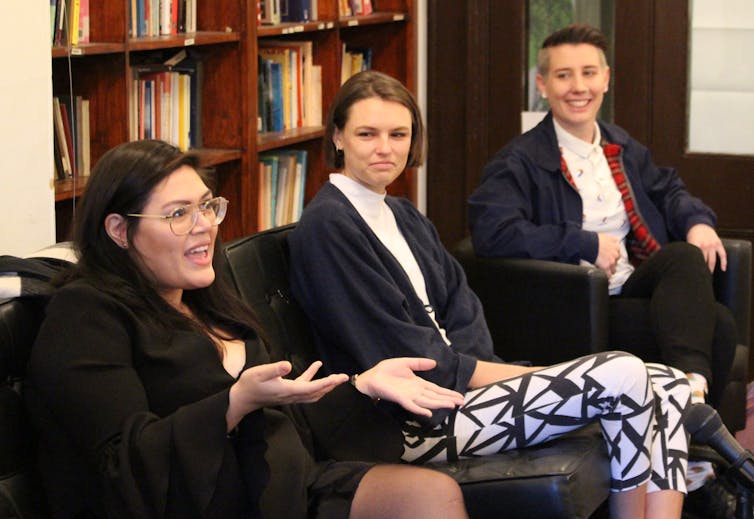 Writing as a radical act
Novelist Emily Maguire, the Stella's Sydney representative, told her audience, it was perhaps because she started working in hospitality – because "she had been schooled into the habit of making other people feel comfortable all the time" – that it had been difficult to come to terms with the fact that people could get worked up and angry about the work that she published. "Everything you write will have haters," said Maguire. "And, what's worse, people who are so bored they don't even care enough to get angry."
Not only is the desire to please a barrier to women's writing, but so too is incessantly wanting to be good. One of the most crushing expectations for a writer, said novelist Kristy Eagar, is your own and everybody else's expectation that female characters in novels should be role models for girls:
There's no expectation that male characters should be role models.
Ultimately, the power of role models is as cramping as the power of stereotypes. Girls can be happy or sad, angry, lazy or depressed.
It's also important to have a greater variety of voices and stories. Radio producer Heidi Pett said that she started out wanting to do human rights law and ended up wanting to change the world by telling other people's stories.
Radio ought to be about giving people their own voice. Not going in and getting their story, but giving them the tools to tell it.
Lucy Watson – online editor for Archer magazine – argued that it's possible to have a very public voice, but still work in a very marginalised environment. Watson stressed the individuality of the voices in the stories that get published.
It's not the same story about being queer. It's not like we've done the bi-sexual story this week, or the one gay story of Mardi Gras. All the stories are different.
"It's not about 'representation' but asserting your voice in public space, clarified Nakkiah Lui. "I tell my editors, 'This is my audience and its not just aboriginal women, but women of colour'. And that's not a minority." The editors, the panellists joked, still appeared to insist that women were apparently a minority.
Triple J's Amelia Marshall spoke realistically about the news media not only being a male dominated industry but a ruthless medium, dominated by 90 second to three minute slots.
"There's also the problem that women pitch stories differently to men," added Pett. "Men are more likely to pitch stories they don't know about. They just jump in. Women are more hesitant. Women use every couching term available in the English language, as if you are meant to constantly apologise for your existence.
"I think it's important to cut the sorry words out of your emails. Unless, of course, you are honestly apologising to somebody for what you have done."
Then, of course, there's dealing with the tenor of the feedback, which often comes from a place of fear.
"There's always one listener who writes in every week and says 'die feminist cunt'," says Marshall, brightly. "So there you go – I think – I've just justified my existence and my reason for being here."
Clementine Ford once defined feminism as "a way of figuring out how to be a girl in the world so that it doesn't hurt". If this is the case, then the problem for women writers is the need to get comfortable with the idea that, as Emily Maguire put it, "someone will hate you".
Writing necessarily means cultivating a voice. It means putting yourself in a particular position, asserting your identity and taking a stand. This, it turns out, was the central dilemma for almost every writer on the day. But there was also a strong and thoroughly optimistic sense that, for all the teenagers crowding the room, this meant the world would eventually have to change.