More than one commentator has noted the poignant irony of learning today of the death of Steve Jobs on a product the founder and former CEO of Apple created.
Millions of people around the world, writing and reading news stories, blog posts, tweets and Facebook updates will do so using an iPhone, iPod or MacBook.
Even if they're not using an Apple product, they will be arguably using one that was heavily "influenced" by Apple and, ultimately, by Steve Jobs.
In his 2005 address to commencing students at Stanford University (see below), Jobs talked about a passion for design that started with a passion for calligraphy and typographical fonts.
This passion for design, more than anything about Steve Jobs, permeated everything else he did.
But there is more to the products that Apple has created than simple and beautiful design. They have arguably redefined how people interact with technology to the extent that the phone, mp3 player and computer have become extensions of who most of us are and how we interact with the world around us.
It's not that Apple necessarily invented these technologies, but it recreated them in a way that made them a pleasure to use, and this consequently made them universal in their reach.
It's always interesting to consider the influence of a single person on a company. How much of what Apple has done really came down to Steve Jobs and how will his death now impact Apple?
It's clear the psychological impact of today's announcement on Apple and its employees will be great. While he had already handed over control of the company to Tim Cook, the current CEO, Apple employees would have still held on to the expectation Jobs would have exerted some influence through his position on Apple's Board.
They are now truly on their own.
In the many types of CEO, there are those that truly lead and become the embodiment of the ideas and vision of a company.
Jobs played a hands-on role in decisions that shaped Apple's products and the way they worked.
This was reflected in his almost pathological dislike for buttons. The irony of this is that the buttons Apple did create, including the power button of their computers, are now one of the most popular items of jewellery sold by Adafruit Industries.
Not everything Steve Jobs did was successful. But even here, the early attempts of products and ideas were often the foundation of things that did eventually succeed.
After Jobs's departure from Apple in 1985, he went on to found NeXT Computer in 1988. At the time, the interface of the first NeXT computer was visually beautiful but this came at the cost of performance. The slowness of the computer contributed to its lack of success.
At the time, the choice of the computer language it was written in (Objective-C) was also an unpopular choice. But the NeXTSTEP operating system was sold back to Apple and brought Steve Jobs back into the company to become CEO once more in 1996.
NeXTSTEP went on to become the Mac OSX operating system and Objective-C is now one of the world's most popular programming languages.
Of course, it was not only in computing that Steve Jobs succeeded. The animation film company Pixar he bought in 1986 brought computer animation to an entirely new level with Toy Story.
It was a lack of success in Pixar's original ambitions of seeling a graphics computer (the (Pixar Image Computer)[ http://en.wikipedia.org/wiki/Pixar_Image_Computer]) that led to a change in tactics to producing film.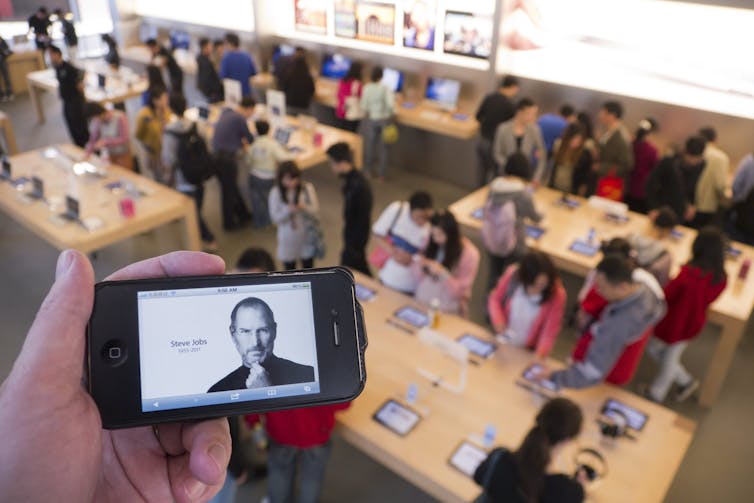 A curious anomaly with Jobs was his attitude to philanthropy. On his return to Apple in 1997, he terminated all of Apple's corporate philanthropy programs.
Unlike Microsoft's Bill Gates, who has decided to give away most of his fortune through the Bill & Melinda Gates Foundation, Jobs – and Apple – shied away from any involvement in public causes. This is coupled with Apple's ongoing controversial use of factories in China with poor employee health and safety records.
In 2000, Jobs famously announced he had become Apple's "iCEO" – a move from his interim position to being the official CEO.
The letter "i" in product names is now synonymous with Apple and has even been used to designate the "iGeneration" – those of us who have had the good fortune to live through these radically changing times. Many of these changes, of course, have been heavily influenced by Jobs.
In Jobs's words: "You can't connect the dots looking forward; you can only connect them looking backwards.
"So you have to trust that the dots will somehow connect in your future. You have to trust in something – your gut, destiny, life, karma, whatever. This approach has never let me down, and it has made all the difference in my life."
And in ours.
Related article: RiP Steve Jobs – the CEO we felt we knew