After more than 400,000 workers participated in a general strike against efforts by the French president, Francois Hollande, to reform labour laws, the "Nuit Debout" protests continue to gather momentum. But the UK's own employment crisis has excited relatively little interest. This is odd, considering that the scale of the problem is comparable with the Great Depression.
According to the latest figures, there are currently 1.68m unemployed people seeking work in the UK. This is far fewer than the 3m people who were reportedly unemployed at the height of the Great Depression. Yet closer inspection reveals that the employment issues facing British people today are of an equal – if not, greater – magnitude.
Recent statistics suggest that unemployment is falling. But in reality, huge numbers of people are moving into precarious new forms of employment, which offer low pay and little job security: from 2014 to 2015, the number of zero-hour contract jobs rose by 104,000 to 1.7m. The Trades Union Congress (TUC) recently reported that only one in 40 of the jobs created since the recession have been full-time positions – meaning that in 2014, full-time jobs accounted for only 62% of employment.
The odd job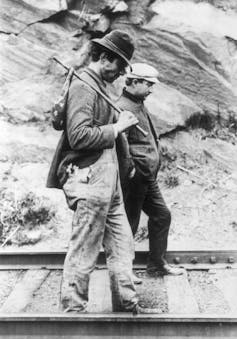 In the 1930s, if you were a part-time or itinerant labourer – flitting between short-term jobs – you were not seen as someone in employment. In fact, you would likely have been considered a vagrant. Writing in 1936, homeless memoirist William Gape defined a vagrant as someone who is "compelled to seek his livelihood day by day".
The "tramp" memoirs of authors such as Jack London, W H Davies and Bart Kennedy all tell of protagonists jumping from one short-term job to another. Whether they were working as cowherds, dockers, oyster pickers, railroad workers, fruit pickers or as labourers – the early 20th-century equivalents to zero-hour contract jobs – all of these authors regarded themselves as unemployed.
An extensive survey conducted by the BBC in 1934 offered a series of accounts of the lives of unemployed people. Nearly all of them describe being in and out of short-term jobs: from the unemployed advertising agent who "found odd jobs at sign painting, Christmas card production and so on"; to an unemployed miner who "picked up a knowledge of slating and general house repair work" and the unemployed "youth" who found occasional work "packing soft goods" and "delivering circulars".
These accounts sound remarkably similar to the experiences of precariously employed people working in service industries today. But while the survey identifies these workers as the long-term unemployed, today such people are statistically considered to be in work.
This is largely because, back then, odd jobs made up a tiny fraction of the employment market – small enough not to count. Even in 1979, after women had entered the workforce en masse, part-time work still only represented 16.4% of employment. But by 2014, this figure had risen to 38%.
So, although there were far more people categorised as unemployed in the time of the Great Depression, the way we define such categories has changed – and many of those in partial employment today would have been considered unemployed by 1930s standards.
A new age
These days, many more people rely on government support in order to survive than during the Great Depression. Last year, 3.79m people claimed out-of-work benefits in the UK. In 1930, the number of people reportedly registered at the Employment Exchange (where unemployed people would apply for relief) was 1,677,473. This represents a significant increase – even when population growth is taken into account.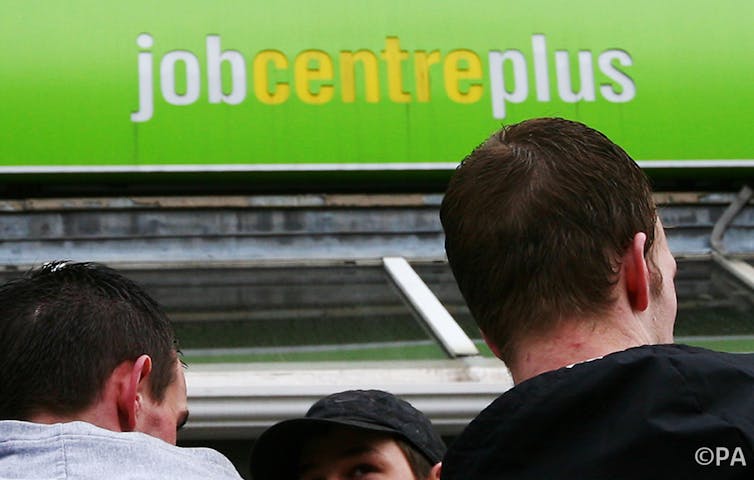 Of course, dependence on state support may have increased, simply because there is more available. But a recent survey conducted by the Office for National Statistics found that 4.6m people in the UK still live in a state of "persistent poverty", while a similar number depend on housing benefits to make ends meet. And these figures don't even count many people living in states of precarious employment and extreme poverty in the UK, such as the estimated 618,000 "irregular migrants" living in London.
Taken together, it seems that there are a vast number of people either unemployed, unaccounted for or in insecure, badly paid jobs – people who by the standards of the 1930s would have been seen as unemployed.
Then and now
The difference between the 1930s and now is that back then the employment crisis provoked unprecedented levels of political activism and unrest. The National Unemployed Workers' Movement – founded in 1921 by the Communist Party of Great Britain – grew to 100,000 members and organised public demonstrations that made front-page news.
Membership of political parties rocketed over the course of the 1930s: the Communist Party of Great Britain grew from 3,000 to 17,000 members; while Labour membership soared from 277,211 to 408,844.
So significant was the nationwide response to high unemployment that the prime minister, Ramsay MacDonald, was forced to resign in 1931, after a cabinet dispute over the issue.
British culture was also transformed. Publisher Victor Gollancz established the Left Book Club, claiming to have more than 900 reading groups committed to discussing radical literature. Poets such W H Auden and Stephen Spender changed their approaches as writers after they witnessed "the crisis spread to Great Britain". George Orwell was first "forced into becoming a sort of pamphleteer" after experiencing unemployment and poverty at first hand in Paris, London and a host of Britain's industrial towns en route to Wigan Pier.
Novels which told the stories of young people struggling to make a living – such as Walter Greenwood's Love on the Dole and James Hanley's Drift – became bestsellers, while popular films such as Charlie Chaplin's City Lights and Lewis Milestone's Hallelujah I'm a Bum dramatised and even sensationalised the experience of unemployment.
By comparison, our response has been minimal.
Certainly, there are grassroots radical organisations and networks today, which consider poverty and unemployment in the UK to be a priority issue: the People's Assembly, Brick Lane Debates and Focus E15 –- to name just a few. And there are politicians and commentators who regularly address the subject: people such as Jeremy Corbyn, Owen Jones and Paul Mason. Many of these march on parliament on April 16, as part of a demonstration demanding health, homes, jobs and education for all.
But our present crisis has failed to produce a mass movement like the one beginning in France. Perhaps we simply haven't noticed the growth of the grey area between employment and unemployment. Or maybe our imaginations have not yet been captured in the way that inspired inter-war writers and dramatists. But one thing is clear: we shouldn't let ourselves be fooled into imagining we live in better times.