Queen Elizabeth II has now reigned Britain and the Commonwealth for 63 years and 217 days. She will not get a gold clock, but she will be the longest reigning monarch in British history after taking the title from Victoria at 17.30 BST on Wednesday. In an age when most people can't be certain if they will have a job next year, and only an ingénue counts on a job for life, the Queen has been on the throne since she was 25.
What a strange job it has been. The separation of powers between the monarch and the state mean that Queen's power is strictly symbolic. As the ultimate representative of "Team UK", she is the embodiment of Britain. But the Britain she represents has changed out of all recognition from the Britain of 1952, when she rose to the throne.
It is more multi-ethnic and multicultural; its empire has been disbanded, although the Commonwealth remains as a bastion of the Anglo-sphere; it is a member of the European Union, which means that it is no longer, exactly a sovereign state; its trade union movement has collapsed, making the question of effective opposition to privileged interests a perennial puzzle; and the establishment, which was solid in 1952, is now hemmed in by a recast, revitalised civil society.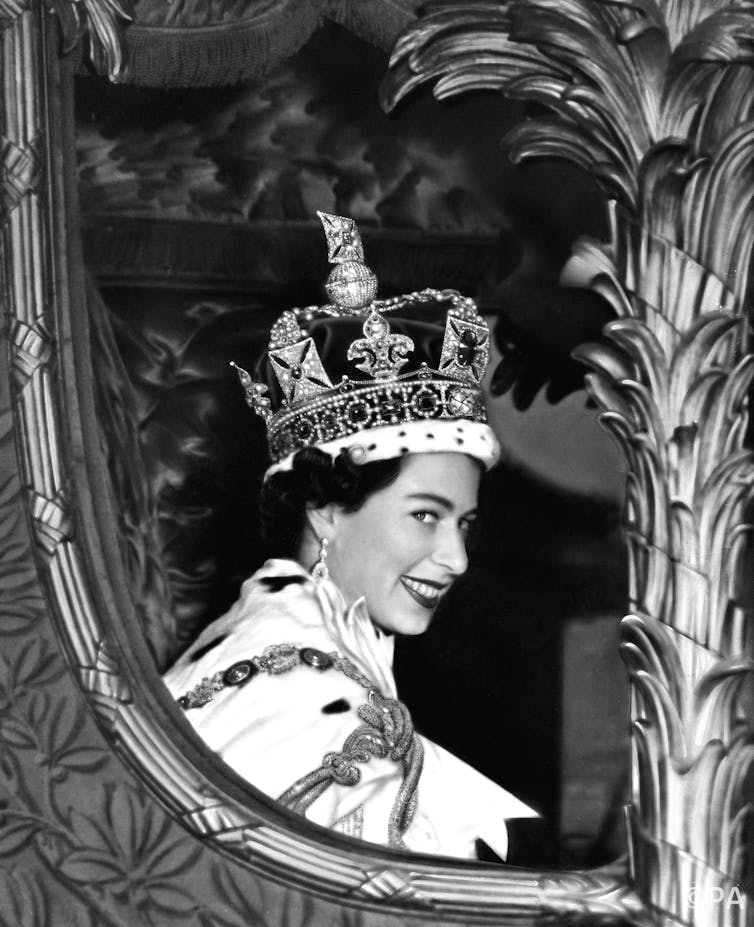 Publicity and power
When Elizabeth was in her 20s she could rely on a retinue of court advisers who controlled a switchboard to media reporting. Now, as she approaches 90, the media is ubiquitous. Her retinue still exists giving behind the scenes advice and support, but it is notably less compliant. She recently "tweeted" for the first time:
When Princess Diana died in 1997, the initial public, steely stoicism of Her Majesty in dealing with the tragedy prompted widespread censure in the media. The Queen was portrayed as cold, out of touch and unempathetic. It was a public perception that her advisers judged to be untenable. In the end, the Queen was forced to go public about her sadness at Diana's passing.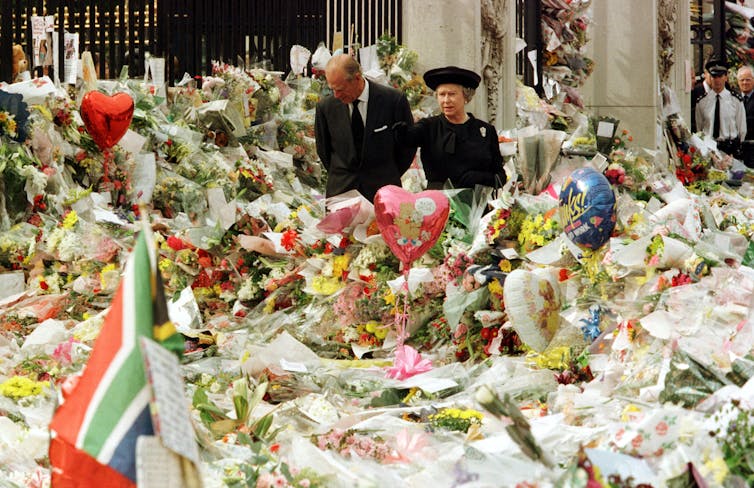 Diana has been dead for nearly 20 years. Today, the Queen's retinue is a dissipated power, facing challenges from a global institutional media and the union of cybernetic palace-watchers which it cannot control. It is no longer a matter of having to deal with whispers in corridors, but postings from everywhere.
None of this has changed what she represents: the nation. But it has changed how she represents it. The spatial and social magnitude that separated the monarch from the public in 1952 has shrunk, although taboos about touching the monarch and what can be said or worn in her presence persist.
At the same time, Elizabeth II's reign has been the most globally public in British history. Physically, she has been seen to be more accessible to the people than ever before. "I have to be seen to be believed," she notably told her biographer. And it has been an unending succession of public openings, memorials and other ceremonials, not only in the UK, but in all corners of the world. Part of the power in working so hard, is that the Queen has served notice that she is not like the rest of us. She has no need to engage in pecuniary labour. Her regal position has been enhanced by devoting herself to a perpetual round of ceremonial labour.
Arguably, the Queen has pressed more flesh than any other person on the planet. However, accessibility is not the same as closeness. The Queen is a strong brand, one which the political leaders of the nation have never tired of exploiting and developing. Yet she remains the woman who was never there. The extraordinary parachute jump which she made on television to open the London Olympics in 2012 was actually made by Gary Connery. This is typical of her reign: rule by calculated appearance.
A lynch pin
Perhaps this should not surprise us. For Britain is less a country, than a set of ideals and stereotypes. The belief in individualism, fair play, support for the underdog is compatible with "many Britains". The historical failure of national practice to live up to these ideals is not hard to prove. For everyone who sees Britain as a paragon of individualism, fair play and tolerance, others regard the country as the homeland of superiority, over-formality and insularity. Britain exists as a symbolic idea, as well as a material reality.
In this realm of symbols, the Queen is the ultimate symbol. This is why we find it so difficult to pin down what she embodies. Her importance lies not in what she does, but the magic trick she plays in giving us a sense that she has always been there. Continuity is her strongest suit. But what she symbolises is not about her at all, it is about the image the country holds up to the mirror.
This image is no longer coherent. Multiculturalism, multi-ethnicity and deterritorialisation – ties to place becoming less rigid through cheap foreign travel and the internet – have transformed the formation of Britain. The Queen has been serenely out of step with this transformation. Set against how people actually live, she is as anomalous as a Constable painting in a multimedia art installation gallery. Age and a certain phlegmatic endurance have contributed to her popularity.
Any poll taken today is likely to confirm her popularity with a majority of British people. A recent one by Reuters found that she was Britain's most popular monarch, as well as its longest reigning. But her twilight years also point to the huge challenges facing her successor, Charles, as he struggles to find a form of representation fit for the fractured, divided nation in which we live today.