Starting first year at university can be a daunting experience and a big adjustment for new students. Some adjust easily and thrive. As many as one third do not and think about leaving.
If first year goes well, it sets students up for successful university study and future careers. But if students struggle or become disengaged they can under-perform or just drop out completely.
Why the first year matters
First-year students arrive with very different academic and social skills, and from different backgrounds and cultures. Many are also making big life adjustments: for example, by living away from home for the first time.
Despite their diverse backgrounds, the one thing that all students have in common is that they come to university to learn. The first-year curriculum is the obvious centrepiece of that learning. The institution controls it, all students must access it and it is where time-poor students are entitled to expect relevance, support and engagement, both academically and socially.
In response, whole-of-institution approaches should be "comprehensive, integrated and co-ordinated". Their organising device, the missing link in our understanding of the first-year experience until recently, is the curriculum. What works and what is sustainable in resource-poor universities is, in short, better curriculum delivered by good teachers: what's known as a transition pedagogy.
Adding urgency to the challenge is the sharp rise in the number of students at Australian universities in recent years. Traditionally under-represented groups are accessing higher education in greater numbers. Many students who start university in 2014 will still be the first in their family to do so.
For these students in particular the first year is critical. Early and disappointed departure – attrition – is a big issue for the first-year student experience.
Overall, the rate of attrition, which varies from state to state, institution to institution and between domestic and international students, is high – almost double that for second year. This is so even after accounting for "positive attrition", where students leave after discovering where their true interests lie.
Bad attrition is morally indefensible and hugely wasteful. A 2010 study of retention in the Australian higher education sector estimated that the total cost of first-year attrition was more than A$1 billion per year. The cost for each public university is $20-$36 million.
But it gets worse. Official attrition statistics do not account for the significant percentage of students who leave without ever being counted in the first place. This includes those who don't take-up their offer, don't make it to O-Week or don't make it to the official week four census date.
Challenges
The unfortunate reality for about one-third of students is that first year is when they drift in an anxious journey from the known and familiar to unknown and indecipherable.
Decades of research tell us that students consider leaving for many complex and often inter-related reasons. Most frequently, these centre on perceptions of course and teaching quality, lack of clarity about what is required for success, limited engagement and expectations mismatch.
Rarely is the support students need to succeed provided "just in time" or "just for me". Students are expected to go and find it for themselves. This is hard for students who have no one at home or in their social networks to ask or help them.
What to do?
Fortunately, what needs to be done is reasonably clear, though not necessarily easy.
While students do need to adjust to the general and specific cultures of higher education and particular disciplines, as higher education experts Nick Zepke and Linda Leach have observed, institutions also need to adapt to support student diversity.
To do this, universities have to adopt whole-of-institution approaches, where academic and non-academic staff work together quite intentionally to level the academic playing field and support student success. This gives all students an equal opportunity to be successful, regardless of their backgrounds.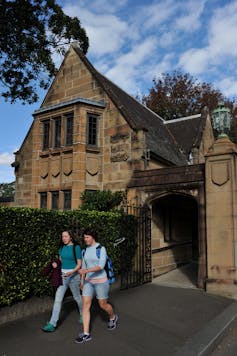 Using new learning analytics, it is possible to examine the patterns of students' online access to university resources and intervene if necessary to provide learning support before it is too late and students drop out.
If we are intentional about student success, we can anticipate and mediate known first-year obstacles. For example, we know that many school leavers are uncertain about their course and career choices. This is easily fixed: class time can be used for course advising and discipline career exploration to normalise that indecision.
Early in tertiary study, self-management skills are vital. Tutorials in the first weeks should be used to equip students with the self-help skills of time management, help-seeking behaviour and goal setting.
The research on first year is clear. Universities need to stop blaming students for perceived inadequacies. They need to come in from the periphery of the curriculum where they have let first years wander for too long in search of unmediated transition assistance.
Universities need, quite intentionally, to make first-year student learning, success and retention their core business.