Across the world's cities, the over-reliance on speculative, developer-led urban renewal models is clear. This imbalance is now challenging the liveability of our cities.
The risk of financial loss means speculative developments tend to churn out standardised, expensive and "franchised" urban landscapes. Unsuitably tall glass towers grow around us like weeds, choking the life out of cities and contributing to a lost sense of place among residents.
When it comes to cost of living, environmental impacts and social segregation, speculative development has pushed cities into the red.
There is a silver lining here. As if an immune response to the disease of unaffordability, citizens, architects and civic leaders in many cities are taking matters into their own hands and delivering projects that are not driven by developers.
---
Further reading: Affordable, sustainable, high-quality urban housing? It's not an impossible dream
---
Known as intentional or deliberative development, these models offer a way to provide more diverse and affordable ways to live, work and play in our cities. They are aiming for more inclusive, human-scale cities where residents can still feel they belong.
How did cities get to this point?
Many forces traditionally gave rise to cities of diverse shapes and characters. In more modern times, however, newer forces emerged to dominate the shaping of urban landscapes.
Property development became an "industry". Land came to be seen as a "commodity". Our homes became "assets". With this transition came a suite of financial mechanisms, tax systems and other incentives that enable enormous wealth to be made from land development and ownership.
---
Further reading: Explainer: the financialisation of housing and what can be done about it
---
There is just one hitch with this model: developable land is a finite resource. There is only so much land to support housing and the needs of a growing global population. This puts tremendous pressure on the value of urban land.
Speculative development models seek out "highest and best use" for this land. The aim is to extract the highest profit possible from any given site. This nearly always leads developers and investors upmarket – luxury apartments, premium office buildings, higher-end retail chains and so on.
Speculative property development is a high-risk business, so high profit margins are needed to offset the risk. What such calculations do not consider is how this approach can:
fundamentally alter the culture and character of urban environments;

displace long-standing residences and local businesses; and

tear apart community bonds.
In this current speculation cycle, housing is the clear investment of choice. And when developers and planning agencies target an area for renewal, the shovels go in and out go the artists, essential workers, established communities and small local businesses.
This is the recipe for gentrification and this pattern has played out for decades in the world's major cities, but right now we are experiencing the biggest gentrification feast the world has ever seen.
With cashed-up investors dumping ridiculous sums into the global housing market, our cities are being divided between haves and have-nots, those who are in the market and those who will never have the chance.
We are seeing a reverse form of ghettoisation, "ghettos of the rich", which has prompted progressive Paris Mayor Anne Hidalgo to enact new housing policies for her city.
The loss of urban identity
The globalisation of the property industry and the "mega" scale and style of urban development have created a very franchised approach to citymaking. An apartment building or office tower in Sydney or Brisbane could be picked up and dropped into Boston, Vancouver, Shanghai or any other city and none would be the wiser.
Too often, the development focus is solely on the marketability and saleability of apartment towers to buyers who could be from anywhere, rather than on local integration and community impact.
The scale, height and exterior make-up of buildings collectively form the "outdoor rooms" of our cities that shape our urban experience and provide our emotional connection to place.
If we think of our cities as never ending novels with new chapters continually being written to inform their story and identity, right now we are losing the plot.
The urban story is now being rewritten at such a dizzying pace that people are suffering from solastalgia, a term coined by Australian philosopher Glenn Albrecht. It describes the phenomenon of feeling homesick without ever having moved home because your environment is changing so rapidly around you.
---
Further reading: The age of solastalgia
---
With forests of homogenous, placeless towers springing up around us, cities are beginning to lose their individual character and brand. This in turn can impact their ability to attract and retain key workers, tourists, next-gen entrepreneurs, artists and other creatives who make our cities unique, culturally enriching and diverse.
Combine this with property inflation, and large segments of society risk being squeezed out of their city of choice.
The co-housing alternative
This is where co-housing comes into its own. With many projects across North America and Europe, this has been the main form of intentional development over the past 50 years.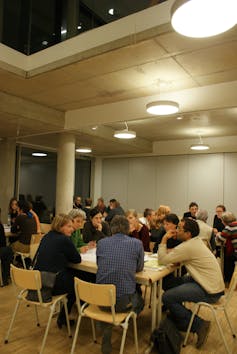 In addition to owning a private home, co-housing residents typically have access to shared common elements such as kitchens, gardens, recreation space, lounge areas and laundry facilities.
Whether projects are directly managed by the co-housing buyer group or a fee-based development management firm, these not-for-profit, citizen-led communities offer an alternative means to creating more affordable, socially connected and sustainable ways of living.
While such housing models are not new, there has been resurgence in demand and a growing portfolio of projects in cities around the globe in response to the crisis of affordability. Most have historically been low-rise (one to three levels) village-style projects in rural and suburban areas.
Newer models are trending toward dense, multistorey apartment buildings in city centres such as those being delivered in Berlin through the Baugruppen model.
---
Further reading: Reinventing density: how baugruppen are pioneering the self-made city
---
In Australia, the Nightingale model emerged as an architect-led, limited-profit variation of deliberative housing in Melbourne. It has since spread to Brisbane and Fremantle.
Whether deliberative projects are citizen-led, architect-led or developer-facilitated, the buyers are directly involved in designing and planning their home and community. On Nightingale projects, architects work directly with a group of local buyers to craft a unique design that offers greater affordability and delivers the urban lifestyle they desire.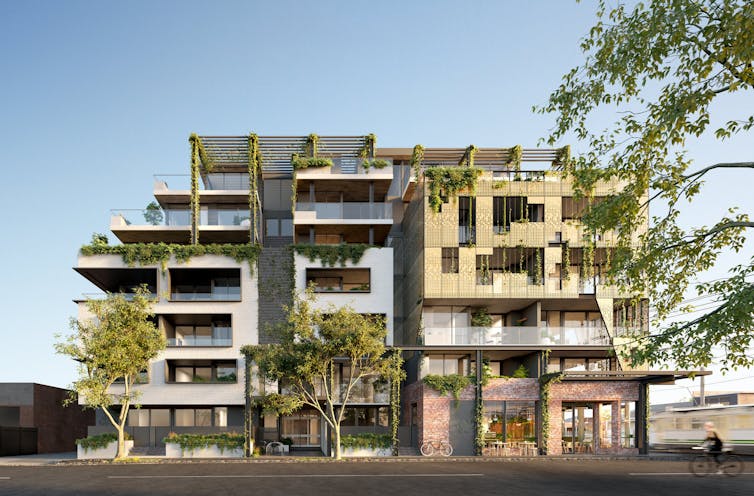 With deliberative models, market and settlement risk is greatly reduced. This means profit margins may be reduced or altogether eliminated. Deliberative projects also eliminate the need for and costs of estate agents, sales offices and expensive marketing.
All these savings flow through to buyers. Purchase prices typically vary between 10% and 40% below the local market.
Hence these models could help meet the needs of people who do not qualify for subsidised social housing but cannot afford market-rate housing.
---
Further reading: Co-housing works well for older people, once they get past the image problem
---
Urban environments should not solely be derived from the unilateral vision of "expert" developers. Local communities and residents can help balance out speculative development models and give shape to their neighbourhoods as well.
If globalisation and speculative development tend to erode diversity, deliberative development is adaptable to people's needs in different contexts.
From the hundreds of precedent projects across North America and Europe, we can see what's possible: innovative, sustainable, affordable housing where people feel strongly connected to place and community.