A strong low-pressure system has meant severe thunderstorm and hail warnings are in effect for much of the New South Wales South Coast. At the same time, very dry conditions, strong winds and high temperatures are fuelling dozens of bushfires across Queensland.
The two events are actually influencing each other. As the low-pressure system moves over the Greater Sydney area, a connected wind change is pushing warm air (and stronger winds) to Queensland, worsening the fire conditions.
---
Read more: Drought, wind and heat: when fire seasons start earlier and last longer
---
These lows over NSW are the kind we might see a couple of times a year – they're not just regular weather systems, but neither are they massively out of the ordinary.
However, when combined with the current record-breaking heat in Queensland, the extra wind is creating exceptionally dangerous fire conditions. Queensland's emergency services minister, Craig Crawford, has warned Queenslanders:
We are expecting a firestorm. We are expecting it to be so severe that it won't even be safe on the beach […] The only thing to do is to go now.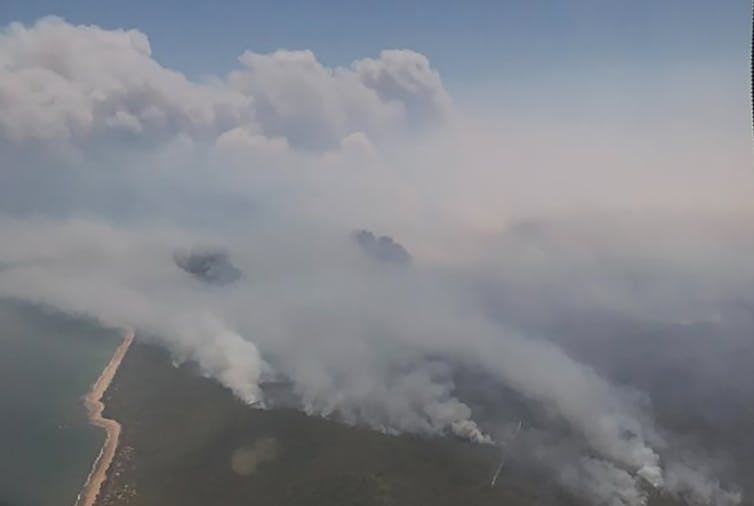 Conditions in Queensland
At least 80 bushfires were burning in Queensland on Wednesday, with more than a dozen fire warnings issued to communities near the Deepwater blaze. Queensland Police Deputy Commissioner Bob Gee said that "people will burn to death" unless they evacuate the area.
These fires have come during a record-breaking heatwave. On Tuesday Cooktown recorded 43.9℃, beating the previous November high set 70 years ago by more than two degrees. Cairns has broken its November heatwave record by five whole degrees.
Grasslands and forests are very dry after very little rain over the past two years. Adding to these conditions are strong winds, which make the fires hotter, faster and harder to predict. This is where the storm conditions in NSW come in: they are affecting air movements across both states.
NSW low is driving winds over Queensland
A large low-pressure system, currently over the Hunter Valley area, is causing the NSW storms. As it moves, it's pushing a mass of warm air ahead of it, bringing both higher temperatures and stronger winds across the Queensland border.
Once the low-pressure system moves across the Hunter area to the Tasman Sea east of Sydney, it will drag what we call a "wind change" across Queensland. This will increase wind speeds through Queensland and temperatures, making the fire situation even worse.
This is why emergency services are keeping watch for "fire tornado" conditions. When very hot air from large fires rises rapidly into a turbulent atmosphere, it can create fire storms – thunderstorms containing lightning or burning embers. Strong wind changes can also mean fire tornadoes form, sucking up burning material. Both of these events spread fires quickly and unpredictably.
---
Read more: Turn and burn: the strange world of fire tornadoes
---
What does this mean for the drought
Unfortunately, it's not likely the heavy rains over NSW will have a long-term effect on the drought gripping much of the state. While very heavy rains have fallen over 24 hours, the drought conditions have persisted for years.
---
Read more: Trust Me, I'm An Expert: Australia's extreme weather
---
The wet weather may bring some temporary relief, but NSW will need much more rain over a longer period to truly alleviate the drought.
In the meantime, the Bureau of Meteorology will be monitoring the Queensland situation closely. You can check weather warnings for your area on the bureau's website.