Each year, 15 million girls are married before the age of 18. In developing countries, one in every three girls is married before 18; one in nine is married before 15.
If the present trend continues, 150 million girls will be married before their 18th birthday over the next decade. That is an average of 15 million girls each year.
Child marriage is a fundamental violation of human rights. According to reports from both UNFPA and Human Rights Watch, child marriage is associated with many harmful consequences. Child brides face a higher risk of contracting HIV; are much more likely to experience domestic violence; and pregnancy remains among the leading causes of death for girls aged 15 to 19 worldwide.
Child marriage among refugees
Rates of child marriage have increased dramatically as a result of mass migration worldwide.
Humanitarian crises greatly exacerbate gender inequality and gender-based discrimination. Women and adolescent girl refugees face increased risks of gender-based violence, including unwanted pregnancy, HIV infection, maternal death, early and forced marriage, rape, trafficking, and sexual exploitation.
The vulnerable position of migrant women and adolescent girls is nowhere more evident than in the Syrian crisis. Estimates suggest that 13.5 million people in Syria need humanitarian assistance; 6.6 million are displaced within Syria; 4.8 million Syrian refugees have fled to Turkey, Lebanon, Jordan, Egypt and Iraq.
Child marriage in Lebanon
Lebanon has become one of the primary places of resettlement for Syrian refugees. Amnesty International has recorded 1.1 million Syrian refugees living inside Lebanese borders, with estimates that 30% of Syrian refugees have yet to be accounted for, as they are not formally registered with any of the UN agencies or offices.
UNHCR statistics estimate that in 2014, 78% of Syrian refugees in Lebanon were women and children, amplifying the already vulnerable position women and adolescent girls are in as refugees.
According to a study completed by the Lebanese Université Saint-Joseph, 23% of Syrian women present in Lebanon today were married before the age of 18.
These girls are often forced to enter marriages with non-Syrian men, isolating them from both their families and culture, and increasing their risk of being trafficked.
Why child marriages happen
As the international consortium Girls Not Brides reports, child marriage was common in Syria before the outbreak of the civil war; but the conflict has increased the practice at an alarming rate.
This growth should not be interpreted as an extrapolation of an earlier "cultural" practice. Instead, activists are urging aid agencies to analyse the practice of early marriage as a last resort; a desperate response to the extreme circumstances of refugee livelihoods.
Among Syrian refugees, marriage is often thought of as a way for families to protect their daughters against the cycle of poverty and sexual exploitation that affects women and girls disproportionately in conflict settings.
As a Save the Children report notes, refugee families have very limited access to resources, financial or otherwise, leaving them with limited options for protecting their children.
Many families see marriage as a way to get young girls out of their current refugee status: marriage to Lebanese men affords them the right to claim Lebanese citizenship, effectively allowing these girls to leave refugee camps and settlements.
Marriage is also used to obtain entry visas to other neighbouring Middle Eastern countries. It is common knowledge among refugee communities that border guards and agencies are much more lenient towards allowing refugee families to enter, versus the sole male or female refugee.
Financially, unmarried girls are often considered both a burden and a source of worry. Married, these responsibilities are transferred directly to the husband. In interviews conducted with Syrian refugees in the Bekaa Valley, a CARE International report found that unmarried girls noted feeling "rejection from their families" as they are seen "as an added burden to protect and a source of worry regarding their so-called 'honour'."
Girls sometimes find themselves desiring marriage as a way to avoid the overwhelming sense of being a burden for their families, especially when this burden concerns whether or not families will be able to feed all members equally.
The CARE report found that child marriage among Syrian refugees was not only articulated as a way to ease familial responsibilities, but as a way for families to "keep the honour of their daughters". These comments directly reference the elevated rates of sexual assault and rape among refugee girls and women, and the stigma that follows premarital sex regardless of whether or not the encounter was consensual.
Without any option for legal recourse in response to sexual assault, families often see marriage as the only way to "secure" their daughters' virginity until they are married.
What we can do
The prevention of child marriage requires immediate action. Humanitarian organisations must provide gender-specific programming if child marriage is to be successfully ended.
This includes access to health clinics, access to help centres for adolescent girls and women in precarious situations, and providing education that specifically addresses child marriage and its consequences. Without recourse to legal protection, health services, or education, many women and adolescent girls will continue to find themselves trapped.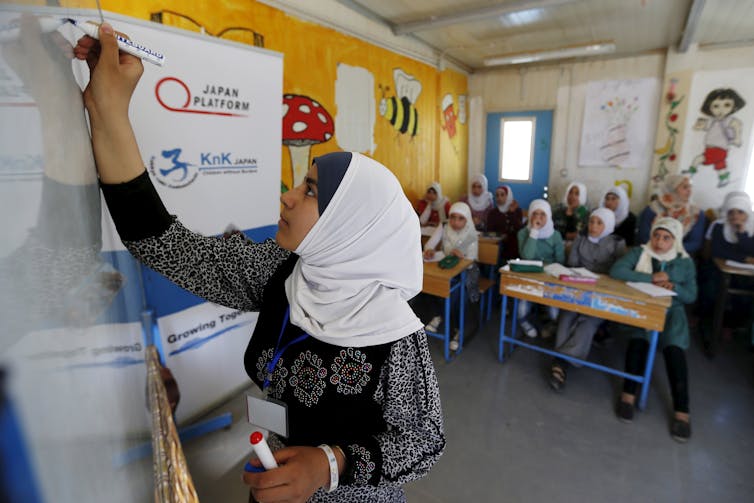 In Lebanon, provision of better resources and health clinics specifically for refugee populations will ultimately help prevent child marriage. We have a responsibility to provide the necessary aid to these women and adolescent girls who are already in the most desperate situation.