In September 2010, the BBC announced a stunning discovery of tigers (Panthera tigris) living at high altitude in the Himalayas. The article claimed that a BBC team had discovered first hand evidence of tigers living at 4,100 metres above sea level (asl) in Bhutan.
This revelation spread quickly, achieving worldwide media coverage within days. In a subsequent three-part television documentary Lost Land of the Tiger, BBC claimed that their strategically-placed camera traps had recorded video evidence of tigers, not just in the Bhutanese tropical lowland forests but also at 4,100m asl in high-altitude alpine meadows. Global media hailed this as a great discovery and a boon for tiger conservation.
The problem is, the BBC team were not the first to collect evidence of tigers living at this altitude. A country-wide Bhutan survey had found evidence of tigers living at altitudes of at least 3000m asl in 1989 - more than 20 years earlier.
Lost Land of the Tiger was lavish and gripping documentary filmmaking. The BBC dramatically portrayed their team risking lives to achieve their goal, culminating in a final episode showing remarkable high-altitude tiger footage. The documentary was a great success with approximately 4.5 million British viewers per night.
The documentary has subsequently aired in several other countries, including in the USA and Australia (as Expedition Tiger) in May 2011 and February 2012 respectively. Judging from the associated blogs, the hype has not lost any momentum and public applause for the BBC's discovery continues.
But the BBC's claim to this discovery is unethical.
Bhutanese wildlife ecologists have been surveying tigers for decades and systematically documenting their occurrence – including at high altitudes – since 2005 under a nationally mandated 10-year Tiger Action Plan.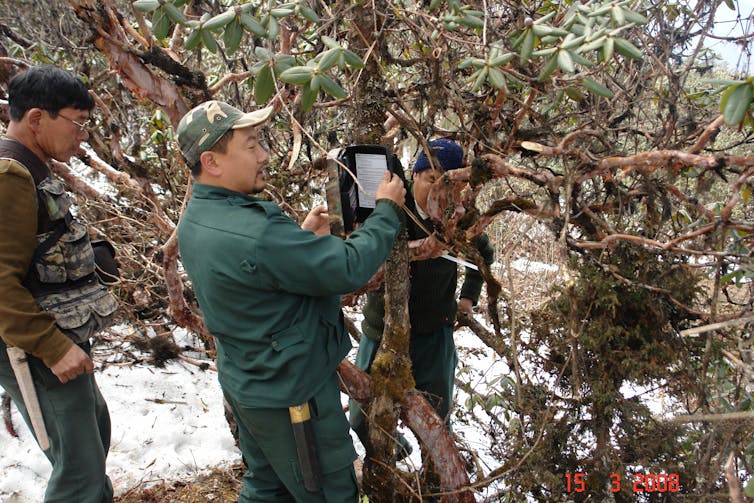 The first photographic evidence of tigers at high altitude was reported by the late Nepalese conservation biologist Pralad Yonzon who, in collaboration with the Wildlife Conservation Division (WCD) of Bhutan, recorded an adult tiger at a 'camera-trap' at 3,000m asl, more than a decade ago in 2000. During that fieldwork, the team also discovered tiger pugmarks (footprints) at 4,110m asl, firmly establishing the presence of tigers at this altitude before the BBC's discovery.
Follow up tiger surveys by WCD in 2008, again before the BBC arrived in Bhutan, resulted in camera-trap photographs of tigers and pugmarks at altitudes between 3,700m and 4,300m asl.
That the BBC overlooked this irrefutable evidence from the scientific community is inexcusable.
Documentary filmmakers peruse peer-reviewed literature, scan media for pertinent information, and utilise their professional networks to identify local experts before embarking on a project. In this instance, BBC made prior contact with the WCD and received expert guidance to precise locations where tigers had been recorded through pug-marks, scats, livestock kills, and camera-trap photographs.
As such, the BBC's success is directly attributed to prior evidence already collected by Bhutanese tiger researchers, both in the lowlands and right up to 4,100m where a BBC crew-member in the documentary appears genuinely overcome with emotion to see a tiger photographed by one of his remote cameras.
While Lost Land of the Tiger was a ratings bonanza and does enlighten viewers about the conservation plight of tigers in the eastern Himalayas, BBC's detection of high-altitude tigers was not a new scientific discovery. Of greater concern, it failed to acknowledge the local scientific expertise that was integral to the success of the documentary.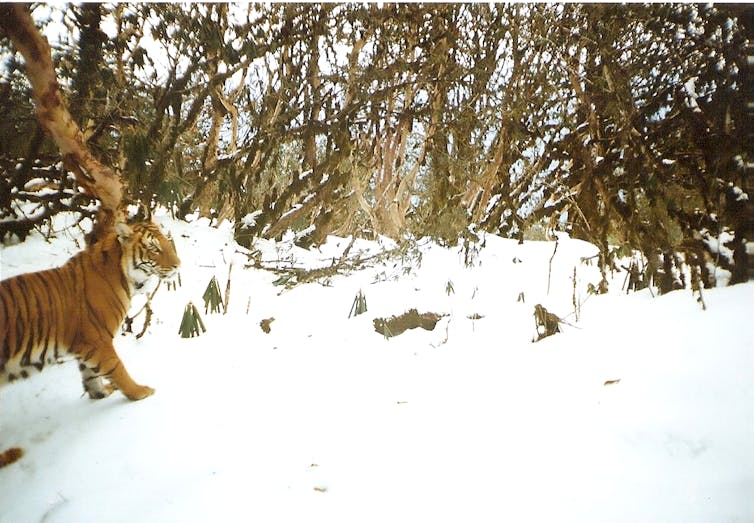 The unethical practice behind the production of this documentary and its misleading message undermines the conservation efforts of Bhutanese government agencies like the WCD and the Ugyen Wangchuk Institute for Conservation and Environment (UWICE).
Bhutanese wildlife researchers work diligently under the constraint of limited funds, logistics and human resources. In a country that prides itself as having environmental stewardship as a pillar of its philosophy of Gross National Happiness, countless hours of expensive field surveys in Bhutan's remote and rugged protected areas including thousands of camera-trap nights have been dedicated towards investigating tiger distribution.
Yet none of the Bhutanese tiger researchers who pioneered the discovery of tigers at high altitude and who advised the BBC on camera-trap locations appeared in the documentary. Instead, the BBC chose to portray Bhutan as a remote and under-developed country, and lacking local research expertise under the guidance of effective conservation policy. The only Bhutanese input aired in the documentary came from rural people in the remote regions visited by the BBC crew.
When informed by locals that the presence of tigers at high altitude was widely known, the BBC narrator questioned whether "…legends of tigers living at high altitude are true", arguing further that "fact and fiction can become blurred at these extreme altitudes".
Fact and fiction were indeed blurred. Gross misleading statements such as "…any wild tiger the team finds in Bhutan would be a precious discovery" (Episode 1), "virtually nothing is known about Bhutan's vast forests" (Episode 2) and "tigers breeding this high in the Himalayas is totally new to science" (Episode 3) are offered as facts, creating an illusion for unsuspecting viewers.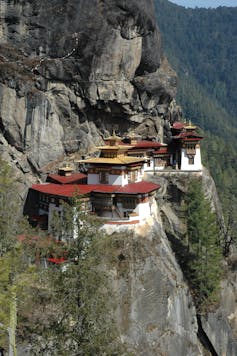 The Lost Land of the Tiger has created local distrust, seriously jeopardising any genuine future collaborative endeavour between foreign media and the Bhutanese government in documenting the nation's rich biological diversity.
With the concluding statement that "…nothing was known about the tigers that may live here; we have filled in the final piece of the puzzle", the BBC documentary completes the deception that an exciting new discovery was made, and in doing so, claims false ownership over something that the Bhutanese have long established.
This article was co-authored by Sonam Wangchuk, Chief, Wildlife Conservation Division, Department of Forest and Park Services, Ministry of Agriculture and Forests, Royal Government of Bhutan.
The authors would like to acknowledge the assistance and support extended by Dasho Paljor J. Dorjee, Senior Advisor and Dy. Minister, National Environment Commission, Bhutan, and Mr Sangay Dorji, WCD, Bhutan.