Most developed countries have laws that permit the detention and treatment of individuals with severe mental health problems without their consent. Practices such as restraint and solitary confinement (often referred to as "seclusion") are sometimes used to manage certain behaviours.
Earlier this year, the United Nations special rapporteur on torture, Juan E. Méndez, called for:
an absolute ban on all coercive and non-consensual measures, including restraint and solitary confinement of people with psychological or intellectual disabilities … in all places of deprivation of liberty, including in psychiatric and social care institutions.
While the statement is not legally binding in Australia, it indicates that, from a human rights perspective, these practices are no longer acceptable.
Different types of restraint
Seclusion is defined in mental health legislation as the deliberate confinement of a person, alone, in a room or area that he or she cannot freely exit. Rates of seclusion vary markedly across mental health facilities in Australia.
The term restraint is more difficult to define as it can refer to:
physical restraint: where bodily force is used to control a person's freedom of movement

chemical restraint: where medication is given primarily to control a person's behaviour, not to treat a mental health problem or physical condition

mechanical restraint: where a device (such as straps, safety vests or mittens) is used to control a person's freedom of movement.
A 2009 report by the National Consumer and Carer Forum also refers to emotional restraint, where
the individual consumer is conditioned to such an extent that there is a loss of confidence in being able to express their views openly and honestly to clinical staff for fear of the consequences.
A priority for mental health care
In 2005, Australian health ministers agreed on National Safety Priorities for Mental Health. One of the priority areas was reducing the use of, and where possible, eliminating the practices of restraint and seclusion.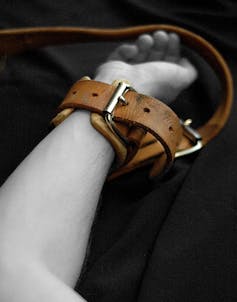 The National Mental Health Seclusion and Restraint (Beacon Site) project was established two years later to target these practices in Australian public mental health services and ran until 2009. Since then, an annual forum has been held to highlight research in this field. The next forum will be held in Canberra later this year.
Last year, the National Mental Health Commission released A Contributing Life: The National Report Card on Mental Health and Suicide Prevention. One of its ten recommendations echoed the 2005 national priority, in targeting the reduction of "the use of involuntary practices and work to eliminate seclusion and restraint".
In order to carry out this recommendation, the commission has called for all states and territories:
to contribute to a national data collection to provide comparison across states and territories, with public reporting on all involuntary treatments, seclusions and restraints each year from 2013.
Progress towards elimination
What progress has been made towards the elimination of these practices as urged by the special rapporteur? A recent report by the Australian Institute of Health and Welfare indicates that the use of "seclusion" for those who have been involuntarily committed to mental health facilities is falling.
The service culture is also changing. An article by Joel Margarey in The Australian highlighted that the Canberra Hospital reduced its rate of seclusion by 88% in a year "by including consumer representatives in seclusion incident review meetings".
However, it is very difficult to get a clear picture of what is happening in relation to restraint practices, partly because of difficulties with definition and partly because reporting requirements differ markedly across states and territories.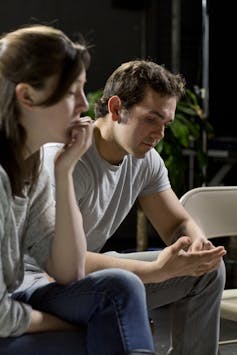 Most Australian mental health laws contain restrictions on the use of mechanical restraints (New South Wales has guidelines). The Tasmanian Mental Health Act 2013 and the New South Wales guidelines refer to physical and chemical restraint and the South Australian Mental Health Act 2009 sets out the principle that "medication should be used only for therapeutic purposes or safety reasons". None refer to emotional restraint.
Where the use of restraint is regulated, it is done so by reference to the concepts of necessity and reasonableness. The New South Wales guidelines, for example, state that:
[i]n the use of [physical or mechanical] restraint, staff must be satisfied that the intervention is reasonable and accepted as safe, competent professional practice i.e. the least amount of restraint/force necessary to respond to the situation [emphasis added].
Similarly, sections 56 and 57 of the Tasmanian Mental Health Act 2013 allow for an individual to be subject to restraint if his or her mental health practitioner authorises it as necessary and is satisfied that it is a reasonable intervention.
This, of course, raises the question of the circumstances in which such practices can be considered necessary and reasonable. Some may argue that an absolute ban may not be the best approach in relation to restraint and seclusion because the practices may sometimes be necessary to ensure the safety of an individual or third party.
Many countries are exploring ways to ensure they are seen as a last resort. A 2012 Draft Strategy by the Mental Health Commission of Ireland has identified nine interventions that can reduce, if not eliminate, the use of seclusion and (physical) restraint including "patient, family and advocate involvement" and "training and education".
Next steps
The National Mental Health Commission has engaged an interdisciplinary team of ten researchers from the University of Melbourne, including myself, to investigate the extent of seclusion and restraint in Australia. The project will actively involve people with experience of mental health problems, families and other supporters, and will use multiple data collection methods.
We will also look at comparable countries with the aim of identifying workable approaches to the reduction and elimination of these practices.
The UN special rapporteur's call for an absolute ban on restraint and solitary confinement in psychiatric institutions certainly challenges the status quo of how these practices are regulated in Australia.
Working towards their elimination needs a collaborative approach that goes beyond purely a legislative response.