"Despite a long history of policy attention, no consistent improvement has been made in the literacy and numeracy achievement of Indigenous Australian primary school students."
This is the latest finding from the 2016 Productivity Commission report on Indigenous primary school achievement.
It reveals that Indigenous children are still greatly disadvantaged in numeracy and literacy skills.
Around nine out of ten Year 9 students in remote Indigenous communities are at, or below, the national minimum standard for literacy.
The situation is similar for those Indigenous children living in other areas of Australia, including cities.
Raising achievement among Indigenous achievement
Maori children in New Zealand face similar issues, and trail behind non-Indigenous children in literacy and numeracy.
They also tend to be disadvantaged, marginalised from minority groups, living in poverty, spread across remote, rural, and urban areas, not expected to do well, and attend schools that are unable to break the cycle of failure. When a child lags in literacy, it sets them up for failure in later life.
So how can the Australian government break this cycle and raise Indigenous achievement to mainstream levels?
A program that's working
A literacy program being used for Indigenous, disadvantaged children in New Zealand has had some success.
Research shows that the program helped to raise literacy levels of Year 2 Indigenous Maori children attending schools in poor areas to average levels with just a small change to current methods.
In the study, a group of 96 six-year-olds were randomly put into four groups: phonics, where children learn to read by sounding out words, book reading, where children read books again and again and learn words visually, mathematics, where children did maths and no reading at all, and a combination of phonics and Big Book – books with large print and colourful illustrations – reading.
After 12 30-minute lessons that took place once a week over several months, the group with the combination approach was significantly ahead of the other groups on a number of measures.
They were at average levels for their age in word reading, and approaching average in reading accuracy, comprehension, and spelling. Whereas the control groups (phonics only, book reading only, mathematics only) lagged behind.
The success of the approach was that it combined the teaching of phonics skills with the reading of authentic children's literature. There was direct instruction – where the teacher taught specific phonics rules for how to sound out and pronounce key words from the book – and an engaging format (children's literature). The stories were chosen so that children could relate to them.
This approach was so successful because children learned rules to help them sound out words from their Big Book, and because they were able to see the rules in action while reading the Big Book with their teacher.
Indigenous children are currently taught phonics separately from reading. The combined approach, however, shows children how to sound out words from the Big Book first and then to read the words in the Big Book.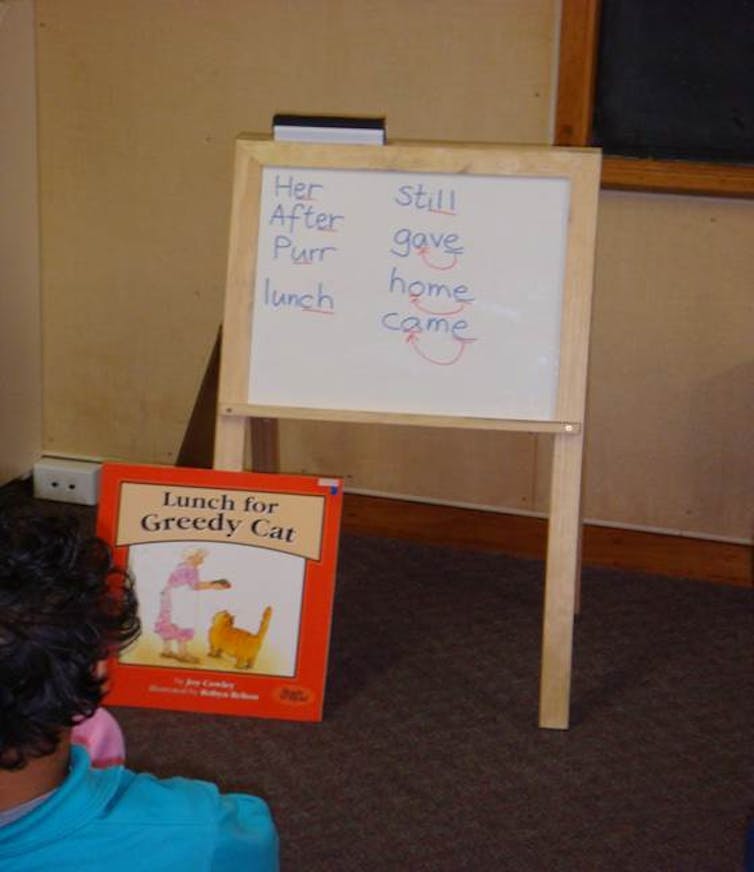 Closing the gap
A similar combined approach would be effective for Indigenous children in Australia both at the early childhood level and in the regular school system.
It's an approach that the 2016 Closing the Gap report – which sought to find out what was and wasn't working for Indigenous Australians – is looking for.
This research is part of a wider conception of school change originally developed by education psychologists at Stanford University called Project Read that aimed to teach children not just to read but to increase their other academic skills as well.
It focused on language and literacy, especially decoding, vocabulary, and reading comprehension.
This school-wide model has been implemented in both high and low poverty areas of the US. The project had a strong impact in one South Central Los Angeles school that had always been below the district average but whose language and reading scores, over a ten year period, had gradually come much closer to that average.
Such positive results for one school in a poor area showed that progress can be made across the whole school.
Self-belief is a requisite requirement for success, and good academic skills can provide a solid foundation for self-belief. This approach could set the necessary foundations and help close the gap for Indigenous children.