Among all the nostalgic recognition of Ken Dodd's comic genius following his recent death, it is too easy to overlook the fact that he was also a successful pop singer with no fewer than 18 Top 40 hits to his name, four of which made it into the Top 10. His 1965 release Tears was the third highest-selling single in the UK across the entire 1960s.
You might want to read that again, slowly. In a decade that produced countless hits for The Beatles, The Rolling Stones, Elvis Presley, Tom Jones, Frank Sinatra, Cliff Richard and many more, Ken Dodd's track outsold them all – except for two songs by The Beatles: She Loves You and I Want to Hold Your Hand, both released in 1963.
There is, of course, a statistical sleight of hand here. Singles released towards the end of a decade have less time to rack up sales within that decade than those that have been available longer. Nevertheless, it is a remarkable achievement, particularly if one considers that singles released before Tears include hits such as It's Now Or Never by Elvis Presley (1960), It's Not Unusual by Tom Jones (1965), Can't Buy Me Love by the Beatles (1964), and so on.
Why was Tears so successful? Dodd was certainly an accomplished baritone. He sustains a smooth vocal line, pitches the slightly tricky melody accurately, and like other crooners of the time – think Dean Martin or Andy Williams – he uses vibrato effectively. He also has a tasteful approach to portamento – sliding gently between certain pitches to enhance musical feeling.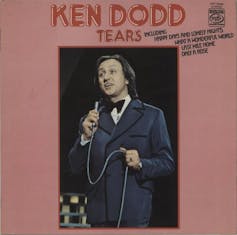 It is perhaps no coincidence that when Dodd appeared on BBC Radio 4's Desert Island Discs in 1990 his musical choices included Sinatra, Nat King Cole and Perry Como – the last of whom he nominated as his overall favourite among his eight discs. These were the singers who he admired – and perhaps to some degree emulated – and their crooning style very much provides the context for his own.
Music and Meaning
Is there something about the song itself that also made it particularly popular? The melody is characterised by a descending chromatic line – that is, you couldn't play it entirely on the white notes of a piano, you'd need some black notes, too. Descending lines of this kind are often associated in classical music with heightened emotional states, especially of grief and sorrow, and particularly if the melodies are coloured by these half-step (semitone) chromatic inflections.
In Henry Purcell's opera Dido and Aeneas (written sometime in the 1680s) Dido's famous dying lament, When I Am Laid In Earth, is underpinned by a repeating bass line characterised by downward half-steps. Bizet's well-known Habanera from his opera Carmen (1875), provides one of the most famous examples of a descending chromatic melody, although here it serves to introduce the title character as a feisty gypsy girl asserting her independence, declaring that: "Love is a rebellious bird that none can tame."
In My Heart Opens to Your Voice (Mon cœur s'ouvre à ta voix) from Saint-Saëns' opera Samson and Delilah (1877), Delilah supposedly reveals her love for Samson upon hearing his voice, only to betray him later in the opera. The opening phrase of Dodd's Tears uses exactly the same descending five-note pattern as the second part of the Saint-Saëns melody. Whether the songwriters Frank Capano and Billy Uhr were aware of this connection is unknown, but the overlap can be clearly heard.
Tears was first released by the bandleader and singer Rudy Vallee in 1930, although in its original version it has a waltz-like three beats to the bar feel. Dodd's version is slower and has the more conventional four beats to the bar – and halfway through the recording (at about 1'38") the entire song modulates up a semitone. This "semitone shift" is relatively common in popular music (less so in classical music) as a way of introducing variety in a piece without introducing new material.
It also heightens tension. Later examples include Michael Jackson's Man In The Mirror (at about 2'50") or Bon Jovi's Livin' On A Prayer (at about 3'25") – but there are countless others.
Middle of the road
Looking back, it is tempting to see Tears as something of a watershed moment in British popular music, the final peak of a middle-of-the-road style from singers such as Como, Williams, Val Doonican and others, before that style became overtaken by the inexorable growth of rock and roll and the many popular music styles that followed.
This is not to suggest that these kinds of ballads suddenly disappeared. Light and MOR music continue to have their devotees, and Dodd himself released hit recordings until the early 1980s. But none would have the extraordinary success of Tears.
Whatever the reasons for that success, the fact that a goofy comedian from Liverpool could outsell nearly all UK singers and bands in the 1960s – a prolific decade for British popular music – remains astonishing, almost funny. Tattyfilarious, you might say.