As the trial of the deadly 2013 Lac-Mégantic rail disaster begins, new technologies, and practices and policies that aim to employ them, could help avoid similar disasters in the future.
The Transportation Safety Board (TSB) found more than 18 distinct causes and contributing factors in the Lac-Mégantic derailment investigation, which makes the likelihood of this type of accident seem nearly impossible.
Yet other derailments in Canada involving dangerous goods would soon follow in 2014 in Plaster Rock, N.B. and Clair, Sask., and two incidents in 2015 in Gogama, Ont.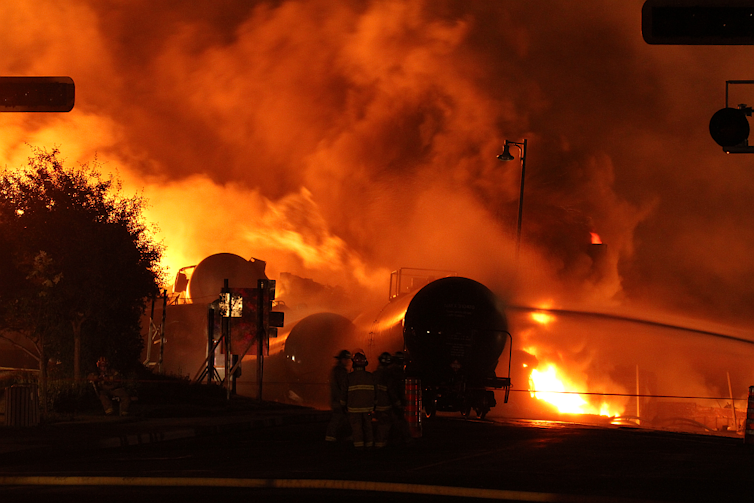 This suggests that we must be mindful of the connection between human interactions and technology and how each will continue to underlie many causes and contributing factors of future incidents.
As a civil engineering professor who researches transportation infrastructure, dangerous goods and risk, I see several new developments and changes to technology and policy that can help to reduce future accidents.
Safer tank car standards
The type of tank cars involved in the Lac-Mégantic accident ("Class 111") were known to be vulnerable to failure, even in low-speed accidents (e.g., Cornwall, Ont. in 1999).
After Lac-Mégantic, Canada and the United States developed a more robust tank car standard, Class 117. This new standard features improved puncture resistance, structural strength and fractural resistance.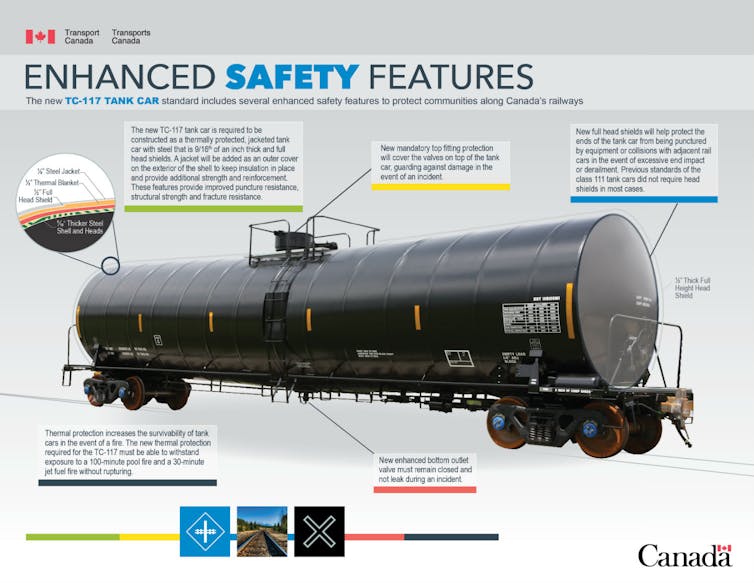 Despite these improvements, Canadian and U.S. regulations will still allow Class 111 tank cars to be used for the transport of certain dangerous goods until mid-2025.
Even so, Canada accelerated the phase-out of the older Class 111 tank cars from being used for crude oil service in Canada as of Nov. 1, 2016, under Protective Direction 38.
Enhanced braking
In addition to new tank car standards, the U.S. is requiring enhanced braking standards on trains carrying flammable goods.
Any train with a continuous block of 20 tank cars loaded with a flammable liquid, or 35 or more tank cars loaded with a flammable liquid dispersed throughout a train, must have a functioning two-way end-of-train (EOT) device — an electronic unit that can be mounted on the end of a freight train instead of a caboose — or a distributed power (DP) braking system, which spreads braking across different points throughout a train.
Furthermore, any train with 70 or more loaded tank cars containing flammable liquids travelling at speeds greater than 48 km/h must be operated with an electronically controlled pneumatic (ECP) braking system by May 1, 2023.
In short, these technologies enable more controlled braking behaviour through a more responsive and uniform application of brake pressure. Benefits would include shorter stopping distances, lower risks of derailment and lower pile-up effects in the event of a derailment.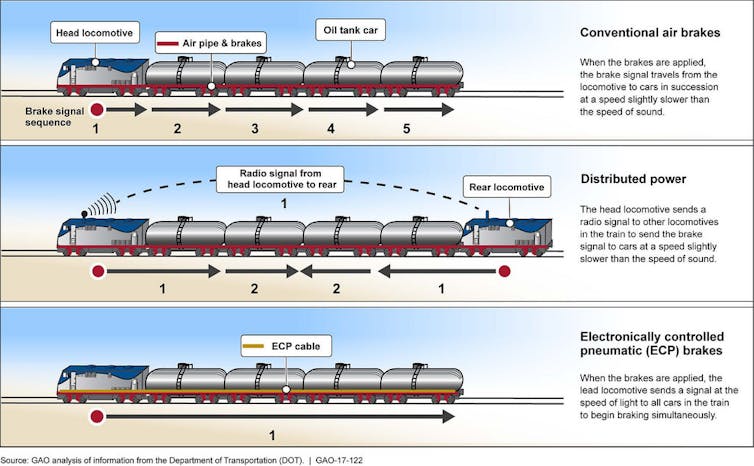 More information sharing
Technology also allows more information sharing for better decision-making. For example, Protective Direction No. 36 in Canada requires railways to provide municipalities with dangerous goods reports, including information on the number of unit trains, percentage of railway cars transporting dangerous goods, information on their nature and volume and number of trains.
This information is intended to inform emergency planning and responses.
The U.S. is also requiring more accurate classification of unrefined petroleum-based products to ensure proper classification, packaging and record-keeping through a documented sampling and testing process. This information is to be made available to the Department of Transportation upon request.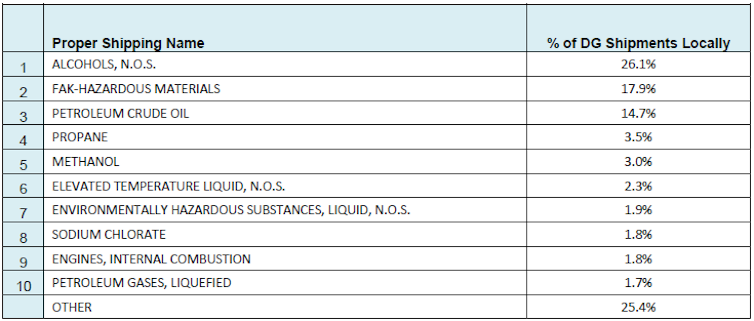 Human factors
The technology to prevent rail disasters is in our hands — just as it was in 2013. While these and future technologies are likely to reduce the risks of transporting dangerous goods across Canada and the United States, the interactions between humans and other elements of the system — the "human factors" — will remain predominant.
As we now know in the Lac-Mégantic accident, the train carrying 7.7 million litres of crude oil sped toward the small Quebec town at 104 km/h before derailing, killing 47 people in the resulting fire and explosions on July 6, 2013.
Hours before derailing, the train was parked and left running on the main track in Nantes, Que., awaiting departure. But shortly after the engineer parked the train, a locomotive engine caught fire and was turned off by the Nantes fire department.
Without power from the running locomotive engine, air slowly leaked from the air brake system. An insufficient number of handbrakes were applied and the train eventually began rolling downhill on its final journey toward Lac-Mégantic.
Some of the causes and contributing factors in the Lac-Mégantic rail disaster were not technical failures so much as they were failures of humans to properly interact with technology: To properly maintain a locomotive engine, to have knowledge of interactions between locomotive engines and air brake systems and to properly set and test the effectiveness of handbrakes.
Although technical standards were less stringent in 2013, technology did not fail us. In many of the causes and contributing factors of Lac-Mégantic, it is evident that we failed to understand and interact with our technology.