The tenth anniversary of the Cronulla riots would be best commemorated through reflection. Two debates erupted immediately after Cronulla – one over Australian racism, the other over Muslim integration. Neither debate is over, as ex-prime minister Tony Abbott's Wednesday article on Islam's cultural problems shows.
After Cronulla, Australians were said to be drunken louts who were fundamentally racist, xenophobic and Islamophobic. Australians were also said to be inclusive and tolerant, but when pushed they would defend their space as their great-grandfathers had at Gallipoli. A small minority were fruitcake racist extremists, but they did not reflect the true Australia.
Muslims were said to be angry, racist and sexist, intolerant of others and rejecting of Australian customs and lifestyles. They were also said to be proud, family-oriented and good citizens, but when pushed they would respond physically against their tormentors. A small minority were extremists in love with violence and anxious to use violence to change the world.
A changing Australian Islamic community
From Cronulla, a group – led by now deputy NSW police commissioner Nick Kaldas – successfully argued for greater community contact and liaison, with better human intelligence gathering. The building of trust between police and community leaders was accompanied by a greater sophistication in planning, servicing and implementing public order challenges.
This post-Cronulla emphasis on "prevention" has intensified in the wake of more recent public order confrontations – such as the "Sixth Pillar Riot" in Hyde Park in 2012. Some of the protesters included radical Islamists who would later become Islamic State (IS) activists.
The riot flared after a section of the crowd, participating in a protest against an American anti-Islamic film, broke away and tried to reach the US consulate. Police stopped the group and physical confrontation ensued.
That marked a critical point in how Sydney's Muslims would perceive and engage with organised violence perpetrated in their name. Detailed discussions between leaders of various groups urged a group of religious leaders, alongside Kaldas, to publicly denounce the violence. Following this, imams were pledged to do the same within mosques and prayer halls.
The tension placed these leaders under two strong pressures. The radical and violent wing demanded the mainstream surrender to a caliphatic agenda of separating Muslims from a supposedly irredeemably Islamophobic Australian society. The integrationist – but more fearful – mainstream insisted on civil engagement and performance of Australian citizenship.
Bravely, leaders denounced the breakaway activists and reasserted their loyalty and commitment to Australia.
That period marked the further intensification of the wider Muslim community's partnership with Australian authorities in confronting violent extremism. It also marked the jihadist minority's separation from the wider community and their further commitment to violence.
Soon after this, Australian IS supporters began to appear on the public radar – and the tension between jihadists and everyone else continues.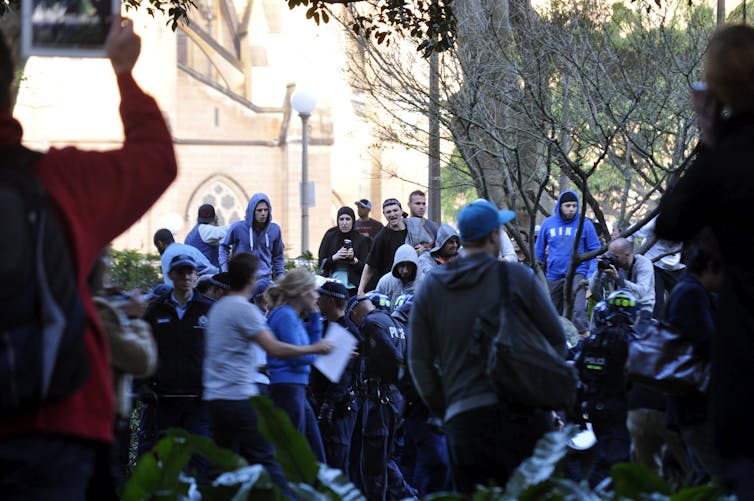 Rise of the racist right
The caliphatic bloom was matched by a surge of anti-Islamic fervour, self-described recently as Reclaim Australia. Australia's organised racists used the Cronulla events to reflect on and rework their strategies. Cronulla was a very successful expression of their ideology and practice – one that poked their message into the public eye.
Over the past decade, the rapid transformation of social media has expanded the way in which their activism is organised and their ideologies communicated. The focus on Muslims has provided them with a more unitary, and much larger, target than the Cronulla focus of "Lebs".
The NSW Police Strikeforce Neil report demonstrated the crucial role of media in mobilising hate. Radio, as it was listened to in cars (as in hate-mongering from Alan Jones), and SMS on mobile phones – in the era before the new smartphones were omnipresent, but when texts could be sent and rebroadcast on a mass scale – helped wrap people in a shared sense of purpose.
The racist groups have demonstrated their proficiency with the leading edge of media ever since. Twitter feeds, Facebook, Instagram, YouTube, WhatsApp, Snapchat and, most recently, Telegram are used to organise and focus supporters, and to recruit new followers. Jihadists, as well, have perfected the use of social media. Authorities are running to catch up.
The speed with which Reclaim Australia came into being and its success in feeding off local issues, such as the Bendigo mosque debate, suggests we will see a continually invigorated nativist and racist movement in Australia. Larger inter-group confrontations are likely, too, appearing with extraordinary rapidity, sought by those who grow on insecurity and fear, and drawing in activists carrying real weapons.
Learning to invest in integration
Governments, at the level of officialdom, increasingly realise that a co-ordinated approach integrating policing with community development is the only way to secure social cohesion. Local government has become one front line, working with state government and not-for-profit organisations.
Yet confidence in government among young activists from both "sides" of the story has never been lower. Even the middle ground finds government unconvincing and intimidating.
The NSW Liberal Party has discovered that close links with the Muslim community can produce great outcomes. The federal Liberal Party, however, has discovered nothing of this. Its leaders – other than Turnbull – delight in Muslim-baiting.
Those conservative Muslim-heavy seats that tilted towards the Liberals in 2013 won't stay there, especially as Islamophobia seems to be a mindset among the conservatives at the national level.
As a society, we are beginning to learn that investing in and expressing inclusion works better than focusing on exclusion. That's been a slow learning process, and we're not there yet. Thinking about how everyone can have a stake in the game is crucial – on all sides.
But a decade on from Cronulla we haven't worked that one out. Both the racist right and the jihadis see this failure as an opportunity for their agenda to progress. They need each other, but we don't need either of them.