Seamus Heaney's final poem has been published just over a year after his death. Finished ten days before he died aged 74 in August 2013, the poem is a mediation on a painting of a canal by the French artist Gustave Caillebotte.
It appears in a volume collated by The National Gallery of Ireland, who commissioned writers to respond to paintings displayed on their walls.
Many more people will have read this poem than would otherwise. It is now not just a poem by Heaney about a canal, but a quasi-mythological "last poem". This new identity also changes how we actually read the poem. It doesn't make it better or worse, or affect its "worth", but it does influence the way in which the poem can be read and understood.
Perhaps unsurprisingly, Heaney chose a landscape to write about. The 19th-century oil painting frames the bend of a canal reaching into a fresh and tree-lined distance. Given the posthumous nature of the publication and the fact that it was completed such a short time before Heaney's death, his meditation on the scene carries a particular weight. Although Heaney's death was unexpected, he was in his 70s at the time of writing. He had a wealth of publications behind him and numerous awards, not least the TS Eliot Prize for poetry (2006) and The Nobel Prize for Literature (1995).
The voice of the poem is experienced, considered and calm. It asserts a balance and a comfort to be found in the landscape. This is directly explored through the language that is used to explain the environment. The poem opens:
Say 'canal' and there's that final vowel
towing silence with it, slowing time
to a walking pace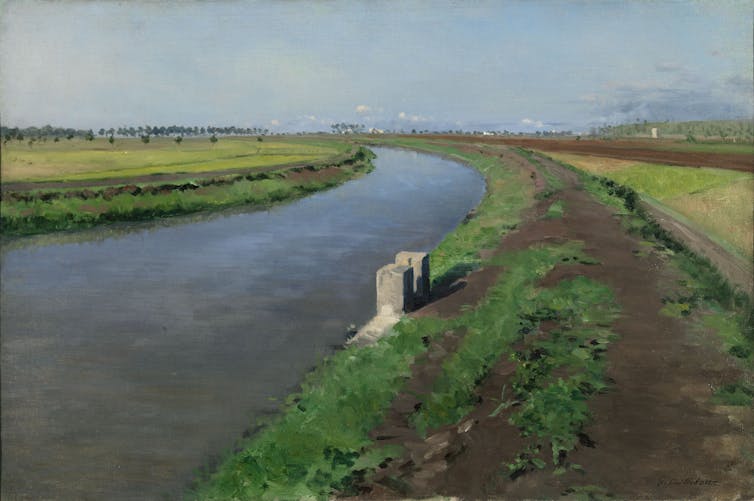 When I read this I was immediately reminded of his poem Anahorish (1972):
My 'place of clear water'
Anahorish, soft gradient
of consonant, vowel-meadow
In both poems, language and experience are inextricable: Heaney makes it clear how writers mediate life's experience though language. But poets can go a step further and make that experience shimmer. It is this vibration that lives on within and without the confines of his final poem. Heaney evokes the canal as an environment in which one can situate oneself comfortably and find peace. And he also describes it as a living phenomenon from which it is possible to "stray beyond". Both ideas summon curiously apt images of a poet fully at ease with his position in the grand scheme of things, at ease with his mortality. For me, it is this feeling of contented mortality that "lives on" through the poem.
Perhaps this feeling is amplified because we know he was shortly to die, shortly to "stray beyond". But does this matter?
This is not a question that applies to another poem imbued with thoughts of death, Clive James's recently published Japanese Maple. In this poem, also a reflection on nature, he confronts his looming death directly. He opens in the second person: "Your death, near now, is of an easy sort."
After reminding the reader of her own mortality he then writes using the first person:
My daughter's choice, the maple tree is new.
Come autumn and its leaves will turn to flame.
What I must do
Is live to see that. That will end the game
For me, though life continues all the same
James has been diagnosed with terminal leukaemia and emphysema. He has even spoken in interviews of "saying goodbye" through his poetry. But whether the poem confronts death directly or is imbued with it in retrospect, what connects Heaney and James, and in fact all poets, is our desire to grapple with life through language, our desire to speak our existence. Part of this very existence is, inevitably, death. In the writing of a poem, the marking on a page, one is simultaneously giving into the reality of life and defying it also. The poet seeks to express this world, death included – and yet to write beyond it also, on the page that may exist elsewhere in a future that he or she will not be part of.
And we read poems for the same reasons. We read to get a handle on life and to find ways of articulating it. We read poems to experience beyond the self, beyond the known, the expected and the empirically understood. Poetry offers a space for the enunciation of concepts and experiences that we are not able to speak about in everyday language. Whether the subject is death, or love, or loss, or peace, or enlightenment, poetry is written and read in order to provide a moment, as Heaney has it in his last poem, "where soul could mind itself".