Over the previous two Sunday evenings the Nine television network broadcast a mini-series titled Howzat! Kerry Packer's War. It was a dramatisation of a revolutionary time in Australian cricket when media tycoon Kerry Packer, who was the proprietor of Channel Nine, transformed the way elite cricket in Australia was organised, promoted, played, and watched by fans.
Kerry, like his father Sir Frank, was ever the opportunist. During the early part of the 1970s Channel Nine had successfully televised professional golf tournaments with the American legend Jack Nicklaus as his major drawcard. With the introduction of colour television into Australia in 1975, and the overwhelming success of the ABC's live telecast of the 1975 World Cup One-Day Cricket final from London, Packer could see the potential of cricket to enhance Channel Nine's ratings figures. He subsequently decided that he could buy his way into cricket broadcasting by offering the owners of cricket in Australia - the Australian Cricket Board (ACB) - a deal that was too good to refuse. The ACB did, however, refuse the offer, which was more than $1 million more than being paid by the ABC, which had held the television broadcast rights to cricket since television's establishment in Australia in 1956. There was also the problem of how he might push aside Channels 7 and 10, who shared the non-exclusive rights to broadcast some first-class cricket games at this time.
As Howzat! starkly depicted, Packer only got more determined when he did not initially get what he wanted, so he sought the television rights for the upcoming Jubilee test series between England and Australia to be played in England in 1977. Without the knowledge of either the ACB or the ABC, Packer offered the governing body for English cricket, the Test and County Cricket Board (TCCB), $300,000 for the rights to televise all Tests and one-day games back to Australia, a massive amount at the time for an event that would be telecast in the late evening and early morning in Australia. This offer did turn out to be too good to refuse, and Channel Nine laughed all the way to the bank on the back of some very impressive ratings figures.
The next step in Packer's foray into first class cricket, as Howzat! expertly portrayed, was accompanied by the entrepreneurial flair of Austin Robertson, a journalist and player agent, and John Cornell, better known as the sidekick of Paul Hogan. By the middle of 1977, Robertson and Cornell had contracted 35 of the world's best cricketers to play in international tournaments in Australia, and by the end of the year 50 had signed up to contracts that were unimaginable under traditional cricket arrangements.
The rest, as they say, was history, and, as Howzat! neatly depicts, over the following two cricket seasons Packer was able to do two crucially important things in his quest to shape the future of Australian cricket. First, he delivered alternative first-class cricket competitions under the banner of World Series Cricket (WSC) that culminated in 50,000 fans turning up to a day-night one-day cricket match at the Sydney Cricket Ground. Second, by putting the Cricket Board under extreme pressure to collaborate with WSC, Packer secured the television broadcast rights for all first class cricket games beginning in the 1979/1980 season, and which as it turned out, continues to this day.
So, how did Howzat! go as television entertainment? As one commentator suggested, Kerry Packer's "war" against the Australian Cricket Board and the ABC machine "belted them over the fence and is sitting on a tidy century, not out". In ratings terms, it "hit 'em for six", by securing a five-city metropolitan audience of just over two million viewers. It also told a good story, with a strong narrative that captured the attention of cricket fans and non-fans alike. And, while some characters were exaggerated exemplars of "dumb Aussie larrikins", and others "cardboard cut outs", with the Doug Walters character being absurdly one-dimensional, it did not diminish Lachy Hulme's impeccable portrayal of Packer.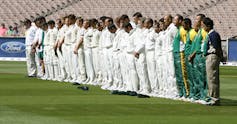 But this is only part of the bigger picture around Howzat! Kerry Packer's War. The thing that really struck me was the amount of cross promotion that occurred. In part-two of the series, advertisements were inserted for Househusbands, A Current Affair, Underbelly: Badness, Nine News, Dallas, Big Brother and Gordon Ramsey Behind Bars. Not only that, but Crown Casino, which is part-owned by James Packer, Kerry's son, and Toyota, which is a major sponsor of Australian cricket, also featured heavily in the advertising breaks. And, just to round it off, three sports betting agencies promoted the virtues of their products.
On reflection, I realised that this is exactly what Packer did to cricket. He took a game that was run by amateurs, played by part-time professionals, and watched for the most part by a coterie of aficionados, and turned it into an entertainment experience where an array of stakeholders – including governing bodies, sponsors, equipment suppliers, merchandisers, venue managers, caterers, players, player managers, broadcasters, the print and electronic media, and supporters of all sorts - use each other to secure a commercial advantage or obtain a personal benefit. This is contemporary capitalism working at its best, with cricket, courtesy of "KP", right in the middle of it.