Some 40 years ago, on any remote island in the Arafura Sea, that stretch of water between Darwin and Papua New Guinea, if a group of Yolŋu were living on country for more than a few days there would be a car battery and a UHF wireless crackling and whining in the background. Everyone listened and contributed to the news of who was leaving and arriving where, whose turtles and dugongs were being shared around.
And then there was the Voice of America, broadcast from somewhere in the Andes. It was the only short-wave radio readily available with country music and plain English news – although generally not the most topical or unbiased.
Access and interest was probably the same in the desert at that time. Since then a range of local and regional radio networks have been established and embraced specifically for remote Aboriginal communities.
How good, then, to hear that the ABC has launched an Aboriginal language news service trial in two Northern Territory languages – Warlpiri in the desert and Yolŋu Matha in the far north east.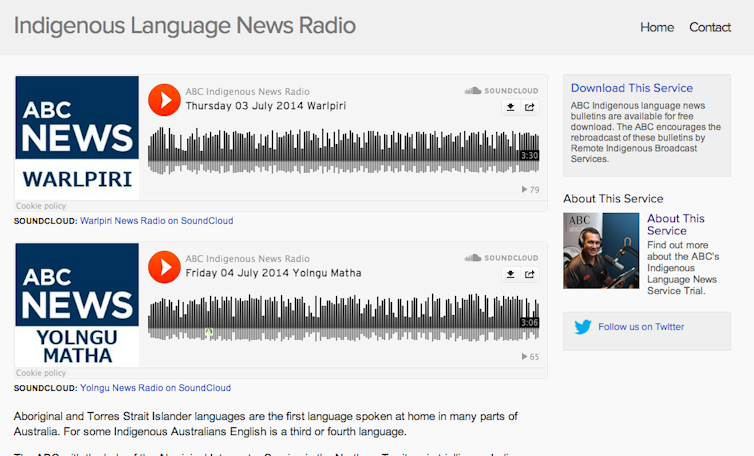 We already have the infrastructure for much of the remote broadcasting, and people have been buying and using small portable radios for some time. Sometimes even the wind-up versions have been available through local stores on remote communities, and mobile devices are everywhere.
In North East Arnhem Land, Yolŋu Radio reaches six major communities and 30 homelands as well as Darwin and Palmerston providing "information, music and entertainment" in the many languages of the Yolŋu people. There are similar networks in the desert, such as CAAMA Radio.
Now the ABC has come on board it will not be difficult to develop and to share their own Aboriginal language news service.
News and Aboriginal leadership
The news of this new service comes at an interesting time.
Remote Aboriginal communities everywhere are experiencing radical changes in the nature and practices of governments. Among those changes, governments at all levels are devolving responsibilities for service provision to individuals and communities.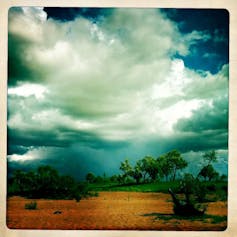 They are supporting the development of new local Aboriginal corporations involving forms of corporate law and decision-making that respect and are accountable to both traditional Aboriginal and contemporary Australian culture.
Aboriginal excitement and bewilderment at these new developments – and our own bewilderment as collaborative researchers working to generate and understand new governance structures and practices – necessitates increasing access to news from the regional and national centres.
This news needs to be delivered regularly, to senior people who have much authority, but often not much literacy or good knowledge of English.
Being able to speak confidently about changes in government policies and practices is becoming a key feature of Aboriginal governance and leadership in remote communities.
Aboriginal languages in the Territory
The news comes also at a time when the Territory government is having a difficult time making up its mind about the role of Aboriginal languages in education.
Except in a few resistant outposts, bilingual education is gone. Except for the Aboriginal Interpreter Service – which will be involved in the ABC trials – there is no significant official support for Aboriginal languages. How good it will be to listen to the news in an Australian language after we hear the ABC fanfare!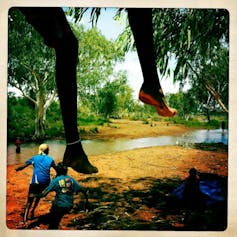 And what a message it will entail for policy makers and bureaucrats who, even with good will, don't really appreciate the value or need for ancestral languages to be maintained and supported.
Just to have the language in the air for all to hear is a good beginning, and a boost to the large numbers of people both Aboriginal and non-Aboriginal who can "hear" or are learning these languages.
Let's hope that as time goes by, if the trial is a success, other languages besides these two big ones – Warlpiri and Yolŋu matha – will get a guernsey. Kriol would be a natural choice, with a very large number of speakers, one of whom is already tweeting news headlines in Kriol.
The smaller the language, the more endangered, but emerging technologies are making broadcasting more accessible. The ABC's Aboriginal news service initiative is critical to support the new emphasis on partnerships – and the need for emerging governance practices to mediate the interrelation of the global and the local.