The Australian Capital Territory (ACT) government has introduced a Healthy Weight Action Plan aimed at curbing the number of obese people in the territory. As its name suggests, the plan seeks to create a healthier food environment for local people.
Acknowledging the multiple domains of influence on food choice, the initiative is aimed at promoting food environments supportive of healthy choices and to enhance the skills and resources of people to make best use of those environments.
Understanding the food environment
We're exposed to a vast range of food stores, products, advertisements and other promotions every day. In fact, on a typical day, we have access to food stores near our home as well as near our workplace or school and during commutes in between.
Supermarkets are flooded with food promotions. And at sporting venues and events, food is prominent through stalls, advertising, and sponsorship. Fundraising efforts for schools and community groups involve the sale of food items, and food and beverage advertisements dominate commercial television breaks.
Of these seemingly endless exposures to food over the course of a typical week, how many are to healthy food? Very few, in most places. Most people, most of the time, are exposed to a disproportionate number of unhealthy foods on a regular basis.
This exposure to food constitutes our food environment.
The food environment doesn't force us to make unhealthy choices, but unbalanced and repeated exposure to unhealthy food is likely to influence food purchasing decisions.
We are all influenced by the fact that the unhealthy choice has become the easy choice in our society. Indeed, researchers have observed higher rates of obesity in people who have greater access to unhealthy food, such as what is commonly sold in fast-food stores.
While much of the research in this area to date has been concerned with residential neighbourhoods, it's increasingly recognised that factors in other places where we spend our time may also be important. We now know that the availability of fresh fruit near workplaces, for instance, may encourage consumption of these items.
What's the plan?
The ACT government initiative represents a positive step towards the reversal of the obesity-promoting food environment.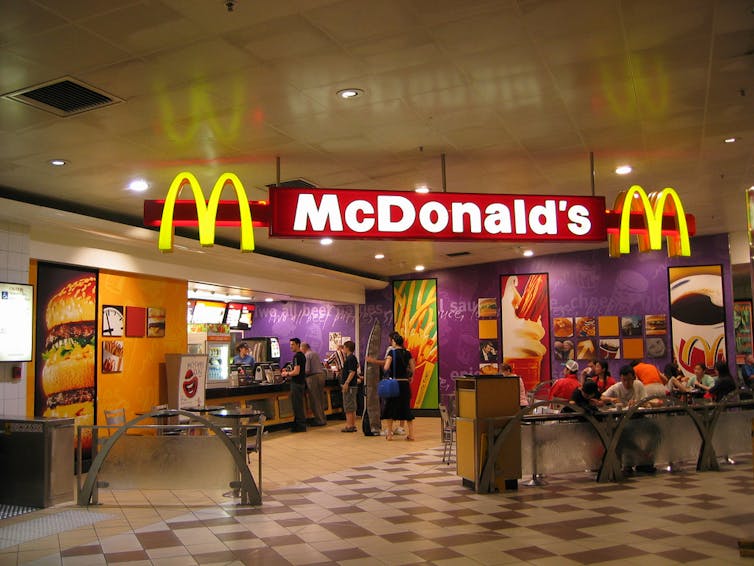 Its plan is to increase the supply and promotion of healthy foods and reduce the supply and promotion of unhealthy foods. Importantly, it appears to recognise that these actions need to be rolled out in a range of environments, including schools and workplaces.
There's even a plan to enact a mandatory code for supermarkets to have at least one checkout aisle free of energy-dense, nutrient poor-foods. Research shows this is currently rare within Australian supermarkets.
Perhaps the most ambitious part of the proposal is to "explore options" for regulating the sale of sugar-sweetened drinks.
A plan by the mayor of New York to limit the size of sugary drinks sold in the city was rejected earlier this year by courts in the country; a decision applauded by the American Beverage Association.
By proposing to regulate sugar-sweetened drink sales, the ACT government should expect to face similar battles to those faced by New York city.
Knowledge, values and skills also play a key role in food choices, and this is reflected in the plan which includes strategies aimed at improving food-related skills, awareness and capabilities of local people.
Healthy eating education sessions will be provided for people with low income, and those from culturally and linguistically diverse backgrounds.
The intention here is to enable people to identify and prepare healthy foods. And research has shown that greater attention to the planning and organising of meals is associated with healthier eating.
In essence, the ACT proposal is aiming to make the healthy choice the easier choice. Opponents are likely to continue to invoke the "nanny state" argument, as objections to such proposals often do.
But the Territory's goals are based on a solid and ever-growing body of evidence that acknowledges the environment plays a strong role in determining eating behaviours and health.