In September each year, for more than a century now, Australians have participated in the triumphs and tragedies of the annual carnival of the boot. We celebrate football as a quasi-religious, tribal homage to athleticism and mental strength, and symbol of humanity's longing for transcendence.
You don't need to be a football fanatic to get caught up in this collective ritual. What Shakespeare did for theatre, our footballers do for the arena. Their exertions invite us to project our hopes and fears, torments and joys onto them. If they win, they validate our hope. Yes, we can prevail over adversity. Yes, we can live large.
Then there's the agony of defeat. The sudden-death executions of recent weeks – Port Adelaide's one-goal defeat by Hawthorn in Saturday's preliminary final, and the stunned reaction of Geelong players to their eviction from the finals by North Melbourne the previous week – testify to the shock and pain of giving everything you've got, and failing. Yet, human to the core, we empathise with the losers. We admire what they gave, not what they lost. They find their own place in our hearts.
Sport's iconic moments stand transfixed in time, as if eternal. In 1970, before the largest crowd ever to witness a grand final - 121,696 people at the Melbourne Cricket Ground (MCG) - Carlton came back from 44 points down to beat arch-rivals Collingwood. Only a religious metaphor - Lazarus rising - suffices.
Hawthorn's victory over Geelong in the 1989 season-decider was due in no small part to a troika of wounded heroes who played on despite concussion (John Platten), a punctured lung (Robert DiPierdomenico) and broken ribs (Dermott Brereton). Geelong too had its heroes. Gary Ablett Senior (aka "God") scored nine goals, but even this record-equalling individual haul of six-pointers in a grand final couldn't save the Cats.
Then there are those like Hawthorn captain Michael Tuck, injured in the same game, who never won a Brownlow Medal but through talent and staying power amassed in his career more distinctions than a decorated war hero, including a record number of finals played (39), grand finals played (11) and premierships won (7).
It's all about the human search for immortality and glory, fame and riches, how we get them and how we cope with not getting them. It's the story of our lives enacted on a stage by players for whom it is real. And that conundrum – the game that matters, the myth that is real – has a history, a record of like deeds in different times against which the present may be measured.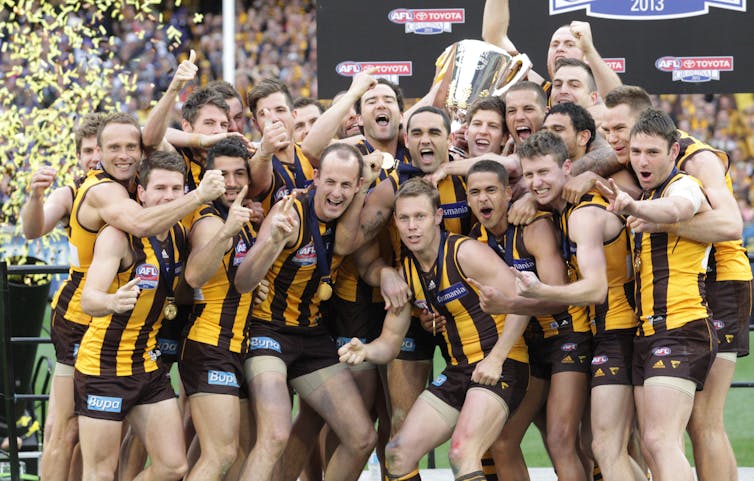 In AFL history, the grand finals serve as the milestones. The players are the heroes, but in the strange alchemy of time's passing all individual achievements accrue to the tribe, in this case, the clubs. In their histories we see replicated the rise and fall of nations and dynasties.
Fitzroy, Carlton and Essendon were the dominant forces before the first world war, followed by a Collingwood ascendancy that spanned three decades and included four successive grand final victories in 1928-1931, the greatest winning streak in Aussie Rules history.
The Magpies owned the 1920s and 1930s, appearing in 14 of the 19 grand finals played between 1919 and the outbreak of the second world war.
Come the 1940s and the Dons dominated, playing in seven of the ten grand finals that decade and winning 4 of them, but losing the 1948 replay of the first ever drawn grand final to Melbourne.
The Dees would go on to do even better, contesting seven consecutive grand finals between 1954 and 1960, winning five of them. The 60s saw a more democratic sharing of the glory, with seven different teams winning grand finals in that decade and no one outfit dominant.
Along the way, struggling clubs chalked up debutante victories – Footscray in 1954, Hawthorn in 1961 and St Kilda in 1966. In the 70s, Hawthorn and North Melbourne established a clear ascendancy before the 1980s witnessed the Hawks' golden era of seven consecutive grand finals, winning four of them and adding a fifth in 1991.
Geelong's four grand finals between 2007 and 2011 – three of which they won – gave birth to yet another legend.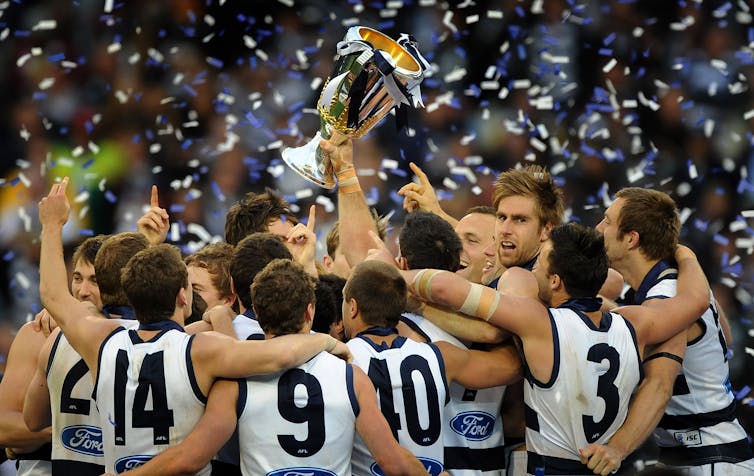 This history of winners conceals some of the great droughts in the annals of organised sports. For teams like St Kilda and Footscray, winning has never been a habit. Both have just a single flag to their names, and the Saints had to wait 69 years for theirs.
Big winners have become woeful losers. In the 53 years from 1937 to 1989 inclusive, the Magpies won just two premierships. Their first big drought lasted 18 years, the second, 32 years. The 70s were particularly cruel to the "Colliwobbles", beaten five times in grand finals between 1970 and 1981, including a lost replay to Norths after the drawn grand final in 1977, and three consecutive losses in 1979-1981.
Yet such travails have only accentuated the cathartic vindication on those memorable occasions when the modern Magpies have thrown off their curse, most notably in the 1958 Grand Final, when they faced down the might of Melbourne who were coming off the back of three consecutive grand final victories and were gunning to equal Collingwood's record or four straight flags, only to be denied.
Individual players too had droughts. Former Fitzroy star Paul Roos was nearing retirement when he finally got his chance to play in a grand final. He'd played 313 Victorian Football League (VFL)/AFL games before running onto the MCG for the Sydney Swans against North Melbourne in 1996, only to experience the bitterness of defeat. It would be another decade before he was redeemed, not as a player, but as coach. Roos masterminded the Swans' 2005 Grand Final victory over West Coast, 72 years since the Swans, formerly based in South Melbourne, had last won the title.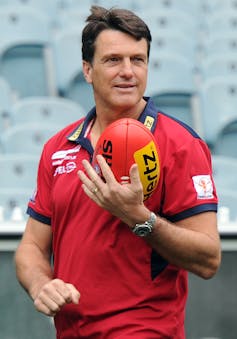 But Roos' and the Swans' respite would be brief. The following year Sydney made the grand final, again facing West Coast, and lost by a point. They joined Essendon and Collingwood as one of only three sides who have lost grand finals by the meanest possible margin.
Every game adds a new line to the cumulative narrative that is AFL history. Every grand final closes a chapter. The intensity with which the players sacrifice their bodies, and the psychological trauma that they and their coaches suffer in defeat is fueled in part by a consciousness of their place on this continuum.
Material wounds and rewards aside, the story is what imbues their quest with much of its meaning. But is this history, as postmodernists since Jean-Franҫois Lyotard have argued, a metanarrative, the story of a story that irons out all contrarian wrinkles and inconvenient contradictions, producing an easily commodified mythic delusion?
My reading of the AFL's metanarrative suggests it's an evidence-based cake, frosted with mythic significance. The game's vast statistical database, supported by eye-witness anecdotal accounts – what Lyotard called "petit recits", or particularities of a singular event – provides rich materials from which to conjure epic narratives, and subversive ones.
The AFL story can be told as an ode to individual exploits, or a saga of collective club fortunes; as a social history or as an analytical success story. Whichever way you cut it, it's a good yarn.
Yet the game's essential truth - that it is just a game - is lost when the audience gets caught up in the dramas that the sport so regularly produces, and comes to believe that there is something actually transcendent about what they witness. The reality is that this drama is principally the product of more than a century of indefatigable tinkering by officials with the rules and structures that govern the sport.
The original Victorian Football League did not stage grand finals. As with England's Football Association league, the team that won the most games during the season would be crowned as champions.
In 1897, the VFL opted for a finals season that pitted the four top teams in a round robin series to decide the premiership. Fitzroy won the most games, and so became premiers, but something was missing - the culminating drama of a grand final.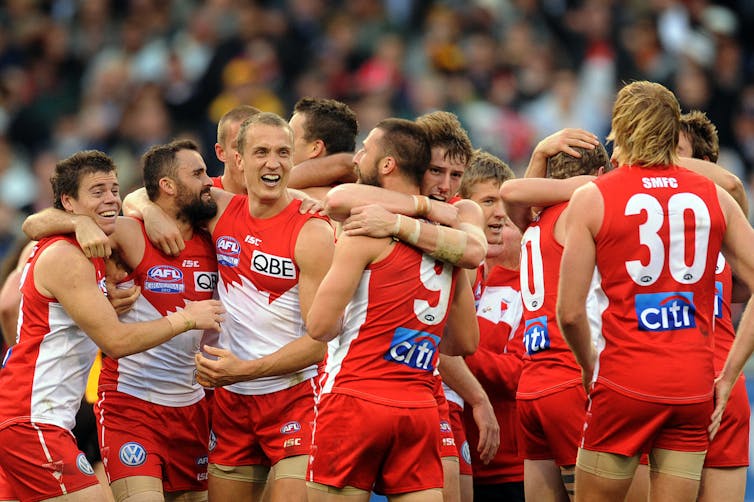 Over the next three decades, the VFL would trial different forms of finals football, often getting it wrong. Anomalies plagued the system. In some years the minor premiers would benefit from losing a preliminary final, while in others, the semi-final would "decide" the premiership, leading to low attendance at the grand final.
Gradually, as they ironed out the bugs in the structure and rules of the game, crowd numbers began increasing steadily and then rapidly. The league's subsequent success, I would argue, owed more to its administrators' determination to find the winning formula for a closely contested competition with an enthralling end to the season, than to any epic quality inherent in the game. As in literature, epic is a conjurer's trick.
Sport is also a science. It is, for example, obsessed with statistics. It's also a process of refinement and improvement of measurable human physical performance.
A hundred years ago Aussies Rules was a low scoring affair. In the first ten grand finals from 1898 to 1907, the average winner's score was less than six goals, 47 points to be precise. In the lowest scoring game of the 20th century, the 1927 Grand Final played in atrocious conditions, Collingwood and Richmond kicked three goals between them. Collingwood won 2.13 (25) to Richmond's 1.7 (13). I doubt anyone complained about poor defence on that occasion.
By contrast, grand final victors over the past decade have scored on average 16 goals. Sports science and hyper-professionalism (and, for all we know, performance enhancing drugs) have upped the ante.
Science, mathematics, and well-administered sports have something else in common: a methodology that rewards excellence and punishes sloppyness. In a well-run sport, unlike art prizes and cooking shows, taste and subjectivity are relegated to the margins.
Audience satisfaction demands that the best team should always win, and the scoring structure of AFL, with its six points for an accurate kick on goal, and one point for being close but off target, helps deliver fair outcomes. In soccer, a penalty awarded by a referee often accounts for half or all of the points scored in a game. When did an AFL umpire's decisions contribute that ratio of points to the final score?
An added bonus is high scoring games - more goals, more bang for the spectator buck. In 1972, the Carlton v Richmond grand final produced a record combined score of (50.27) 327.
Then there are the intervals. When it comes to calibrating a contest, four quarters are better than two halves, providing breaks in which trailing teams regroup and with their coach's help, change course and claw their way back into the game.
Combine the AFL's relative fairness, lots of goals, the dramatic dividend of a scoring system and game structure in which six goals is by no means an insurmountable lead, and the slow build up to a tumultuous grand final day via a series of sudden-death preliminary and elimination finals, and you have the stuff that sporting dreams - and revenues - are made of.
A century of fine-tuning has developed a lucrative and dramatic spectacle, the ultimate bread and circus.
Melbourne's MCG has been the stage upon which this metadrama has been played, expanding to accommodate consistently large audiences, and in the process magnifying the spectacle. The objective measure of the AFL's success remains the number of people who turn up to watch the code each week.
In 2013, almost 7 million people came through the gates, double the number who attend National Rugby League games. Average AFL attendance ranks fourth among the world's sports leagues behind America's National Football League, Germany's Bundesliga and Britain's Football Association. AFL's per capita crowds are far higher than all of them. The AFL grand final attracts more spectators to the ground than either America's Super Bowl or England's FA Cup.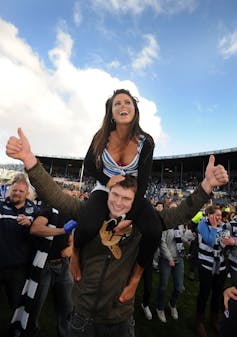 As if all that were not enough, the AFL - and, in fact, all national sports - have, without really meaning to, contributed to the patchy, not always inclusive, but slowly maturing sense of nationhood in our country. The irony is that this sense of shared identity is fostered by intense regional, interstate and local rivalries.
In football in the 1980s and 90s, these rivalries saw the two major football codes of Aussie Rules and Rugby League embark on efforts to colonise each other's heartlands. Victoria exported two of its teams - South Melbourne and Fitzroy - to establish franchises in Sydney and Brisbane, while New South Wales invented the Melbourne Storm. The old state-based football leagues were superseded by national ones.
The results were almost immediate, and not always welcome. Between 1992 and 2006, interstate teams won two out of every three AFL grand finals played, including the Brisbane Lions' hat-trick of premiership victories in 2001-03. For three years in a row (2004-2006) no Victorian team made the grand final.
Although they didn't know it at the time, the pioneers of the Victorian Football League began what would become Australia's pre-eminent football code and a sporting competition that ranks with any in the world. The players have provided the necessary talent and hunger, the clubs the institutional memories, funding and cultures, the spectators the dedicated audience, and the media has chipped in with relentless enthusiasm and hyperbole.
Do we care too much about sport? Possibly, but every nation has its obsessions and flaws. Success speaks for itself, and whatever the outcome of this year's AFL season, 2014 has done justice to the rich history of struggle, triumph, passion and tragedy that is Australia's football code par excellence, reminding us once more that as Shakespeare put it: "All the world's a stage/ And all the men and women merely players".

Dr Christopher Kremmer is the author of The Chase, a historical novel set in the corrupt world of horse racing in Australia in the 1940s and 50s.