For many parents who caved into the pressure and splashed out on a new tablet computer for their children this Christmas, the not inconsiderable initial purchase bill may almost be a distant memory.
Yet the increasingly dollar driven nature of the app marketplace will ensure the pain continues to be applied squarely to the hip pocket. Deliberate marketing to young children means that parents will doubtless face surprise bills for in-app purchases their children have unknowingly bought online.
A survey in 2012, from global information company NPD, shows overwhelmingly that children's favourite pastime on their device is using apps. While many apps for children are free to install, app developers are using clever tactics to get our money in other ways.
The app trap
Most commonly, free apps are finished very quickly, meaning children will want the sequel, which just happens to cost money. Other are dotted with advertising, such as Baby Learns Numbers which disguise the ads as a cute panda in the game. When the child clicks on the character at different times during the game the ad appears.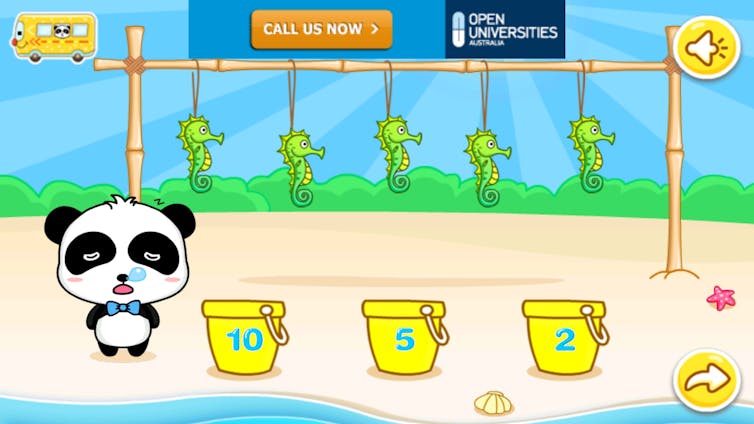 Of more concern is that many new apps are now rife with in-app purchases to help their developers turn a profit, such as Tap Pet Hotel and Tiny Zoo Friends.
Most of these purchases are add-ons you can buy within the app, for example in Tap Pet Hotel buying treats and coins for the pets. In-app purchases can also include virtual currency, new features or extra lives (a particularly desirable option for young children struggling to master a new game).
These in-app purchases are a clear revenue stream for app developers looking to cash in on their "free games", as children can spend a small fortune on purchases without their parents' knowledge, oblivious to the small fortune being drained out of their credit cards.
Parents left with the bill
During a recent radio talkback discussion, on which I was a guest, parents rang in with extraordinary tales of their children's accidental and expensive online spending.
One parent divulged that his six-year-old had spent A$700 in 15 minutes upgrading to new levels using in-app purchases.
There have recently been a number of high profile media stories regarding young children's online over-spending. One five-year-old in England recently racked up £1,700 pounds (A$3,100) in ten minutes playing a free game Zombies vs Ninjas.
While his parents stepped out to do a touch of gardening, the boy had ordered additional weapons to battle the zombies – weapons that cost as much as £69.99 pounds (A$129.99). His mother only found out when she was contacted by her credit card company. You can just imagine the look on her face when it dawned on her just what had happened.
Microsoft recently surveyed British parents on their children's in-app purchases on smartphones and tablets. Of the 2,000 adults surveyed, 28% said that their little ones had made in-app purchases without their knowledge.
Eight-year-olds caused the most financial damage, spending an average of A$115 without permission. Much younger children are not left out of this equation, with 36% of parents admitting to paying for content bought accidentally by children aged four and under.
Revenue making
In-app purchases have become firmly established as a revenue making strategy for developers. A study by Distimo, a European based app analytics company, found in-app purchases account for 76% of all US iPhone App Store revenue and at least 90% of all revenue in the Asian markets.
While in-app purchases are not inherently wrong, the problem is that some apps give clear warnings that you're about to spend money, while others do not.
One investigation by Develop, a European-based gaming organisation, found that less than 33% of apps offer clear warnings. It added:
Some developers even claim their games are "completely free", despite later asking players to stump up for power ups or tokens priced as high as £69.99.
The Australian Competition and Consumer Commission (ACCC) has acknowledged that while a lot of app stores require a password and give a warning before an app or in-app content is purchased, there is a loophole period of 15 minutes when additional purchases can sometimes be without having to enter the password again.
Protecting the family finances
So parents are now stuck in the invidious position of wanting to give their children the opportunity to play these devices, while at the same time preserving the family's finances.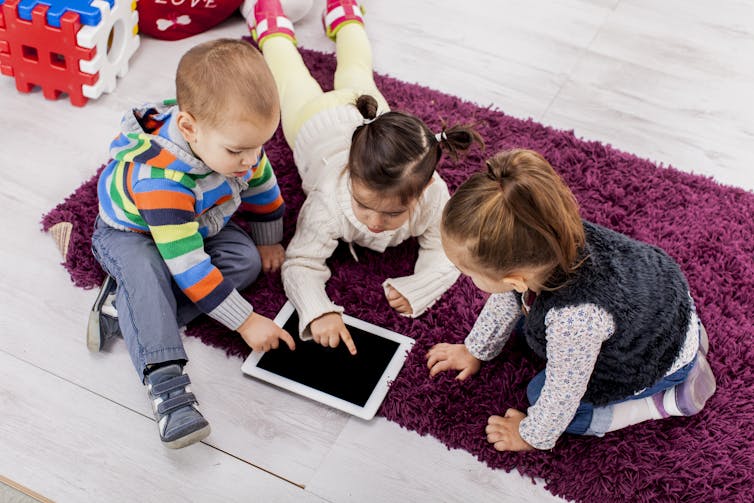 Children are prolific users of technology and these devices are fantastic for children's learning and entertainment. But the current marketing environment is clearly exploiting children's inexperience and trust.
A key to addressing this situation is the need for parents to monitor their childrens' use of their tablet devices. Restricting in-app purchases with a password/pin, protecting your passwords, using parental controls, and unlinking your credit card from your account are all useful preventative measures.
Equally important is explaining to children the pros and cons of in-app purchases. Part of this discussion should include the variety of reasons in-app purchases are included in games.
But placing the complete onus on parents to control this situation is illogical. With children spending several hours a day on digital devices, expecting parents' continual and unabated monitoring is unreasonable.
It also becomes less of the answer when, as the Microsoft survey revealed, 77% of parents stated they know only as much – or less – about technology than their children do.
Industry must take responsibility
It's clear the technology industry itself must take responsibility on this issue. Some of these apps operate via text or websites, but the majority are purchased through accounts with app-stores such as Apple's iTunes or Google's Play sore so these multinationals must take some of the responsibility too.
Apple recently reached a settlement in the US that will see it offer families free iTunes vouchers for any refund claim of up to US$30, and cash for any claim above that.

But there needs to be more than a band-aid measure in place when things go wrong. The fact that you are able to spend hundreds or thousands of dollars on a mobile phone game which is obviously aimed at children a worrying new norm in this industry.
The ACCC recently joined around 50 other agencies to identify apps that may mislead young children into making unauthorised in-app purchases. This is an important step.
But we also need rules that stop bait pricing on children's games in the first place. Money warnings could be provided at the start of games and to indicate it is an in-app purchase game, and caps should be installed on how much can be spent on such purchases within an hour or within the game, which can only be removed by the cardholder.
Parents also need to be notified of any time loophole that does require a password upon each use of their account and the option to turn that loophole period off.
Until the regulations governing apps and their purchase systems are strengthened, the number of parents who receive a rude shock when they see their latest credit card statement will only continue to grow.