"George Bush's paintings"? Three words, so unexpectedly and yet intimately and possessively arranged. This week the former US president unveiled an exhibition of 24 portraits of world leaders and spoke about his paintings with his daughter on NBC News.
As I got up to speed with Bush's latest dabble in daubing I found myself wondering what led him to paint.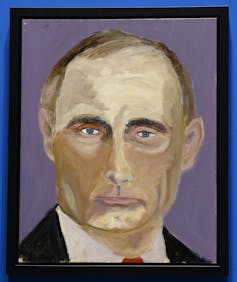 Did he want to soften the neo-liberal narrative in which he was an early, key protgaonist? With the exception of the portrait of Vladimir Putin, the paintings mostly portray conservative leaders with an innocence, a bright-eyed curiosity, a keen humanity that one could argue are/ were absent from their policies.
Did he want to re-insert himself in that narrative?
Did he want to show the world "the other Dubya", the artistic, sensual side that was always hijacked by his devil-may-care use of language? One can detect a smidgen of the flesh and the aesthete in the painterly strokes that might account for his profound disinterest in the "big picture".
Or perhaps Dubya just wanted to paint – and to be an artist.
Painting Politicians
To take up the brushes in his dotage is something to be applauded. The artist's earliest works include renditions of himself in the bath and of his pets. What I find curious is his current genre and subjects – portraits of international leaders. These are reflections of some of the most powerful people in the world, many of whom are still out there making all sorts of trouble.
By painting these figures, is the artist attempting to discover for himself what he did not then grasp in those years when he effectively ran the world? He says he counts some of his subjects – though not all of them – as friends.
What he feels for them can be studied in their eyes.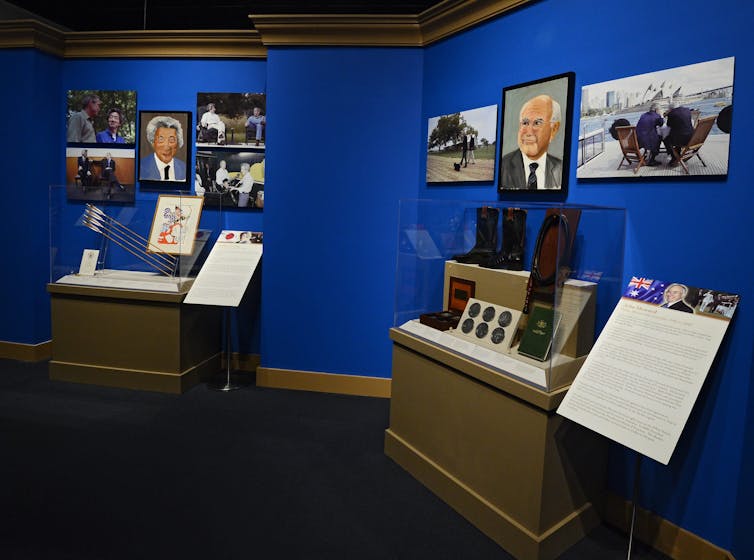 His representation of former Australian Prime Minister John Howard is imbued with a fondness that only the most diehard of conservatives could muster. And yet Howard's recent admonishment of the monarchist Abbott's engineering of Australia's class system is more consistent with Bush's subject's dancing eyes. He may yet be his generation's Malcolm Fraser.
Putin's portrait, on the other hand, is full of foreboding. The steely, sinister presence in his direct gaze is pure Machiavellian evil. A visual mantra to the Ukraine: you're either with us or against us.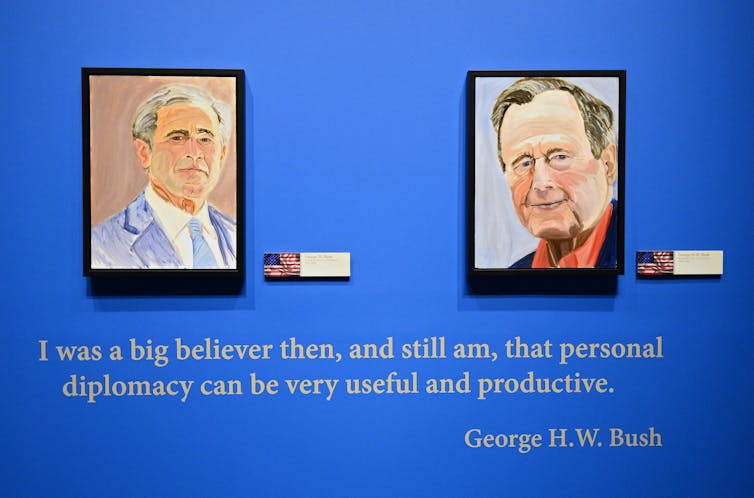 With Aghanistan's Hamid Karzai it is where he is looking which gives the lie to the lasting impression on his painter. The eyes are fixed on your left shoulder suggesting Karzai is compulsively looking over his: a surveillance master under surveillance.
Of course, none of these musings would occur if the artist was not formerly known as President George W Bush.
Inspired by Churchill
Dubya began painting after he read Winston Churchill's 1948 essay Painting as a Pastime. It's worth perusing as it suggests a spirit tuned to the pleasures of art and nature and an intriguing correlation between the art of painting and the art of war. When asked to cut arts funding to support the war effort, Churchill is supposed to have replied, "then what are we fighting for?"
These are words we could never imagine from the mouth of Bush. Thing is, there's no record of Churchill saying any such thing about the arts.
And Bush's paintings are allegedly copies of photographs of his "friends" posted on Google's image index. The gaps between fact and fiction, original and copy make politics and art compelling bedfellows.
And yet the need, the desperate desire for Churchill to have publicly stated this position is palpable and speaks to the noise around Bush's offerings.
Why?
Because we want our leaders to be able to sense in art that which cannot be experienced elsewhere. And we want them to appreciate and support artists as citizens who delve in imagination, dream, memory and emotion to conjure and manifest a better society, a more complex human being, a transcendent human spirit.
If, in the alchemical process of painting, Bush gets a hint of this it makes no difference what people think of his work nor how he made it; it means someone of his persuasion can be turned. As Bush said in his recent interview with his daughter: "A whole new world has opened up."
Let's hope it's a better one than the world he helped create.