An Ashes series – the latest set to commence in Brisbane – symbolically ushers in the Australian summer in a manner akin to the loud soundtrack of thrumming cicadas. The media will cover the sporting exploits with forensic intensity, but once again are using the Ashes to define and refine myths of Australian identity, masculinity and class.
The first blow in the most recent battle for the Ashes landed early and from an unanticipated angle. The body shot did not come from an Australian fast bowler's short ball thudding into an England opener's midriff. Instead, it was a little above-the-belt ridicule of the proposed content of a touring cricketer's stomach.
The leaking of the England and Wales Cricket Board's catering requirements and accompanying substantial recipe book stimulated a lot of mirth among Australian journalists and hard-bitten old players about the high-end dining demands of the visitors.
The wishlist of 194 food and drink options to be served up to the England team at Australian cricket venues contained a good deal of culinary exotica. It included the latest health-affirming wonderfare like quinoa and kale.
There was great play with requests for such gastronomic delights as "Buckwheat pancakes with probiotic yogurt and fresh berries" and "Raspberry and oat cranachan pots (protein-based maximuscle)". Fairfax Media gleefully quoted the response of paunchy, moustachioed former Australian paceman Merv Hughes that he would "dry retch for the next three days" if presented with England's serving suggestion of "Piri-piri breaded tofu with tomato salsa".
Much was made of former Australian spinner Shane Warne's proletarian preference for baked beans, pizza and coke when in his playing prime. Even the British tabloids felt that exposing England's sophisticated dietary secrets would feed Australian hostility.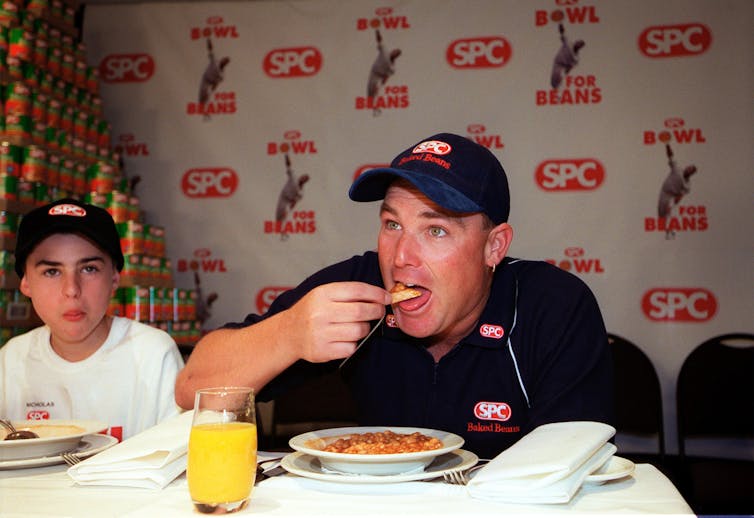 An opportunity for additional fun, though, was missed when the menu's critics failed to notice that England's meticulously prepared menu misspelt "dessert". If detected, it would have prompted multiple puns about starving beefy cricketers in "health food deserts" or the supercilious English getting their "just deserts".
Some of this response is obviously generic resentment at the privileged treatment of a small number of sportspeople (mostly men) in the era of global sports business. As the commercialisation of sport advances apace and the amateur ethos recedes into the world of the museum, both the media who live off commercial sport and the fans who pay for it complain about how celebrity sport professionals are now detached from the lives of common folk.
But as I wrote in a trilogy of articles on its implications for sport, nation and media during the last series in England, the Ashes phenomenon has a very specific history that recurrently replays and refashions the colonial history of its antagonists.
All the mirth about the English team management's prescription of the likes of "hummus, black olive and sun-blushed tomato" is, in fact, an attempt to distinguish effete colonialist pretentiousness from the earthy authenticity of old-school Australians. This is a familiar and effective rhetorical move. And yet, it comes at the price of reproducing the stereotypes of beer-swilling, pie-scoffing unintellectual Australians that populate the ribald songs of rival Barmy Army fans.
Emphasising and celebrating the blokeish Australian masculinity – epitomised by former players such as renowned beer drinker David Boon and current coach Darren "Boof" Lehmann – might provide a little retro pleasure. But it leaves little room for less backward-looking, more complex constructions of contemporary Australian cricketers, such as the metrosexual captain Michael Clarke, vegan paceman Peter Siddle and teetotal Muslim Usman Khawaja.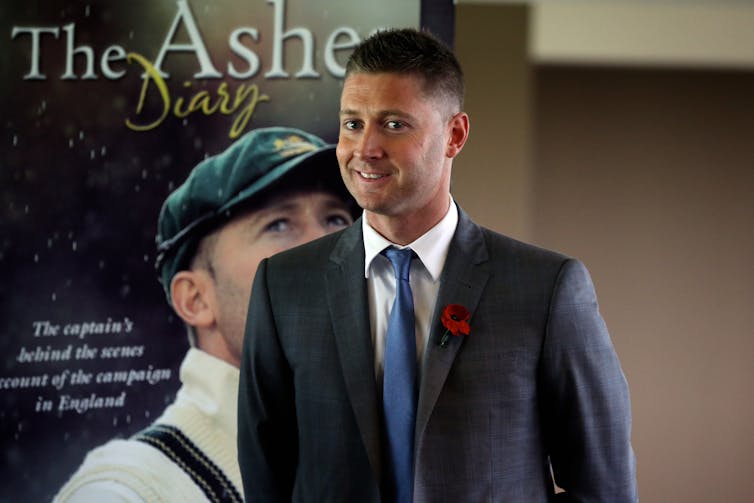 It is difficult to see how, in an Australia that has made snobbery about caffeine, premium wine, boutique beer and food into a cross-country sport, there is much to gain by pretending that the national dish consists of instant coffee, chateau chunder, home brew and a Dagwood Dog.
There is another element of fantasy in fingering the English as food fad elitists – that unlike the Septic Isle, Australia is a steadfastly classless society. At a time when the quest to accumulate cultural capital through private schooling has never been so intense – and the Australian Bureau of Statistics describes the nation's distribution of wealth as "asymmetric" and becoming more so – the faux classlessness of Aussie sporting mateship is exposed as a convenient smokescreen.
So, it should be clear that the animated response to MasterChef: Cricket and compulsive manufacture of other Ashes stories that play on images of national cultural identity says as much about contemporary Australia as it details the development of English cuisine in its post-fish-and-chips and warm beer phase.
Digesting the Ashes Cookbook demands much more than pondering the dietary virtues of "Papaya, glass noodle and prawn". It offers instead a spicy smorgasbord of postcolonial dishes, marked by a clear preference for raw ideological ingredients and bubbling mythological hotpots, with a little dash of cricket on the side.