In case you missed it, Danish company Lego made headlines over the weekend when it refused a bulk order from famed Chinese contemporary artist, architect and human rights activist Ai Weiwei.
The much-loved children's building blocks were to be used in an artwork for our own National Gallery of Victoria.
Ai responded via Instagram on Sunday that Lego's refusal to sell him the materials, or to approve the use of Legos for "political works" is "an act of censorship and discrimination".
In response, social media went viral via hashtag #legosforweiwei with a global call for donations of Lego blocks and a letter-writing campaign against the company's decision.
Lego claims that because it is:
dedicated to delivering great creative play experiences to children, (it) refrain(s), on a global level, from actively engaging in or endorsing the use of Lego bricks in projects or contexts of a political agenda.
But critics have been quick to set Lego's decision against a broader backdrop of Chinese politics. As US communication scholar Professor Craig Gingrich-Philbrook writes on social media:
One presumes Lego would prefer to have children use their toys in safe schools, rather than those built by corrupt interests and that collapse around the children in an earthquake.
Art, activism and the special case of Ai Wei Wei
Many arts critics have (only half-jokingly) claimed that if Ai Wei Wei didn't exist, someone might need to invent him. Writing in the Smithsonian in 2012, Mark Stevens argues:
Having spent his formative years as an artist in New York in the 1980s, when Warhol was a god and conceptual and performance art were dominant, (Ai) knows how to combine his life and art into a daring and politically charged performance that helps define how we see modern China… (a country that may well) become the most powerful nation in the world.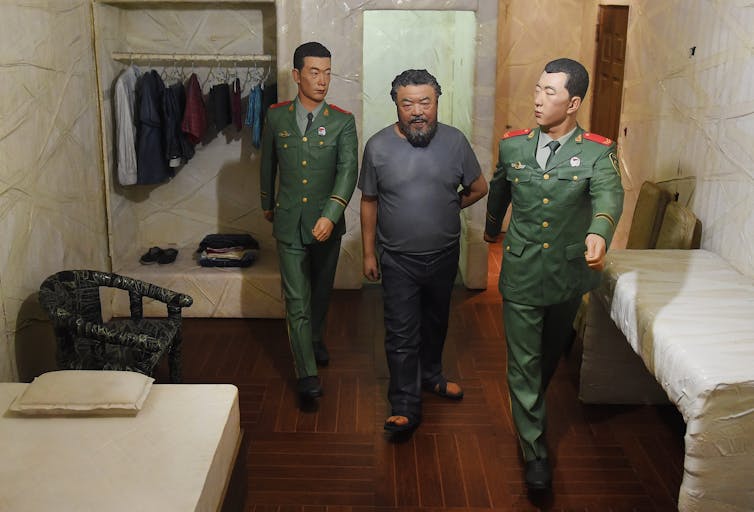 Ensuring he is constantly in international headlines, the Chinese government has actively pursued not only the artist himself, but supporters of their most famous dissident.
In 2011 when Ai was released from house arrest, UK-based contemporary art magazine ArtReview named him the artworld's most powerful artist and was immediately slammed by the Chinese Foreign Ministry. ArtReview countered that the award was not political, but they continued to be scolded by the Chinese government. So far, China has made no official word on the Lego scandal, but events are unfolding.
On Sunday, Ai included in an Instagram post excerpts of an email sent by Lego representatives to the National Gallery of Victoria's curatorial team saying:
any work using the pieces could not contain any political, religious, racist, obscene or defaming statements.
Social media responded, however, with images and commentary of previous examples of where Legos have been used in just that way. Some users have taken to creative responses, linking art and social media just as Ai does in his protests, sparking not only an online/offline outcry, but a creative one at that.
Online/offline dissidence
Ai Weiwei's artworks have become increasingly outspoken over time. As noted in The Guardian:
Since 2008, and the massive Sichuan earthquake that radicalised his artistic practice, his art and activism have become indissolubly joined into a single enterprise, ambitious, open-hearted, and indispensable in an art world more than happy to look the other way at abuses in China and everywhere else… (It is as though) Ai has given up on metaphor.
His 2014 exhibition (@Large) at San Francisco's former Alcatraz prison represents both his turn to Lego which is currently at issue, and his increasing radicalisation over the past few years, including directly addressing the plight of political dissidents like Edward Snowden and others.
But Ai's dissident status was confirmed when he was arrested in 2011 and held for nearly three months without formal charge. After his release, he has until last July remained confined to Beijing. The outpouring of support from around the world in response to his arrest and then severely limited speech and creative expression was overwhelming.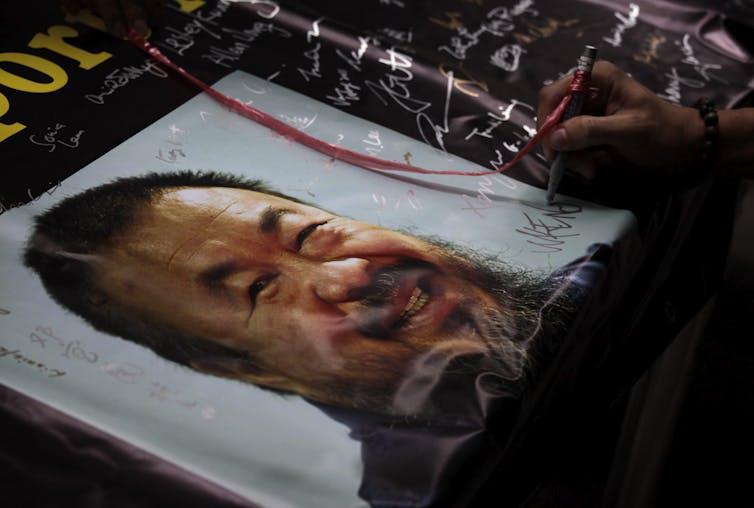 Since then, his political artmaking, activism and global following has intensified. He is the subject two documentary films: Ai Weiwei: Never Sorry (2012), and Ai Weiwei: The Fake Case (2013). He is the recipient of the 2012 Vaclav Havel Prize for Creative Dissent from the New York-based Human Rights Foundation, and in May 2015 the Amnesty International Ambassador of Conscience Award in Berlin, which he could not accept personally as he was then still under house arrest and unable to leave China.
Social media as creativity-without-borders
Between 2005-2009, Ai was an avid blogger and social critic of his government, before his blogging activities were finally shut down. He remains active on Twitter (@aiww) and Instagram (#aiweiwei).
His artworks reference the social media that permeate our lives, but also which allows his work to continue and proliferate across the globe despite any physical constraints that may be exerted against him.
A review in The Guardian of the @Large exhibition describes a Chinese paper dragon:
bears his teeth, but he's harmless: his eyes are in the shape of the logo of Twitter, native to San Francisco and banned in the People's Republic.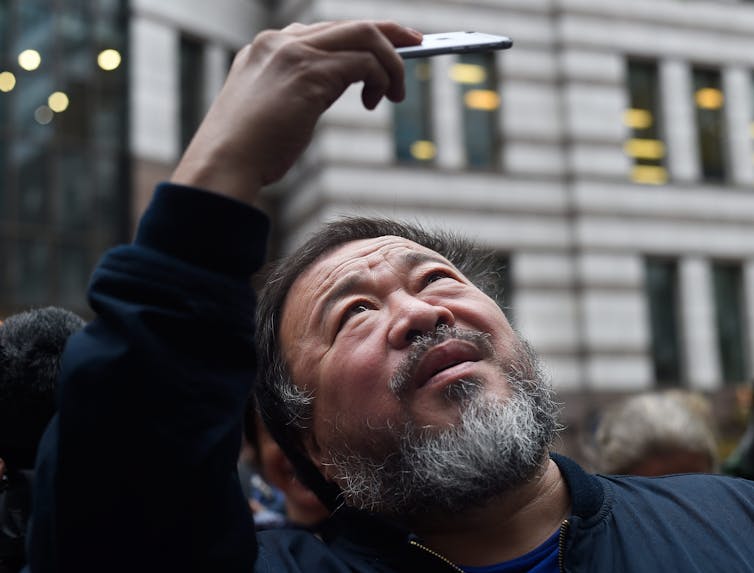 Ai increasingly uses digital media as an artform itself, including in 2012, when he installed webcams in his residence and streamed video of himself around the clock. After it was quickly shut down by authorities, Ai retorted:
Globalization has linked China's fate to other countries. We need creativity to compete, and we can't have creativity without freedom.
Ai's internet broadcast of his 2008 clash with authorities following the earthquake raised his local activities to global levels. After this week's outpouring of anti-Lego support, Ai claims that the internet is like "a modern church", and that his home
is on the internet. Twitter is my home and my nation and I feel very comfortable there.
The constantly evolving nature of arts activism
If nothing else, Ai Wei Wei's growing superstardom speaks to the constantly evolving nature of arts and digital activism, the ability of individuals to rally immediate and global support through social media platforms, and subvert traditional modes of censorship. He is simultaneously showing how creative activism and digital media can productively transcend not only national borders, but creative ones as well.

Readers who would like to write their own letters to Lego can do so here. To donate Lego blocks and follow Ai Weiwei on Twitter: #aiweiwei and on Instagram: @aiww