Crime novel covers are often plastered with endorsements: "A terrific read," "A real page-turner," or "Author Y is the next Author X." It's far less common to read quotes such as the following from Fairfax crime fiction reviewer Sue Turnbull. In 2005 she wrote that Peter Temple's The Broken Shore "might just be a great Australian novel".
Turnbull's praise is surprising because there is no caveat other than the national adjective. It's not a great Australian crime novel, just a "great Australian novel". Turnbull wasn't alone in recognising The Broken Shore as an important work of literature. It won a slew of national and international crime fiction awards and was unexpectedly longlisted for the 2006 Miles Franklin award.
Popular fiction and artistic merit are often considered mutually exclusive. Literary fiction is characterised by originality and creativity. Crime novels, on the other hand, are supposedly plot-driven, peopled with generic characters and limited by the conventions of the genre.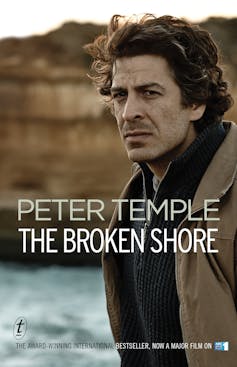 The Broken Shore is undoubtedly and unashamedly a crime novel. It has its crime: the brutal murder of Charles Bourgoyne, a local, retired patrician in his isolated country mansion. There is the investigating officer, Detective Joe Cashin, a local boy who worked in Melbourne's homicide squad until an accident left his body broken and his partner dead.
Other generic characters include corrupt cops, Joe's cousin Bern, a picaresque character who will do anything to make a few extra dollars on the side; an attractive love interest; and of course, the criminals. Less generic are the swaggie Rebb, who helps Cashin to rebuild the house that belonged to his great-grandfather's brother, and Paul Dove, an Aboriginal police officer assigned to the case when three Aboriginal youths become suspects.
So how does a crime novel potentially become a great Australian novel? It does so by not allowing the formula to restrict any more than necessary. As Morag Fraser stated in reference to Temple's 2010 Miles Franklin-winner, Truth, Temple respects the conventions of the crime novel "as a poet observes the 14-line convention of the sonnet or a musician the sonata form: a useful disciplinary structure from which to expand, bend or depart".
Although the initial crime takes place in an isolated mansion, The Broken Shore is no Christie-esque murder mystery set in "Cheesecake Manor," to borrow Raymond Chandler's memorable phrase. From the initial murder, Temple investigates and interrogates contemporary Australia. What he uncovers is not pretty.
Temple pulls no punches in his description of regional Australia. He describes Cromarty, the larger of the two fictional centres, as "not a big country town. It's a shrunken city, shrunk down in the shit, all the shit without the benefits."
The smaller town is Port Munro, a place undergoing a profound social and economic transition:
Just six boats still fished out of Port Munro, bringing in crayfish and a few boxes of fish, but it was the only industry apart from a casein factory. Its only industry if you didn't count six restaurants, five cafes, three clothing boutiques, two antique shops, a book shop, four masseurs, an aromatherapist, three hairdressers, dozens of bed-and-breakfast establishments, the maze and the doll museum.
Yet when readers encounter Port Munro, it is May, the shops are shut and Melbourne's middle-classes have departed, leaving only the town's "hardcore […] – the unemployed, under-employed, unemployable, the drunk and doped, the old-age pensioners, people on all kinds of welfare, the halt, the lame".
Temple's is a country divided between weekenders and locals and between white fellas and black fellas, many of whom live in an area known as the Daunt. Aboriginal dispossession and marginalisation are major themes.
When police kill two Aboriginal youths in a bungled stake out and a third supposedly commits suicide following police harassment, Temple reminds us that little has changed since the report of the Royal Commission into Aboriginal Deaths in Custody was handed down in 1991.
In some ways Cashin sits across all of these divisions. He's a local who returns after a long time away. He's a cop who distrusts other cops and, at times, the law.
Finally, he's a white fella who is also a "boong-in-law," according to Dove, because of his Aboriginal aunt and cousins. If his marginality can be a hindrance in his social relations, not belonging to any one group helps him to overcome the divisions to solve the mystery.
The broken shore of the title refers to the iconic, jagged coastline along Victoria's Great Ocean Road. The shore is not all that is broken. So too are the country and its inhabitants. Without wanting to give anything away, the initial crime leads to the discovery of multiple transgressions that go back years.
In them, Temple depicts a society in which the traditional and contemporary cornerstones – the economy, families, religious institutions, the police, the legal system, and so forth – are broken.
When Temple won the Miles Franklin or Truth, it reopened the debate about the literary merits of genre fiction. But, for me, The Broken Shore is the better novel.
Sometimes even good crime novels are diminished on a second reading. Great crime novels are enhanced. The Broken Shore certainly deserves re-reading. To take Sue Turnbull's statement a step further, The Broken Shore is a great Australian novel.
Read more articles in The Case For series.
Are you an academic or researcher? Is there an Australian book or piece of writing – fiction or non-fiction, contemporary or historical – you would like to make the case for? Contact the Arts + Culture editor with your idea.