This year's edition of our Yearbook features 50 standout articles from 2017, covering everything from a FactCheck of the claim that Indigenous Australians are the most incarcerated people on earth, to answering questions posed by Australia's #CuriousKids.
We are also doing things a little differently in 2017 by taking the book on the road with launches in Canberra, Melbourne and Brisbane, and for the first time Perth, Sydney, Adelaide and Wellington. Expect more details in coming weeks, but for now you can book tickets to our Brisbane launch here.
In a time of heightened hostility towards experts, academics and scientists, the 2017 collection presents evidence-based news, minus the spin. According to editor, Misha Ketchell, at a time when it's hard to know who to trust The Conversation aims to provide "crisp clear writing from people who know what they're talking about and don't have a barrow to push."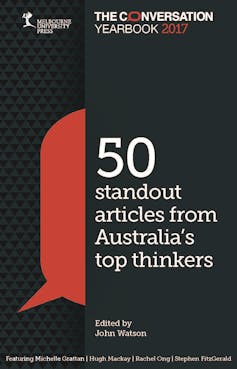 Included in the book are some of The Conversation's most popular voices; Michelle Grattan on all things #auspol, Lachlan Glanville on reading Germaine Greer's mail and Hugh Mackay's observation that the state of the nation starts in your street.
Joseph Paul Forgas writes on the surprising benefits of sadness and Stephen FitzGerald considers managing Australian foreign policy in a Chinese world.