The federal government's recent television advertisement spruiking the benefits of the proposed changes to higher education have raised the ire of not only the opposition but also taxpayers who have reportedly forked out A$8 million for the campaign.
The changes to higher education, including deregulation of fees and cuts to government subsidies, were voted down in the Senate last year, before the advertisements began, and will be voted on again in coming weeks. Given the proposed changes are not yet legislated, and concerns have been raised over the veracity of statements made in the advertisements, questions are being asked over what constitutes government advertising and what is purely political advertising.
In marketing perception is reality. An image of a politician on screen is viewed by most as propaganda that is easy to avoid. However, a message from government has a sense of authority and is harder to ignore.
So what are the rules when it comes to using taxpayer funds to further a party's ends?
What government advertising is legal?
The question that comes to mind straight away is whether this form of advertising is legal. Or more precisely, if it is legal, shouldn't it be made illegal?
Welcome to the very murky world of regulation of government and political advertising. The Advertising Standards Board (ASB) and the Australian Communications and Media Authority (ACMA) both have good information about how they define political advertising and government advertising.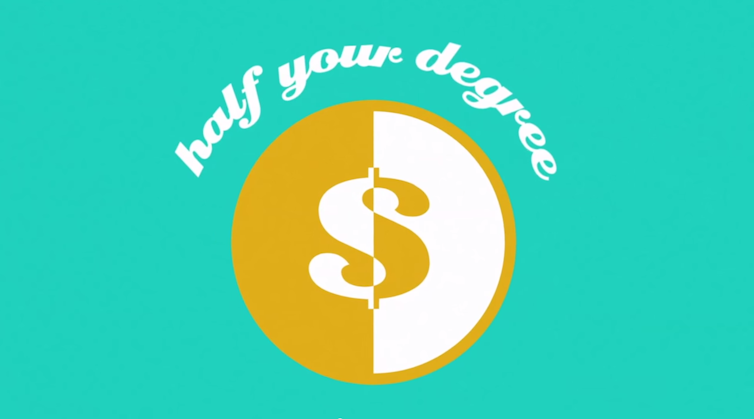 The ASB notes that political advertising does not necessarily include all advertising by governments or organisations involved in the political process. This is because some of this
may be considered to be informational or educational rather than political, as determined on a case-by-case basis, and complaints about these advertisements […] may be considered by the Board.
So is the recent higher education advertisement a political advertisement, legally speaking? Under the guidelines this advertisement was defined as being legal, probably as an informational or educational message rather than a political one.
Should the higher education advertisement be legal?
There is no doubt in my mind, and that of many others, that this advertisement was political. This message was designed to influence viewers to think more favourably of the proposed higher education changes.
While we can't prove the higher education advertisement was part of a broader political advertising strategy, it's definitely a smoking gun. And if some of the information advertised is not fact, it's harder to classify it as being educational. The Abbott government wouldn't be the first to be guilty of this type of advertising.
It is probably becoming increasingly transparent to many in the community that this type of advertising is perceived as political, whether or not it might be defined as such. And perception is more important than definition when it comes to government advertising as loopholes can be designed in the legislation.
Time for change
Our electoral and government advertising laws are dinosaurs. Sadly they have destroyed the credibility of government advertising campaigns that really are informational and educational, such as healthy eating or drink driving campaigns.
The laws also don't include specific references to social media, or any sort of consideration of the societal, ethical or political consequences of government and political advertising.
My initial ideas for reforms are simple.
First, update the political advertising definition to reflect how advertisements might be perceived, not the reason for their creation.
Appoint an apolitical government advertising commission, which screens and vets all members thoroughly. Membership of the commission could be drawn from the marketing profession, academia and the general community. Lawyers should be kept at bay to avoid the creation of loopholes.
Next, cap the number of advertisements that can be run in any area that is currently subject to public debate. With contentious issues such as the higher education debate, which wasn't an issue the government took to the election, TV ads should be restricted to three per hour between 8pm and 10pm on two commercial networks per weeknight for three weeks before the legislation is introduced to parliament.
No advertisements should be allowed on legislation that is before parliament. This would allow all sides to be heard equally, rather than just whoever has the greatest financial resources to sway public opinion through an extensive messaging campaign.
These are just some ideas on reform. They are not exhaustive.
Government advertising is necessary. Political parties that win government do have every right to bring in the policies they were elected for, and to communicate these policies to the electorate as a public service. But exactly how these sorts of changes should be communicated to us needs to be debated, and our perception has to be accepted as the reality.