Russia's invasion of Ukraine appears to be a defining moment in the evolution of the post-Cold War world. In particular, it is highlighting problems that do not respect borders, such as the environmental damage caused by war. These are raising important questions about international security.
Can a form of rules-based international co-operation – rather than great power aspirations – become the preferred diplomatic response?
Traditionally, a key driver of international relations has been the so-called Westphalian doctrine of absolute state sovereignty. This is based on the belief that there is no higher authority than the state for defining national economic, security and diplomatic interests in the international arena.
But the end of the Cold War and deepening globalisation have challenged that approach to global politics.
Today, there appears to be a significant divide. On one side, "realist" observers claim reinvigorated great power rivalry has ended the globalisation "project". On the other, "liberals" argue globalisation is an irreversible structural change that encourages international co-operation to deal with "problems without passports".
Clearly this disagreement has not been resolved. But the environmental impacts of Russia's Ukraine invasion could tilt the debate in favour of those arguing for a more multilateral approach to security.
---
Read more: Liberal hawks versus realist doves: who is winning the ideological war over the future of Ukraine?
---
'Ecocide' in Ukraine
In his address to the New Zealand parliament in December 2022, Ukrainian President Volodomyr Zelensky made a distinction between the impact of the Russian invasion on the country's environment and its effects on the economy and infrastructure. The latter, he said, could be reconstructed with huge investment once the conflict was over.
The invasion, he observed, involved a policy of "ecocide". That is, it has involved the destruction of Ukraine's natural environment by deliberate or negligent Russian actions. These are widespread, long-term and severe in their effects.
---
Read more: War leaves a toxic legacy that lasts long after the guns go quiet. Can we stop it?
---
To date, around 174,000 square kilometres of Ukrainian territory have been contaminated with mines and unexploded ordnance. Large areas of the Black Sea and the Sea of Azoz have been polluted due to military action. It is estimated hundreds of thousands of fish and other creatures in these waters have died as a result.
The invasion has degraded vast tracts of agricultural land and could jeopardise Ukraine's position as one of the world's major food producers. It has also destroyed large areas of forest, as well as many national parks.
Meanwhile, Russia's campaign of intensive shelling has targeted Ukraine's industrial facilities, a tactic that has caused significant air, water and soil contamination. It has also put the Zaporizhzhia nuclear power plant, the largest in Europe, at risk of a major nuclear accident.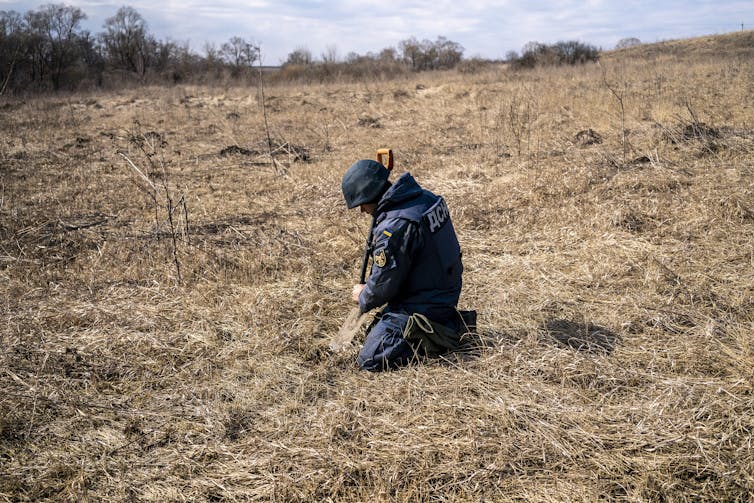 Damage beyond borders
As Zelensky emphasised in his address to the New Zealand parliament, however, Russia's ecocidal policy is not just a problem for Ukraine, but also for much of the world. The international environmental consequences of this conflict are becoming clearer.
For one thing, the contamination of Ukraine's groundwater in the wake of the Russian invasion could severely affect the ecosystems of several neighbouring states.
---
Read more: Russia–Ukraine war has nearly doubled household energy costs worldwide – new study
---
In addition, the conflict is reshaping global food and fertiliser markets. A number of countries are planning to increase grain production and develop fertiliser production, a potential threat to ecosystems and biodiversity.
Furthermore, the war has potential climate-related impacts. While a number of states have reduced their reliance on Russian oil and gas imports, some are relaunching coal stations, extending the lifespan of nuclear power stations and investing in new fossil fuel projects.
Taken together, the national and international environmental repercussions of the invasion confirm what has been plain for much of the post-Cold War era: the widely held idea of national security based almost exclusively on the perception of military threat is both limited and dangerous.
---
Read more: Other casualties of Putin's war in Ukraine: Russia's climate goals and science
---
Reform at the UN
In the 21st century, there are pressures to broaden the concept of security to recognise that threats to a state's wellbeing can often emanate from environmental degradation. Progress towards acknowledging environmental security, however, depends on two conditions.
The first is that Vladimir Putin's illegal invasion and attempted annexation of Ukraine – a flagrant violation of the United Nations Charter – must be squarely defeated if a rules-based order, conducive to international co-operation, is to be sustained.
Second, the UN Security Council – a global body that has the primary responsibility for addressing threats to international security – must be reformed to ensure it is a more reliable barrier to war and its environmental impacts.
---
Read more: Cold shutdown reduces risk of disaster at Zaporizhzhia nuclear plant – but combat around spent fuel still poses a threat
---
In an address to the Security Council in April 2022, Zelensky said Russia's invasion was the latest example of how the right of veto enjoyed by the council's five permanent members had undermined an effective system of international security – and had effectively failed Ukraine.
Zelensky was right. Until those member states lose the privilege of their right of veto, the path towards recognising the wider importance of environmental security in an increasingly interdependent world is likely to be more protracted than it should be.
In the meantime, the New Zealand government should publicly back Kyiv's efforts to win international support for the notion of environmental security.