Australia has some of the world's most ancient soils, many of which grow delicious produce. In this series, "The good earth", soil scientist Robert Edis profiles some of those soils and the flavours they bring.
Sandy and low on nutrients, Tenosols are hardly Australia's most attractive soils. And yet the Leptic Tenosol around Boneo on the Mornington Peninsula, about an hour from Melbourne, is one of the most valuable soils for commercial agriculture in Australia.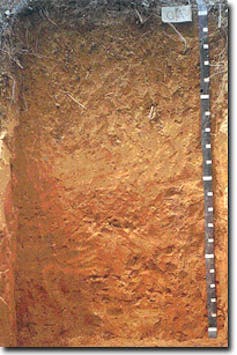 It is on this soil that market gardeners grow tonnes of premium vegetables for Melbourne and beyond. Cabbage, broccoli, celery and lettuces grow here, but this soil comes into its own for producing parsnips and carrots; particularly parsnips.
Not everyone likes parsnips. Some people may be sensitive to the high concentrations of psoralens. These chemicals are toxic, photoactive, mutagenic and photocarcinogenic, so perhaps it's no wonder some people are put off.
Parsnips are tricky to get right. The taste and shape of the tap root is very dependant on the season, soil and management. Parsnips improve with leaving them in the earth for as long as possible; if harvested too early they can taste a bit like nail polish and lack that comforting, must-have nuttiness. To achieve a good sized tap root the soil must be very loose for the whole time, but provide sufficient resistance to affect biochemistry and thus flavour. The soil also has to be very well drained, preferably able to be wet and well aerated at the same time. This is what makes the Boneo Leptic Tenosol so special.
Tenosols are simply soils that are weakly developed. At Boneo, this means unconsolidated sand. The soil (yes sands are soil too!) has little natural fertility or capacity to store nutrients, and provides enough support to hold up the plant and to offer a little resistance to root extension. It drains like, well, sand. Growers can irrigate frequently without risking waterlogging.
Pretty much all nutrients must be applied during crop growth, typically with tonnes of chicken manure, backed up by fertilisers. It sounds pretty unnatural, but it does give control to the grower. A good grower can produce an excellent taproot with good reliability. The land at Boneo is quite flat, made up of sheets of windblown sand deposited around 1 to 2.5 million years ago; that flatness makes it ideal for mechanised agriculture and bed forming.
Last year CSIRO released an excellent app called SoilMapp. If you use it to look at the area near Boneo (Lat -38.40, Long 144.90) it is quite clear that the incidence of vegetable growing is strongly coincidental with the Leptic Tenosol, being even more favoured than the adjacent Red Ferrosol! The climate here certainly helps: Mornington Peninsula provides excellent thermal conditions, moderated by the surrounding ocean and bay.
The best parsnips are produced when the tap root is ripening in a winter with some frosts. Mornington winters are currently only just cold enough for fabulous parsnips, so get into them now so you can tell your grandchildren about them.