Tomorrow, a new book by the Adelaide-born performance poet and playwright Christopher Barnett will be launched in Melbourne. Titled when they came/ for you: elegies/ of resistance, it's the first time in decades a work by this major Australian expressionist has appeared in his country of birth.
And yet, Barnett is not unknown.
Adelaide's enfant terrible
Barnett was politically active as a young teenager and started writing early. By the time he was 16, he was organising poetry readings with Paul Kelly in Adelaide. Throughout the 1970s, he performed in Adelaide hotels and alternative art spaces and gained a reputation as the enfant terrible of the Adelaide art scene.
In 1982, when Barnett was in his mid-20s, the arts entrepreneur and director of the Rocky Horror Picture Show Jim Sharman commissioned him to write a play for the Adelaide Festival of Arts, Selling Ourselves for Dinner.
Although his experimental, politically-charged works appealed to a small avant-garde entourage, the establishment shunned his writing.
Disillusioned with Adelaide, in the 1980s Barnett moved to Melbourne. There, he was associated with the punk scene. Plays such as Ulrike Meinhof Sings, a one-woman performance about the infamous Baader-Meinhof group, Basket Weaving for Amateurs (1981), which attacked Australia's literary establishment, and The Last Days of th World (1983), a revolutionary lament, were major contributions to the Australian stage that addressed politics, history and memory in a material world.
Published versions of these works are now difficult to find as they were mostly small press publications; Melbourne's Rigamarole Press published a collection of Barnett's plays in 1984.
Barnett moves to France
In 1990 Barnett left for France where he was embraced by a more radical intelligentsia and given a university post in Nantes.
There he established Le Dernier Spectateur, a theatre where he works with disenfranchised people, publishing their works and enabling their performances. The French establishment appreciated Barnett's work by publishing The Blue Boat (bateau bleu) in 1994 with the esteemed press Le Nouveau Commerce. More recently the French Prime Minister, Jean-Marc Ayrault, has commended his work with communities in Nantes.
Much of this story is eloquently outlined through original footage and interviews in Anne Tsoulis' documentary film These Heathen Dreams, due for release in 2014. The film has been in production for several years. It received some government funding but has been primarily supported through an online crowd-funding campaign.
Remembering Furkan Dogan
Barnett's magnum opus, a long poem titled "when they came/ for you: elegies/ of resistance" was first published on Facebook.
Written between January 2011 and May 2012, the poem came out in sections almost daily, often in French and then in English, sometimes only in French. Readers read it gradually, wondering what would be next.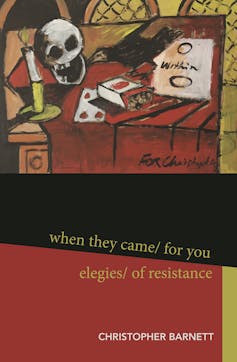 The text attained a kind of critical mass and eventually it came to the attention of Adelaide's Wakefield Press, which will publish the entire long poem – 302 pages set in two colums – and launch it in Melbourne tomorrow, along with trailers from Anne Tsoulis' film.
When they came/ for you is anchored to the violent and political death of young Turkish American activist Furkan Dogan.
In May 2010, when he was 19, Dogan participated in an activist protest in an aid flotilla of six ships that sought to break the Israeli blockade of Gaza. The incident made a ripple in the international press.
Gunned down at close range by the Israeli military that boarded his ship, Dogan became a kind of everyman hero for Barnett. He uses this incident to create a memorial to the young idealistic activist and to reflect on his own youth and passion for social change.
In the tradition of Russian poet Vladimir Mayakovsky and Turkish poet Nazim Hikmet, Barnett's long poem is written to be read aloud.
In France it has often been set to music with Barnett and others reading to a musical accompaniment.
At the Melbourne launch tomorrow of when they came/ for you: elegies/ of resistance, excerpts will be read in the tradition of performance poetry.
Excerpt from when they came/ for you: elegies/ of resistance, by Christopher Barnett:
weighed down
with symbolic
disorder of this
world gone wrong
where waves weep
as if forever
weeping
over you
furgan dogan
there are many
amongst us
everywhere
who are being
blamed
for all
that is falling
to kingdom come
falling to kingdom
come sit
with me
for moment
so I can
speak of this
world gone wrong


Christopher Barnett's book when they came/ for you: elegies/ of resistance will be launched by Anne Marsh on November 30 at Embiggen Books in Melbourne.