The Mediterranean route between Libya and Italy has been described as the "world's most dangerous maritime crossing". This was proven once again last week in the tragic shipwreck of a boat full of men, women and children, around 50 miles away from the southern Greek town of Pylos.
The boat was being tracked by the Hellenic coastguard who said that those on board refused their assistance repeatedly, and that people on board said they wanted to continue to Italy. It was for this reason that no active rescue took place, according to the coastguard.
But activist groups, including Alarm Phone, an emergency hotline for refugees in distress in the Mediterranean, have contested this account. In an email to authorities, published by investigative journalists We Are Solomon, Alarm Phone alerted authorities to the vessel's location, and reported that "several people, among them some babies, are very sick. The people on the boat said that they cannot go on".
Mixed reports and timelines have continued to come out, and survivors' stories and experiences are now starting to be reported.
Alarm Phone claimed that Maltese and Italian authorities were also aware of the vessel's situation, and that "European authorities could have sent out adequate rescue resources without delay. They failed to do so because their desire to prevent arrivals was stronger than the need to rescue hundreds of lives".
International lawyers and former members of the Hellenic coastguard have said that authorities should have rescued the boat regardless of whether passengers requested help, not least because of the vessel's unseaworthy nature and overcrowding. As the RNLI has made clear in the UK, it is a duty – both moral and under international maritime law – to save lives at sea.
---
Read more: Turning back migrant boats: what does the international law of the sea say?
---
Pushbacks
This is far from the first time the Hellenic coastguard has faced accusations of endangering asylum seekers' lives at sea. In March 2020, Ursula von der Leyen, president of the European Commission, thanked Greece for acting as the European Union's "shield".
She pledged to work in solidarity with the country to ensure that as a priority "order is maintained" at Greece's external border, also the external border of the EU.
What this means in practice has become clear with accusations and mounting evidence that the Hellenic coastguard is conducting illegal pushbacks, preventing access to the right to claim asylum once a person has entered a state's territory.
Human rights advocates, MEPs and other non-governmental organisations have repeatedly accused both the Hellenic coastguard and Frontex (the European border and coastguard agency) of involvement in pushbacks.
In October 2022, a report by the EU watchdog Olaf published by German media accused Frontex of covering up or failing to investigate serious allegations of human rights violations.
A video published by the New York Times in May 2023 appeared to show coastguard vessels abandoning people at sea that had previously landed in Greece. Again, this would be a violation of their rights under international law to claim asylum, having landed on the island of Lesbos, in Greek territory.
If the Hellenic coastguard's account of the recent shipwreck is true, and that those on board the vessel wanted to continue to Italy and avoid Greek territory, it's important to consider why this would be the case. One reason may very well be the growing awareness of the risk of pushbacks.
These events suggest that Europe's "shield" is not prioritising saving the lives of those seeking safety, but rather, as von der Leyen stated in that same press conference in 2020, making sure "order is maintained" when "migrants that have been lured through false promises into this desperate situation" find themselves at Europe's door.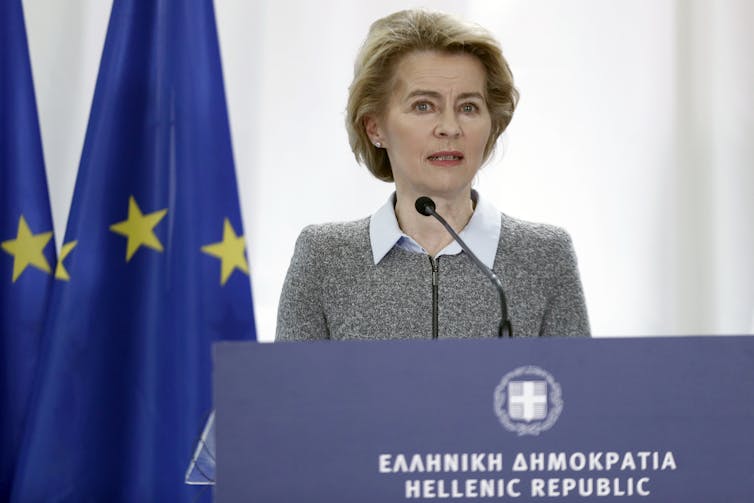 Deterrence policies
In 2016, Donald Tusk, then president of the European Council, warned people making the dangerous crossings to the EU. He said: "Do not come to Europe. Do not believe the smugglers. Do not risk your lives and your money. It is all for nothing."
Statements like this wrongly suggest that people make these journeys out of choice, that a far easier alternative exists. But, as Somali British poet Warsan Shire put it poignantly: "You have to understand, no one puts their children in a boat unless the water is safer than the land."
Making these journeys less safe will not prevent them from happening. The failure to rescue, the decision to pushback, only puts the lives of people in boats at risk, it does not prevent other people from making those journeys in the future.
Shipwrecks like this are preventable, but only if EU policy moves away from its focus on closing borders and "maintaining order", and towards one of humanitarian action. This would mean the opening of genuinely safe routes for people seeking safety, that do not rely on them entering the territory of a state on a crowded, dangerous vessel to be able to make an asylum claim.