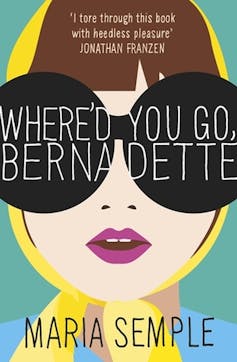 One of my favourite picture books as a kid was The Jolly Postman (1986).
Sparking a manic inquisitiveness that I'd later horn into a career, the book followed the route of - surprise, surprise - one very peppy postman. Teeny tiny little envelopes were stuck on each page and the reader could open and peruse the contents at will.
Oh the joys of mail-tampering!
That joy - lain quietly dormant for two decades - was promptly reinvigorated by Maria Semple's new book Where'd You Go, Bernadette.
Not since Nick Hornby's equally excellent Juliet, Naked (2009) have I found a book so hilarious. That I was surprised at how charmed I was is simply testimony to my shoddy pre-reading investigations: Semple was involved with Arrested Development - unquestionably one of the greatest sitcoms of all time - the book was destined to be great.
Composed of seized correspondence from, to, and about the missing Bernadette, the reader is taken on a fantastical romp to find out just where this wife, this mother, this prize-winning architect and gorgeously neurotic misanthrope has disappeared to.
I could write about the pleasures of voyeurism, but I've done my time investigating Peeping Tom-mery. Instead, I'm interested in one of the narrative threads: schoolgate bitchiness.
A month or so back I was interviewed for a newspaper article about the so-called Carpark Mafia. Apparently there are some mothers who like to bitch it up at the schoolgate.
When I was in primary school a delightful mother of a classmate menaced, "I'll have your head rolling down Gaffney Street, Lauren." Apparently my badge-making technique deployed during the school's fundraising day was slightly… suspect.
That mothers can be insane is no great surprise.
I've written about cat-fights before, notably about the media's preoccupation with them. While the public penchant for women pulling each other's ponytails likely explains the Herald Sun's interest, I'm more interested in motivations. What underpins parents glamming it up for the drop-off, forming cliques and dabbling in ostracism?
We could muse about gender, but instead, I'm going to focus on drama. On our preoccupation with it.
Blame social media, blame soap opera, blame women's magazines, blame a pervasive OMG-everyone's-life-seems-more-exciting-than-mine mentality, but whatever the impetus, for many, there's a preoccupation with living a life more dramatic.
That our lives just have to be suitably jazzed up to warrant being loathed, being envied, being Facebook-ed and Tweeted about.
In Where'd You Go, Bernadette, each of the Galer Street School moms - who Bernadette bitingly refers to as the "gnats" - is taking the self-as-the-centre-of-the-universe idea a couple of steps too far. In their minds they're the stars of their own reality television show. Sworn enemies, frenemies, foes and vengeance a'plenty flesh out their domestic dramedies.
These mothers have created theatre where none exists to distract them from the yawn-worthiness of daily routine. And it's so divinely witty!
I'm generally unconvinced about the usefulness of genre; certainly Where'd You Go, Bernadette is not of any ilk I'm familiar with. But that shouldn't deter you. It's quirky and funny and most entertainingly is quietly of the Zeitgeist in its subtle commentary on the living publicly culture we're now in.