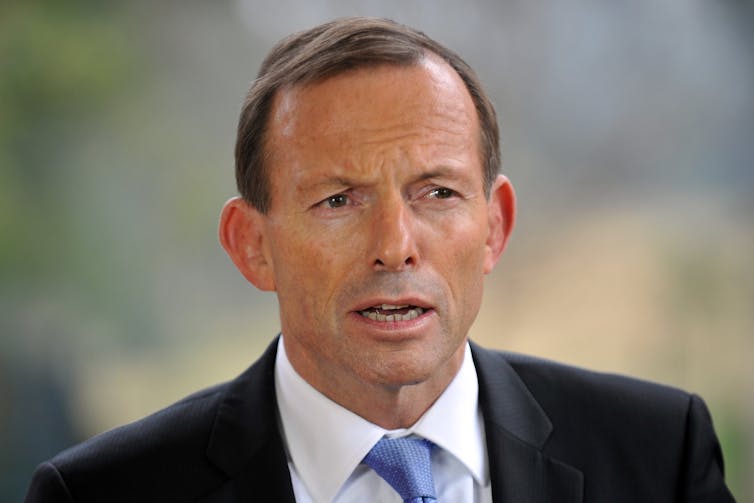 UPDATE: Later the Indonesian Foreign Minister presented a more hard line view on tow-backs.
Tony Abbott has got a useful break from Indonesia over his controversial turn-back-the-boats plan, with Foreign Minister Marty Natalegawa saying no one can take away a country's sovereign right to undertake certain steps.
It's a question of ensuring national actions are "in sync … with bilateral and regional efforts", Natalegawa said, stressing the need for proper communication.
The government has made much of the reference in the Yudhoyono-Rudd communique warning against "unilateral" action. This was interpreted as referring to Abbott's policy.
But the Indonesians don't want to get caught up in the Australian domestic dogfight. Natalewaga has sought to position them on safe ground, although that's difficult when anything they say will be seized on by one side or the other.
"When we used the term 'unilateral action' it is not to deny the fact that there are things that countries can do at the national level, at the bilateral level, at the regional and at the global level", he told Sky News.
"Indonesia is engaged in national efforts. I'm sure Australia is as well, and other countries …
"So national, bilateral, regional and global – they must all be made to work in synergy."
The unilateral element came in when certain national measures were taken "without due consideration or communication at least with some other affected countries.
"This is where then it can be troublesome. But I must say that with the elements here in Australia, the different political parties, or stakeholders, we have had good communication, including with the opposition party in terms of where they wish to take the discussion forward.
"So I am sure when the time comes, if the time comes, there will be a lot more communications going back and forth in trying to better comprehend and better understand what the opposition has meant by policies," he said
When pressed he said, "we are open to discussion" on the policy, although "we are yet to see" whether it would be in sync with a regional approach "because it depends on how the issue is communicated, how the issue is co-ordinated".
He said that the regional conference of source, transit and receiving countries that President Susilo Bambang Yudhoyono had proposed, would be held next moth.
Natalegawa's comments came as Kevin Rudd has been trying to enlist more help from Papua New Guinea in the battle against the boats. Nothing specific was announced before Rudd flew back from Port Moresby, but there is a general toughening of the government's boats policy being prepared.
First, however, the public attention is on carbon, as the government today unveils details of its early move to a carbon trading scheme and how it will be paid for.
This bring-forward of the trading scheme, welcomed by business, is a problem for Abbott because it takes some of the sting out of the carbon debate.
Consumers receive modest relief on rising power bills and, because the compensation is being left intact, some will be getting windfall over-compensation from the early switch.
Treasurer Chris Bowen flagged that the several billions in savings to pay for the change will be spread.
"Clearly a change of this scale requires us to recalibrate policy in other areas to offset the costs associated with moving to a floating carbon price earlier", he said.
"We've taken a forensic approach on the basis of ensuring we spread the heavy lifting across a number of key areas beyond the immediate portfolio of climate change.
"In this way we've been able to ensure that a range of changes to existing programs will all contribute to delivering this key reform."
Faced with the need for a nuanced response to the new twist in the carbon debate, Abbott came out with a clanger. "This is not a true market", he said of an ETS. "Just ask yourself what an emissions trading scheme is all about. It's a market, a so-called market, in the non-delivery of an invisible substance to no one".
Fair enough to have a debate about the ETS versus his "direct action" plan, but whoever thought up that too-clever-by-half line should be put on gardening duties. Remember John Howard was proposing such a "so-called market". And does Abbott really want to re-open the issue of his "absolute crap" comment in relation to the science of climate change? The government was quick to recall it.
Shadow treasurer Joe Hockey probably thought up his own line about Kevin Rudd. "Australians don't want Kevin Kardashian as prime minister", he has started saying, and tweeted "Kevin Kardashian running around the country taking self portraits as another boat arrives …"
This is not just silly, but bad politics. It's not so much that it insults Rudd but that it insults those voters who are presently rating him high in the polls, while they mark down Abbott.