The senseless attack on Manchester Arena left many of us reeling. My first reaction was to rush to my young daughter and hold her close. Such events make the violence we see in many parts of the world, all too real – we can so easily relate it to our own lives.
Faced with such a devastating loss of life, the natural public response is to demand justice. Justice itself comes in different forms, and once violence is framed through political narratives of warfare, what overwhelmingly passes for justice is the use of force – whether that's the force of law or the force of overt militarism. And political use of the terms "evil" and "defeat" in this context merely serve to underwrite this logic.
The term "terror" has been immediately assigned to this indefensible act. There is no problem with using this term if we are relating it to the raw realities of violence. All violence is terrifying. But let us be mindful of what political function this term serves when considering its lasting significance and consequences.
We know that this type of violence – like all forms of terror – works at a visceral level. That's what makes it truly terrifying. It sends all our emotions into a state of flux – we are sent reeling into a vortex of emotional disorientation.
Creating terror
For the terror to appear political it needs to be inserted into a broader historical frame. The perpetrators of this kind of violence understand this better than anybody.
It is perhaps then no coincidence that the Manchester attack took place four years to the day since the British army solider Lee Rigby was attacked and brutally murdered outside the Royal Artillery Barracks in Woolwich, south-east London in 2013. And not only will comparisons be made, it will also ensure the actions of single individuals are afforded far greater significance.
But political violence is not just about perpetrators and victims. It demands an audience. This is especially the case in the age of Facebook and Twitter, where posts and tweets can reach millions of people in a very short space of time.
Terror trades in images and narratives – delivered to spectators who are forced to witness its occurrence. Violence such as this is not just simply about bodily harm or the tragic loss of life. It seeks to communicate a much wider message to a much wider audience.
Calls for action
There is no neutral ground when it comes to such displays of violence. It brings us all into its universe. There is no such thing as an impartial bystander or witness. But that doesn't mean to say that in our search for answers and a meaningful response that we should gloss over the complexities, especially if that means targeting and apportioning blame to already vulnerable groups.
It is only natural that people try to find comfort in simplistic answers. But once politics becomes reduced to the question of pure survival, it is then easier for those inclined to manipulate and mobilise the no doubt understandable emotions of anger, fear and outrage, than it is to demand empathy, compassion and tolerance.
Political vampires always feed off the blood of intolerable conditions, their own intolerance parasitic to the genuine fears of those who wish the nightmares away.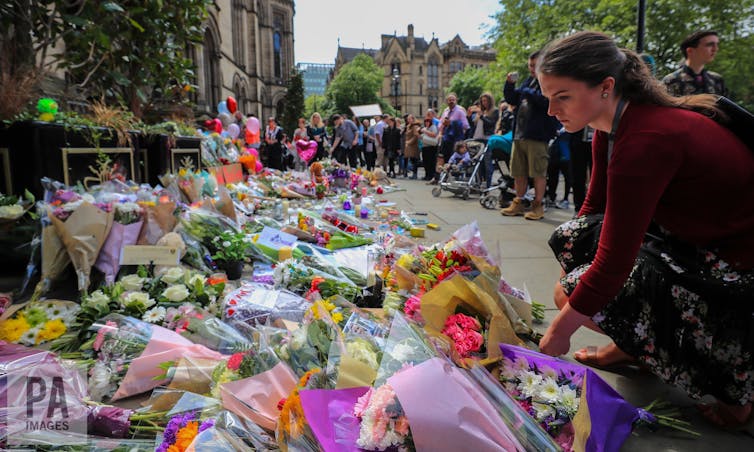 One of the defining features of modern life has been the speeding up of all human activity. This is certainly the case with political catastrophe and crises – when a tragic event is swiftly followed by calls for action and a swift response.
But not only is such an approach counter-intuitive to the need for considered human reflection, it also plays directly into the hands of those already armed with ready-made solutions – such as the far right. Simply look at how many "we told you so" postings are currently in circulation by those seeking to profit from devastation.
More compassion
So where does this leave us in this deeply upsetting time? We would perhaps do well to remind ourselves, despite the narratives of hatred, that we are already seeing the emergence of touching stories of care and assistance, which reveals the best of the human condition.
But we also know from history that the politics of fear is a seductive beast. When terror strikes it often hits the head and the heart. It stops us thinking and provokes the wrong type of emotion.
The fallen of Manchester have already been incorporated into the public's consciousness. And it's important we don't forget the innocent loss of life. But as we try to show sensitivity to this tragedy, we also need to be mindful about how we remember them. A cycle of violence is not the answer – when will too much killing be enough? We all share this planet and we owe it to our children – wherever they are – to find better solutions.