Have you heard the one about what Stewart Lee was wearing at his last gig? Or the one about the gendered material of Ken Dodd? No, neither have I. When it comes to comedy, it's impossible to shy away from the fact that women have a tougher time of it than men. Female comedians are judged more heavily on their material, but also on their looks, appearance, mothering skills, sexual status … the list goes on.
But not only do women get judged more harshly as performers, they also account for only around 10% of the industry – with most of the top gigs and pay packets going to the men.
This discrimination that occurs in the comedy industry is, on one level, a microcosm of what happens in society. So although women are now much more prominent on the comedy circuit, the sad truth is that there is still a long way to go before women get heckled in the same way as men.
That's why Amazon's new comedy series, The Marvelous Mrs Maisel – which features a woman with a knack for stand-up – is depressingly brilliant. Depressing because, although the show is set in the 1960s, its observations about the industry are frustratingly relevant to this day. And brilliant because the show's creator, Amy Sherman-Palladino, has seen there is clearly a growing appetite for women in the funny roles – after a successful showing of its pilot, the show has been picked up for two seasons.
The female comic
The US stand-up Amy Schumer recently asserted during an award acceptance speech, that the act of being a female comic is in fact an act of feminism since it strongly suggests that a "woman's comedic voice is as valuable as a man's".
My own research looks at the "constrained voice" of the female stand up. This is the idea that the female comedy voice is so heavily scrutinised, and has been entrenched in patriarchy to such an extent that the female comic is inhibited and unable to express herself authentically.
In this way, the female comedy performer's career path is unlikely to be very easy, since she, by the very nature of her act, invalidates cultural norms of respectability and traditional femininity.
The funny woman
To try and tackle the inherent sexism in the comedy industry, some time ago the BBC banned all-male panel shows – pledging to include one female in each programme.
But such gestures have led to a kind of "spotlight effect" where the elected woman may feel responsible for representing all women – and are then potentially scrutinised as "the woman" in a male dominated show.
It can also lead to the female guest in question finding herself part of a tired format that relies on heavy editing. This is probably why stories on the comedy circuit of women loathing those gigs are plentiful.
Women on top
To stop this from being the case, there needs to be more done to get the numbers, and the ratio of men to women equal in comedy. It wouldn't be hard; there's no shortage of funny women for these shows.
Similarly, there needs to be an equal number of women on comedy bills, as well as more female sketch shows and female centred sitcoms commissioned by TV channels. Getting more female directors involved would also help make programmes relevant for the 50.8% of the population who aren't male.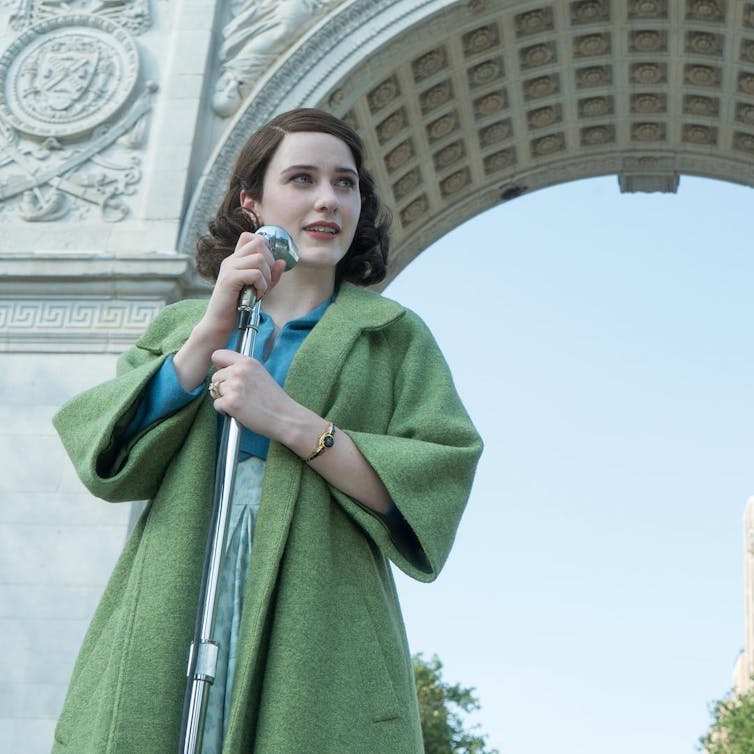 It is clear then that just like Miriam Maisel in early 1960s New York, many female comedians and comedy fans are still frustratingly waiting for a time when the female comedy performer is judged solely on her ability to make people laugh.
But until then, despite the fact that woman have to work much harder to gain the respect of their audience – and their peers – it is encouraging to see a new generation of female comedy talent coming up through the ranks to share their voices with the world. Whether it's a world that's ready for them yet, though, is another issue.