In the midst of a maelstrom of economic woes caused by the Euro crisis the German economy has continued to perform relatively well. While many of its neighbours suffer recession and high unemployment, Germany emerged from the Global Financial Crisis of 2008-2009 in good shape and has continued to experience growth, albeit at a slower rate since 2011.
At a macro-level Germany has a much smaller budget deficit than most of its European Union counterparts, and one that is significantly less than non-EU major economies such as Japan and the United States. Although it experienced some negative impact in its manufacturing sector, Germany's labour intensive industries such as construction and services remained buoyant.
The role of the Mittelstand
An important component of Germany's economic success is the role of the small to medium-sized enterprises (SMEs) known as the Mittelstand. These firms typically have between 10 and 250 employees and annual turnovers of €2 to €50 million. They fall between the micro-enterprises that make up around 83% of Germany's businesses and the large firms that comprise around 0.5%. In the field of manufacturing the Mittelstand represent just over 26% of all firms in Germany, employ around 42% of the workforce and contribute about 35% of the value adding.
Despite their size they include brand names such as white goods manufacturer Miele and the high pressure cleaner manufacturer Kärcher. The success of the Mittlestand is their focus on developing international excellence in niche markets where they can maintain strong market positions. They base their competitiveness on offering superior value not lower costs.
As well as being strongly export focused these firms are also characterised by high levels of innovation and private ownership. Over 70% of Mittelstand firms are family owned and located in smaller cities or regional towns. Their average age since foundation is around 70 years. The annual growth rates in revenues for these firms over the past twenty years have generally been twice that of the larger listed German firms.
In order to maintain their competitive position the Mittelstand invest strongly in R&D and aim to continuously improve their products. Their production networks are closely linked to their R&D and they keep close ties with customers, suppliers and their employees. They also have a bottom-up management style. This is characterised by a hands-on approach to company leadership in which a deep knowledge of their products is a feature.
There is a strong culture of family ownership within Germany's Mittelstand and an investment in technical skills training and apprenticeships. The Mittelstand take on 83% of all apprenticeships in Germany. Furthermore, because they are often located in regional towns and smaller cities, the Mittelstand invest a lot in developing the skills of the workforce in their local community.
Australia's missing middle
When compared to Germany's Mittelstand Australia's SME sector is characterised by a much larger proportion of micro-enterprises. As shown in the figure below, Germany's Mittelstand of small and medium sized firms comprises around 16.5% of all businesses in that economy. By contrast, Australia's Mittelstand is only 3.7% of the total.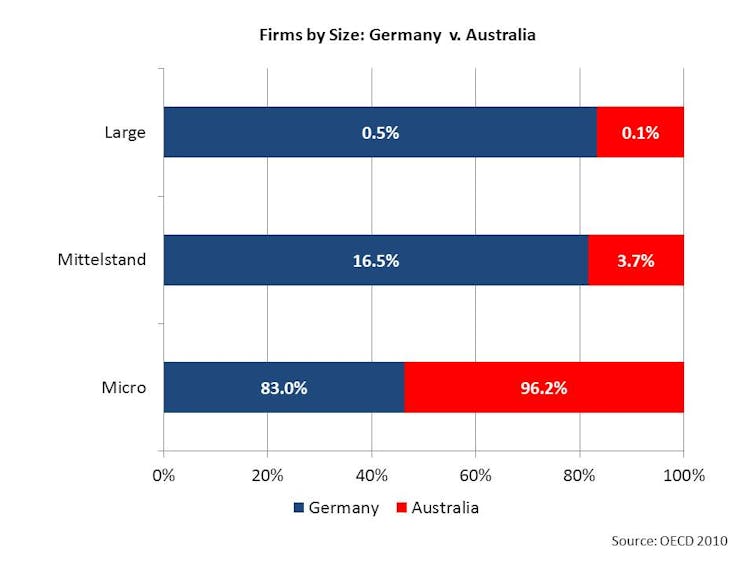 This represents a missing middle in the Australian business landscape. Our economy has a very high proportion of micro-businesses, the majority of which are non-employing. Compared to Germany we do not seem to be able to sustain large numbers of medium sized firms.
In relation to export activity the 237 large mining companies comprise less than 1% of all our businesses, but generate around 48% of the total value of Australia's goods exports. By comparison Australia's SMEs comprise 86% of all goods exporting businesses. However, they generate only 5% of the total value of exports. Medium sized firms comprise around 56% of Australia's SMEs goods exporters and 80% of the total value.
This suggests that medium sized firms have greater capacity to add value to Australia's export sector. Unfortunately, the relatively small number of mid-sized businesses within our economy means that such potential cannot be fulfilled.
New venture creation and destruction
Australia is generally a good place to start up a new business. As shown in the figure below the rate of new business start-ups in Australia over the period 2006-2010 was good in comparison to countries such as the UK, USA and Spain. Bankruptcies over the same period were also relatively stable. Particularly when compared to the USA and Denmark.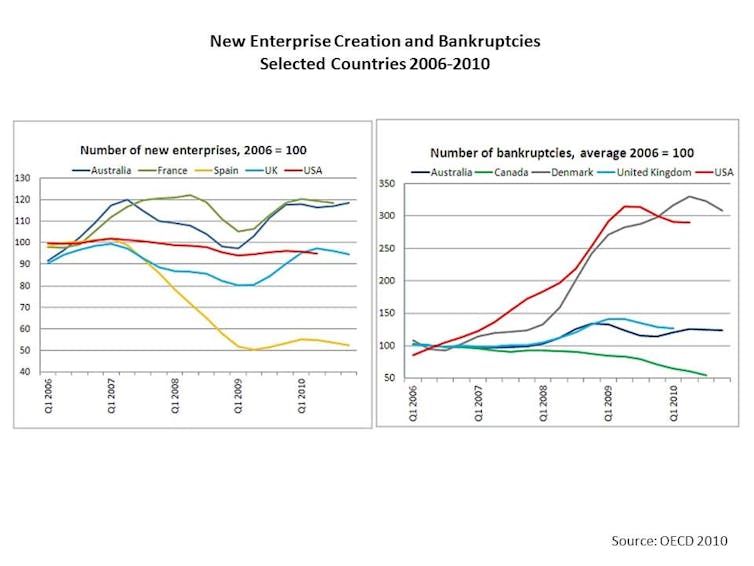 Yet there remains a high churn rate amongst Australia's SMEs. This is the number of firms that cease trading compared to new business starts. Each year the majority (e.g. 99.5%) of employing businesses that cease trading are SMEs. These firms may be quickly replaced in total by new start-ups, but this churning does not assist the strengthening of the national Mittelstand.
Assisting the middle ground
The process of growing a business from start-up to maturity is a massive challenge. Most small businesses do not grow beyond micro-enterprise status and rarely employ more than 5 people. To grow a business sustainably and operate with between 20 and 200 employees requires the development of a range of management systems not typically required for smaller firms.
These mid-sized firms are often highly vulnerable to competitive forces. They are too large to get some of the support and benefits provided to their smaller counterparts, but they are big enough to be viewed as threats by much larger companies.
The Federal Government has launched a range of initiatives targeted at mid-sized businesses. These are managed via the Department of Innovation, Industry, Science and Research, Ausindustry, Enterprise Connect and Commercialisation Australia. They are focused largely on innovation and R&D initiatives. Enterprise Connect is one of the few schemes offering more general strategic management assistance to mid-sized firms. Many of the other schemes are designed for firms with fewer than 20 employees.
The national political debate has focused recently on small business and the need to assist such firms. There have been considerations given to better definitions of small business, tax reform and the cutting of red tape. While such initiatives are welcome, it would be desirable for policy makers to give more attention to strengthening Australia's Mittelstand.