After the gladiatorial combat of the federal election campaign, prime minister-elect Tony Abbott appeared on Sunrise to call an Olympic-style truce.
Happy is the country which is more interested in sport than in politics, because it shows that there is a fundamental unity, it shows that the business of the nation is normally under reasonably good management if we can be as excited as we usually are about sport.
After the people had decided the fate of competing teams, sport could once again displace politics in Australia's media.
A less familiar political force was also pleased to have sport back in the limelight. The Australian Sports Party (motto "Supporting Australia's sporting culture") had come from nowhere to take a screamer - in football parlance - and win a seat in the Senate. Very little is known about the Sports Party, except that it favours greater participation in sport and recreation in the interests of health, and more expansively believes that:
Sport has long played an important social and cultural role in Australia, providing a form of social glue which binds communities and creates broader communities.
Once again, sport's place in Australian national life has been affirmed in the political sphere. Although subjected to the forces of globalisation and transnationalism like other social institutions, sport remains resolutely wedded to the very idea of an Australian nation. Throughout the distraction of the messily unheroic processes of parliamentary democracy, Australian bureaucracy has held its end up in the sporting stakes.
For example, the Department of Foreign Affairs and Trade's glossy pamphlet Australia in Brief, designed for people wanting a quick summation of Australia, unequivocally pronounces that "Australians love sport" and that:
The nation unites when Australians succeed on the international stage. Sport is a powerful force in creating social harmony in a nation made up of people from so many different countries.
Those who want to become Australians rather than just know about them will find that in Australian Citizenship: Our Common Bond, the official information booklet for the citizenship test, "Australia's identity" begins with "Sport and recreation". This section precedes "The Arts" and "Scientific invention and achievement". Aspiring citizens will learn that:
We are proud of our reputation as a nation of 'good sports'. Australian sportsmen and women are admired as ambassadors for the values of hard work, fair play and teamwork. Throughout our history, sport has both characterised the Australian people and united us.
They will also get to know a little about Sir Donald Bradman.
Australia is not alone in promoting sport as an important part of its national culture and in explicitly relating it to citizenship, but it is unusual in giving so much emphasis to it. For example, sport features in Discover Canada: The Rights and Responsibilities of Citizenship. But it is notable that under "Arts and Culture in Canada" it follows literature, visual arts, performing arts, film, and television. And under "Canadian Symbols" it is preceded by "Parliament Buildings". Discover Canada makes no comparable claim definitively connecting sport to Canadian national identity as occurs in its Australian equivalent.
Life in the United Kingdom: A Guide for New Residents does contain information on sport. Indeed, it has been described by one critic, Thom Brooks, as like a "bad pub quiz" and "impractical, inconsistent, trivial, gender imbalanced, outdated and ineffective". But it comes well behind Australia in championing love of sport as an essential element of the national character.
The problem with projecting so much onto sport as a marker of the Australian nation is that it is not all about gold medals and glorious moments. What happens when things go seriously wrong on and off the sports field? If sport is integral to national identity, does it then follow that a crisis of sport is also a crisis of Australian national identity?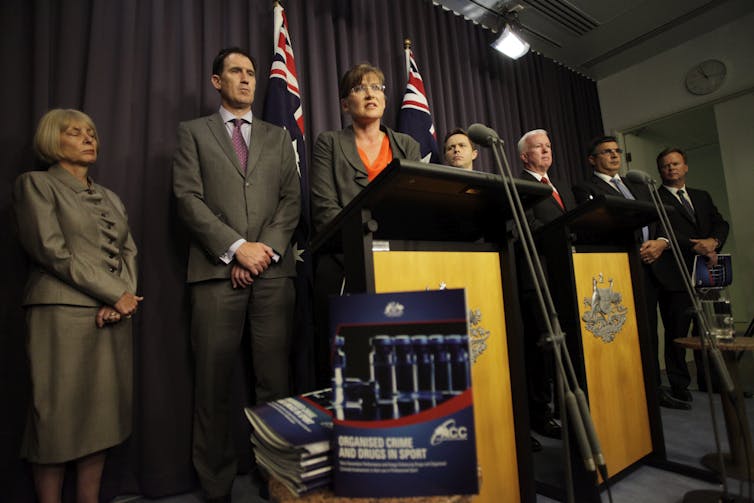 What is curious about Tony Abbott's pleasure in sport returning to the front page is that, in 2013, it has rarely been off it - but for all the wrong reasons. Sport has been beset by repeated scandals that have tarnished the reputation of this "nation of good sports". Lance Armstrong might have done his bit for the Americans, but this has been a vintage year for sport scandals in Australia.
In February, the release of the Australian Crime Commission report, Organised Crime and Drugs in Sport, heralded the so-called "blackest day" in Australian sport, and signalled a series of inquiries by the Australian Sports Anti-Doping Authority (ASADA) that engulfed Essendon and Cronulla football clubs. Performance reviews of Australian swimming uncovered "culturally toxic incidents", "poor behaviour" and an apologetic conference by the male swimmers dubbed the "Stilnox Six".
There followed many unedifying sporting moments, including the racial abuse of Indigenous footballer Adam Goodes by a young female spectator and his subsequent likening by Collingwood AFL club president Eddie McGuire to King Kong; a series of assault claims by women against sportsmen, including Ben Te'o, Ben Barba, Stephen Milne, and Blake Ferguson; and "Mad Monday" incidents ranging from setting fire to a so-called "dwarf entertainer" to allegations of assaulting a man in a wheelchair.
On the day that the prime minister-in-waiting announced his new ministry, the front pages were devoted not to ministers and parliamentary secretaries, but to a soccer match-fixing scandal in Victoria that has since extended to Queensland. Sport had again overshadowed government in the nation's conversations with itself. For those who concur with Donald Horne's famous dictum in The Lucky Country that "sport to many Australians is life and the rest a shadow", order in the country has been restored.
But the match-fixing affair is one form of sporting excitement that the nation can surely do without.
---
This article is based on David Rowe's 2013 Australian Sociological Association (TASA) 50th Anniversary Public Lecture, Sport: Scandal, Gender and the Nation, delivered at Parramatta Town Hall on Thursday September 12.