The New Orleans Police Department (NOPD) has been both demonized and eulogized – often inaccurately and sometimes unfairly – for its conduct during Hurricane Katrina, which hit land 10 years ago this week.
While the media has focused on the legal action against the NOPD and indulged in speculation about the NOPD's conduct in the wake of Katrina, little attention has been paid to the complex and contradictory stories or narratives that have emerged to explain police conduct during the storm.
With the NOPD in a form of organizational paralysis from which escape is near impossible, these legacy narratives call out for closer examination to determine how the NOPD can improve in realistic and measurable ways, an assessment based on our perspective as criminologists and public health professors.
A history of problems pre-Katrina
Recall first that Katrina was largely a man-made disaster and less a natural disaster. The levees failed because of human error. Furthermore, no leadership had faced this type of disaster before, thus Louisiana leaders – stellar, poor, and mediocre – were solving problems as they emerged with no historical reference point. The NOPD was no different.
The police officers who mobilized for the landfall of Hurricane Katrina on August 29 2005 were largely unprepared and divided. The NOPD, with many good and competent officers, was also still reeling from scandals and a pernicious organizational culture a decade earlier, in which police "patrols" at times commingled with illegal drug trade groups.
In April 1996, NOPD officer Len Davis was convicted of killing a citizen who complained about police brutality; in 1995, another officer was involved in a restaurant robbery and shooting that left three dead, including a fellow officer. From 1995 to 1997, more than 500 police officers were investigated and more than 100 fired, and many left under pressure.
In 2005, murders were on the rise and would eventually reach 316, a 20% increase from 2004. There were three race-affiliated "police cliques" or "cartels" that dominated the internal politics and dynamics in the 1980s and 1990s: Taylor's Children, which had a large number of dark-skinned African-American officers; The Antoinettes, named after Chief Antoine Sachs, who was later sent to federal prison; and the McNuggets, who included most of the rest! When I started training through a community policing grant with the NOPD in the mid-1990s, officers would introduce themselves by which clique they were in and the clique's leader rather by duty assignment.
Thus, while changes had been made by 2005, the organizational culture and "code of silence" within the NOPD made it difficult for it to react to normal policing situations, much less a devastating hurricane.
Events of August 29 2005
Many NOPD officers fled the city during the storm to find and rescue family members or for other reasons. Many others, however, remained on duty, despite overwhelming obstacles and discomfort.
However, more than 200 officers were later disciplined or fired for their conduct during the hurricane.
Police were, moreover, handicapped by a lack of direction from the top. Rules related to the use of deadly force in response to widespread looting were fragmentary and contradictory. Rumors (subsequently later found to be inaccurate) voiced by NOPD and New Orleans city leaders described alleged conditions in the Convention Center and Superdome, including incidents of child rape and murder that later proved to be false.
Using code words for race and racial divides, discussions about what would happen next focused upon the return of the city's exiled black residents either in terms of hopes of rebuilding lost homes or trepidation as to the return of violent crime.
Moral quandaries, competing narratives and retribution
As the hurricane aftermath crisis continued into early September, the NOPD changed its mission from rescuing survivors to preventing disorder and looting. Several accounts indicate that senior NOPD leaders sanctioned the use of deadly force to prevent looting.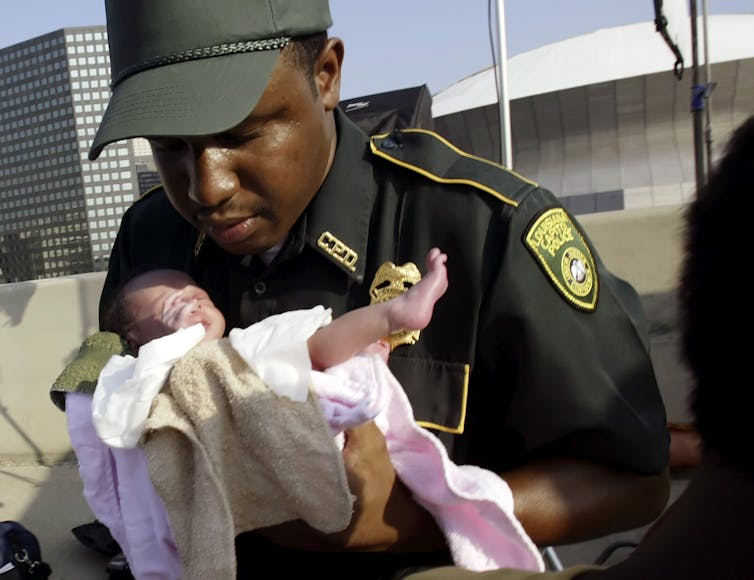 Police officer fatigue and confusion merged in two incidents whose legacy would shred the NOPD for the next decade. They include the killing of Henry Glover, a 31-year-old African-American man, on September 2 2005 (a day after the wounding of respected police officer Kevin Thomas), who was retrieving looted property. He was shot by an NOPD officer; another officer burned Glover's car with his body inside. The Henry Glover killing, exposed by AC Thompson of ProPublica, was followed by federal prosecution and indictments in 2009.
In a September 4 2005 incident on the Danzinger Bridge, four officers shot at unarmed African-American pedestrians; two persons were killed and four others were wounded. Allegations followed that NOPD officers assigned to investigate the shootings instead tried to cover up the incident, planting a gun referred to by co-conspirators as a "ham sandwich."
In alleging wrongdoing in the NOPD during Katrina, the federal government and New Orleans city officials created a climate in which an agency and almost all its officers were stigmatized, making reform and buy-in more difficult in the reform efforts that followed.
The legacies of the Glover and Danzinger incidents, among others, have engendered several competing narratives:
Race-based Katrina policing narrative: This view emphasized the role of race, seeing both the Glover and Danzinger Bridge incidents as indicative of white racism among police, even though two of the officers indicted in the bridge incident were African American.

Malevolent NOPD individuals/system narrative: This viewpoint focuses on bad actors or on a broken policing system, rather than race. In the Glover case, only one of five of the defendants eventually was convicted. Prosecutors engaged in rigorous rhetorical condemnation of the officers and the NOPD culture. Additionally, prosecutorial misconduct was alleged in the posting of highly pejorative comments about NOPD blog materials by senior prosecutors.

The Katrina justification narrative: A counternarrative emerged, which might be considered the Katrina defense narrative. This argues that the actions in the Glover and Danzinger case were justified by the extreme conditions faced by officers during Katrina, such as threats posed by largely black "looters." For example, NOPD Officer Greg McRea, convicted of burning Glover's body, had been in a small boat delivering supplies for three days, a fact derided by prosecutors in open court as irrelevant to explaining or justifying his conduct.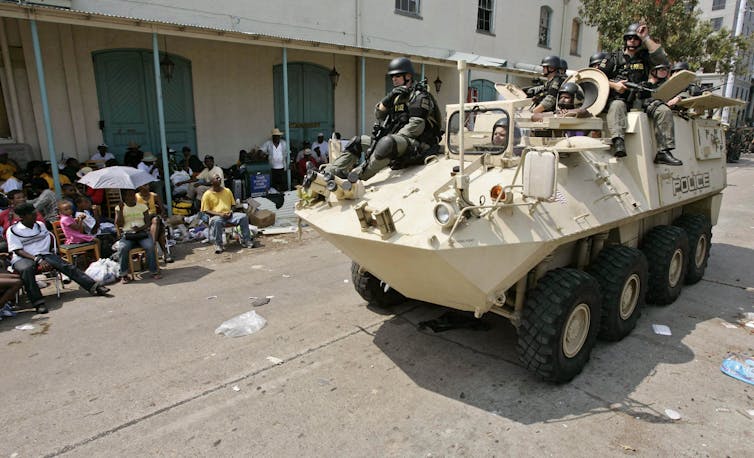 Competing NOPD hurricane narratives also reflected competition among the different police "cliques," creating a race-based "Rashoman" of competing versions of actually what occurred in Hurricane Katrina.
Each of these narratives had elements of truth, but none were able to capture the complexity of events after the storm, and none provides a basis for NOPD to move forward from its fragmented state. Federal prosecutions only added to the intensity of these narratives, suggesting that prosecution is a very blunt road to truth.
Post-Katrina: Ray Nagin and Warren Riley in charge
The organizational response to police conduct after Hurricane Katrina illustrates the impact of the various NOPD narratives.
Efforts were made from 2005 to 2010 to manage and reform the NOPD by the administrations of New Orleans Mayor Ray Nagin and Superintendent of Police Warren Riley. It's important to remember that in 2005 and 2006, the NOPD operated from a trailer with no working fax, Computer-Aided Dispatch or records management system. Right after the hurricane, as we noted in our report, pencils and paper were in short supply for NOPD officers, a fact limiting arrests.
Nagin's comments that "This city will be chocolate at the end of the day" emphasized a race-based views of NOPD actions during the hurricane. African-American police leadership under Nagin further reinforced the notion that NOPD conduct during Katrina reflected racial discrimination, ignoring the obvious contradiction that the mayor and two of his police chiefs as well as the district attorney were African American.
In 2010, Mitchell Landrieu was elected New Orleans mayor and appointed Dr Ronal Serpas, who had come to prominence in the 1990s as the NOPD chief of staff, as police superintendent. Reflecting the power of the malevolence narrative, Landrieu wrote in a letter requesting help from the federal government: "I have inherited a police force that has been described by many as one of the worst police departments in the country." Following an civil rights investigation by the US Department of Justice, an expansive 2011 federal consent decree laid out a blueprint for the NOPD.
How to "fix" the NOPD
The different Hurricane Katrina narratives have led to a number of alternating strategies to "fix" the NOPD. The federal consent decree was seen as a mechanism to fixing a malevolent police officers in a department judged as compromised. Aggressive "policing" of the New Orleans police during Landrieu's first term as mayor at times seemingly demonized the department and many officers.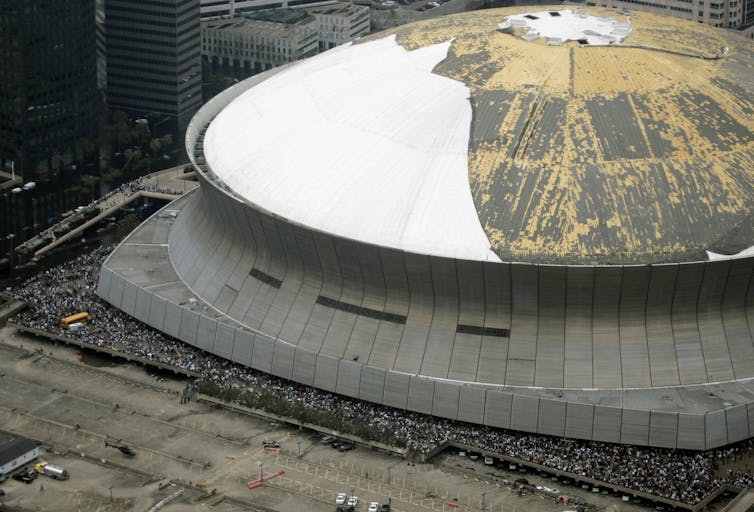 Ironically, maybe as a result of the adoption of the malevolent organization narrative, Serpas' first full year in office was accompanied by increases in violent crime, especially murder. Murders rose from 174 in 2009 under Riley to 200 in 2011 under Serpas' and Landrieu's leadership, later dropping to 150 murders in 2014 prior to a violent upturn in 2015.
The view that Riley and Nagin had "destroyed the old NOPD to save it" was a common theme among officers in explaining these increases. A 2012 survey of the NOPD suggested broad dissatisfaction among NOPD officers with high attrition rate and difficulty in recruiting new qualified officers.
This perception was underscored by a city decision to place some senior police officers in a decaying city park utility trailer – called by the officers "the glue factory" – to do menial paperwork.
Also, accusations against the officers charged in the Glover and Danzinger Bridge cases often assumed that culture from the early 1990s Len Davis era had never ended, ignoring the reality that all of the officers charged in the Danzinger Bridge incident were hired during the Pennington administration.
The road ahead for the NOPD
It has been said that unresolved political rhetoric often leads to the next conflict. Reaction to the horrors of World War I trench and gas warfare may have contributed to the appeasement strategies linked by historians to the origins of World War II.
Similarly, the narratives of the NOPD during Katrina may become a divisive force for many decades, making long-term growth, retention of key personnel and innovation difficult. A better, more accurate narrative takes into account overreach by federal prosecutors and adds perspective on racist conduct by a few individuals under extreme circumstances. The resiliency demonstrated by many NOPD officers is an undertold aspect of the story.
Today the NOPD faces a crisis of manpower, morale questions, increased murder rates and resurgence of questions about police integrity – all legacies of Hurricane Katrina. This malaise felt by NOPD officers may be exacerbated by national anti-police rhetoric, following publicized police use of force incidents in Baltimore; Ferguson, Missouri; and Charleston, South Carolina.
A 30% increase in murders through July 2015 (as compared to the same date in 2014) may be linked to a pattern of "de-policing," that is, the advice to just "sit in your car and you won't get fired, shot, sued or prosecuted," another post-Katrina effect.
Some observers believe that some of the race-based NOPD cliques of pre-Katrina NOPD may be resurfacing under a new and well-meaning superintendent, Michael Harrison. In June 2015, a police officer, Daryle Holloway, was murdered while transporting a prisoner. How the prisoner charged in the murder gained access to two weapons and freed himself from handcuffs is "under investigation."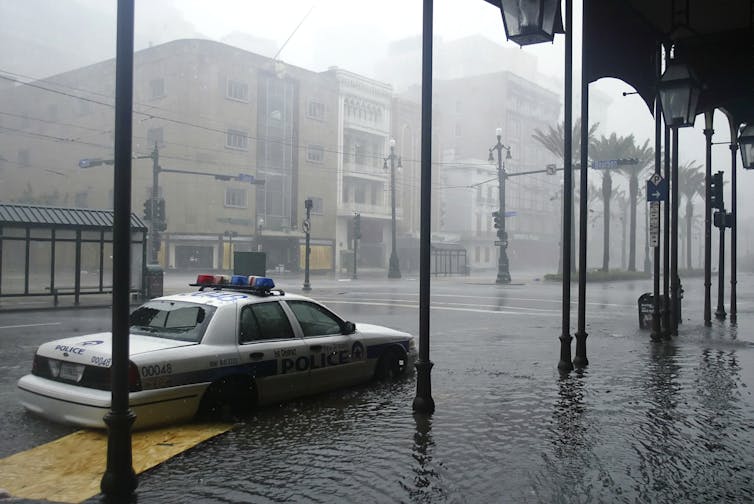 The observation that Katrina's legacy is still felt by the New Orleans Police Department is not a matter of controversy. The important questions are what the current status of the department now is and what comes next.
Training in technology, leadership and organizational is required and desired by many officers. One lieutenant I spoke with in the Public Integrity Bureau said officers longed for positive leadership and management training as an alternative to punitive pronouncements.
The new NOPD narrative needs to emphasize what a first-rate policing needs to do and value, not what to avoid.
Clear thinking about issues of organizational culture, race and the impact of the storm may be needed to make this new narrative possible. Without this change, the NOPD will be stuck in a post-Katrina limbo, making bitterness and regret more probable than progress.