The measurable health outcomes of the Northern Territory National Emergency Response (NTNER), better known as The Intervention, have scarcely been documented. Health-related assessments have focused on the process itself, perceptions of those affected and some limited data regarding eventual dental and hearing health.
The Australian Indigenous Doctors' Association released a "health impact assessment" of The Intervention in 2010. But the report did not seek to evaluate health impacts and instead attempted to predict what these might be. At that stage, three years after the start of the NTNER, the message was:
the intervention could potentially lead to profound long-term damage, with any possible benefits to physical health largely outweighed by negative impacts on psychological health, social health and well-being, and cultural integrity.
Direct health care activities were a limited component of the NTNER, accounting for less than one-tenth of its A$1.4 billion budget from 2007-2012. Any enduring health benefits stemming from the policy were always likely to relate to the focus on housing and education – key social determinants of health.
Policies directed at the social determinants, as well as child health checks, certainly played a part in some health-related changes. But the overall implementation of the NT Intervention was so coercive that the negative feelings associated with it would likely outweigh any of the measurable health impacts.
Community-based child health checks
The major defined health care initiative of the NTNER were the community-based child health checks.
These were closely aligned with the government's initial driver of The Intervention, which was to "protect Aboriginal children in the NT" – in part a response to the earlier "Little Children are Sacred" report. When initially implemented, the health checks were compulsory for all Aboriginal children aged 0–15 years. While these aimed to identify and treat health problems, their purpose was also to investigate for effects and evidence of sexual abuse.
Like much of the NT Intervention, the initially compulsory, intrusive and contentious nature of such assessments of children without carer consent ensured a difficult reception.
The policy also suffered from staffing issues. Although detailed numbers are difficult to ascertain, it was clear many of the 1,080 well-meaning clinicians who responded to the NTNER staffing hot line had little or no experience of Indigenous or remote health.
The child health checks failed to integrate with and support existing primary health care (such as GP clinics). A "fly-in, fly-out" workforce created the perception existing health providers were in some way inadequate, or complicit in the health issues the checks were detecting. Whether this undermined existing staff morale or contributed to already high turnover of remote primary health care staff is difficult to assess.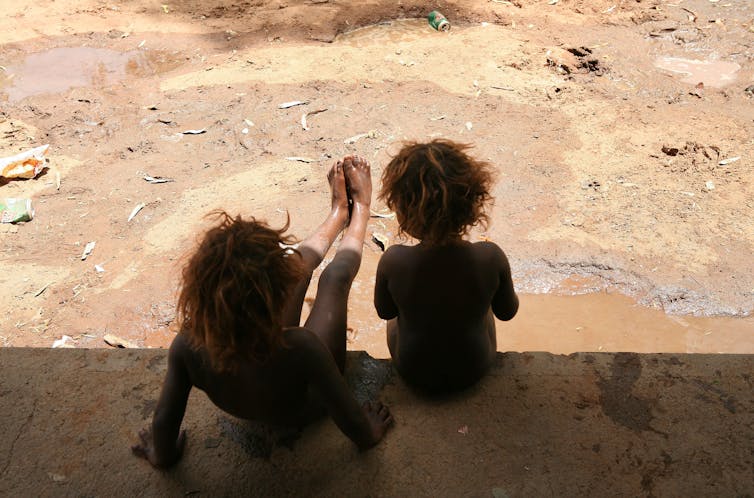 On the plus side, many Indigenous children had health screening in association with the NT Intervention. More than 10,000 children up to 15 years of age, representing more than 50% of the population, had health checks over the first 18 months. The fact that half did not is perhaps testament to the limited value local communities placed on such screening. Whether such screening would have occurred irrespective of the NTNER remains unclear.
There were other benefits too. Two-thirds of children were referred for follow-up review, including 39% to local primary health care, 35% to a dentist, 14% to audiology, 12% to paediatricians and 9% to ear, nose and throat (ENT) specialists.
Reassuringly, by 2012, the majority (94%) of children identified as requiring referral had been seen, including 94% for dental, nearly 100% for audiology and 97% for ENT care. This appeared to have measurable health impacts. Oral health problems decreased by 12%, hearing loss by 10% (and 60% in those with documented hearing loss at initial review) and ear disease by 21%.
Whether this translates to sustained improvement remains to be seen. Without change in the underlying social determinants of health, this is unlikely.
Social determinants
While the NTNER did not include measures for new housing, it occurred in close association with the Strategic Investment Housing and Infrastructure Program, a partnership between the NT and federal governments. The emphasis this program placed on secure tenure of properties made the negotiation and provision of long-term leases to the government a core requirement for housing support.
In close parallel with the health care component of the NTNER, people and organisations had to cede autonomy and ownership to the government to access adequate accommodation.
Unlike many elements of the NTNER, this received some initial cautious support from the Australian Indigenous Doctors' Association's health impact assessment. Nonetheless there remains little evidence this government takeover of Indigenous Australian housing has improved the quality of housing or overcrowding. Indeed, measures of household overcrowding have barely changed over the time of the NTNER.
The NTNER had the initial plan of encouraging education attendance by linking income support and family assistance payments to school attendance for everyone on Aboriginal land and providing meals for children at school at parents' cost. Unfortunately Indigenous school attendance rates for years one to ten remain stubbornly fixed at 80% nationally and 69% in the NT.
The right thing, the wrong way
While the NTNER may have brought about improvements in the ear and dental health of children, the process was associated with disenfranchisement of Indigenous Australian communities. Broader change in the underlying health determinants relating to education and housing have not been seen. The experience has also created further mistrust in the relationship between Indigenous Australians and governments.
The overall message is that investment and resourcing of initiatives to improve Indigenous Australian health can bring about measurable improvements. These must nonetheless occur in partnership with stakeholders and communities and empower services that already exist and, as in the case of primary health care, are functioning well.
The NTNER has both demonstrated how increased resourcing of health care for Indigenous Australians can lead to positive measurable change while, at the same time, showing how not to do it.
---
Read our accompanying piece: Ten years on, it's time we learned the lessons from the failed Northern Territory Intervention