Clothing has always played a key role in religious expression, and the theme of the recent Met Gala in New York – "Heavenly Bodies: Fashion and the Catholic Imagination" – and the sensational outfits it spawned showed that Christianity and its imagery can still cause jaws to drop.
The gala is a fundraising and showcase event for the Metropolitan Museum of Art's Costume Institute, which will host an exhibition on fashion and the Catholic imagination from May 10. But the event is also a big deal among the world's fashionistas, which means that it has made religion truly de rigeur. As curator Andrew Bolton said: "Dress is central to any discussion about religion. It affirms religious allegiances, and, by extension, it asserts religious differences."
The red carpet certainly glittered, but a closer look reveals the religious significance behind some of the best looks of the night.
You look divine
Stars referenced specific religious figures, from saints to the Pope – and no one's going to forget Rihanna's outfit anytime soon. Lily Collins and Lana Del Rey both paid homage to Our Lady of Sorrows, though focusing on different aspects of the manifestation of the Virgin Mary. Collins chose an understated reference using jewelled tears …
… while Lana Del Rey opted to represent the full iconographic horror of the heart pierced with the seven swords.
Some felt let down by Kim Kardashian West's gold metallic gown, which featured only small crucifix details. However, as one Twitter user observed, extravagant use of gold is also part of Christian ritual iconography.
Kardashian West's costume choice, then, might hark back to her internet-breaking magazine cover, which also associated her body with a cup overflowing with wine.
Clothed in glory
Halos predominated at the May 7 event.
From glittering metal crowns to Janelle Monae's nimbus-shaped hat, halos were used by celebs to indicate their divine status, reflecting centuries of iconography and legend. Known in the New Testament from Jesus's shining transfiguration and elaborated on by centuries of the glittering round halo that surrounds images of the Virgin Mary, the glowing halo is the symbol of divinity. But while spectacular halos abounded, one headpiece stood out from the crowd.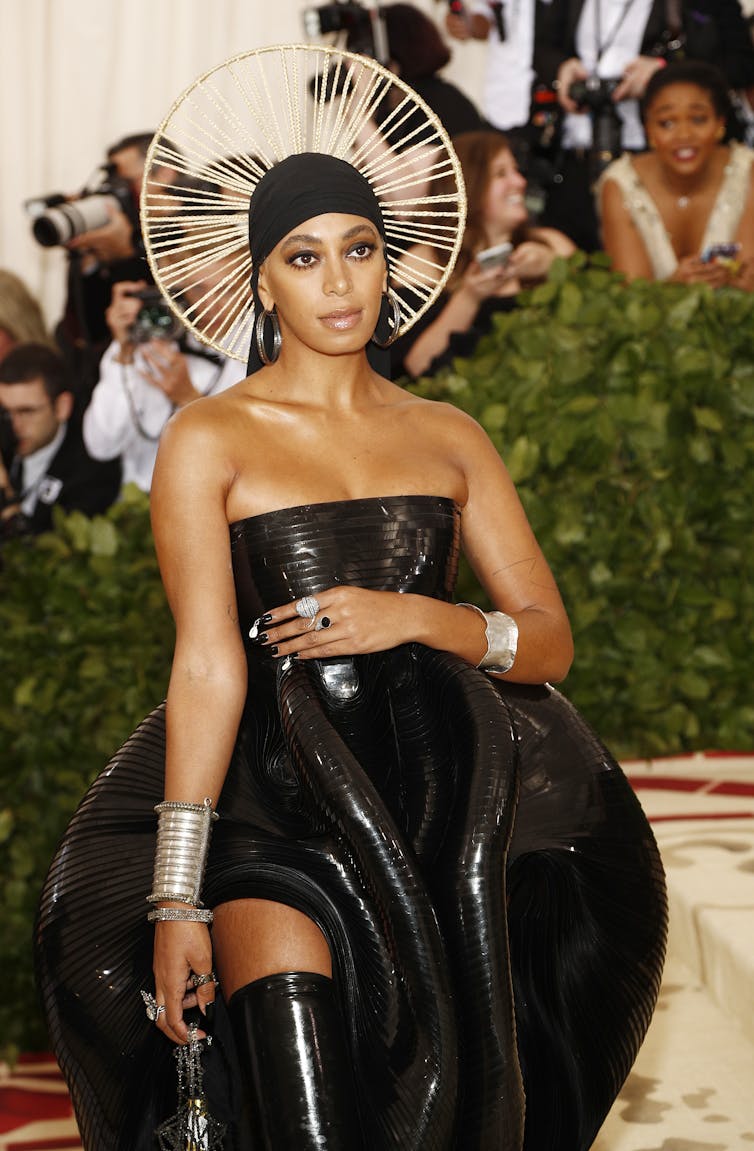 Solange Knowles paired her braided golden halo with a black du-rag, pushing back against the notion that heaven is white and reminding onlookers that contemporary African American sartorial culture is also heavenly. In an interview on the red carpet, Solange stated that she was directly influenced by the Black Madonna and African saints.
Her du-rag, flowing long like a train, is bejewelled with the words "My God Wears a Du Rag".
Disrupting white dominance
Bolton explained his focus on Catholicism, a choice that hasn't gone without criticism, to The Observer:
The genesis of the exhibition came about five years ago when I was hoping to focus on five religions — Islam, Buddhism, Hinduism, Judaism and Catholicism. The idea was to do site-specific interventions that represented those belief systems in galleries in the Met. But it became really clear that about 80% of the material that I was looking at was inspired by Catholicism. It makes sense, because of the Western tradition's imagistic history and the storytelling tradition.

It was beginning to look imbalanced. I was worried that it might be misinterpreted, that the other four religions might seem like tokens. And when the Vatican came on board, it made the imbalance even greater. So I decided to focus on Catholicism, because the body of material was stronger.
The focus on Catholic art history could have meant that the event – and associated exhibition – was overwhelmingly white, despite the fact that Catholicism is diverse and plenty of people of colour are represented in Christian art. But Solange disrupted this white dominance with her choice of outfit, as did many other women of colour at the gala. Several were also inspired by Black Madonna imagery to celebrate and foreground black women in a context where white women and white religious imagery is dominant.
Non Christian heavenly bodies?
Perhaps unsurprisingly given the theme, Christian iconography was everywhere at the gala. But there were a few exceptions. Selena Gomez stated in an interview that she wanted to embody Queen Esther, a pre-Christian biblical figure who saves the Jewish population and whose bravery is commemorated in the Jewish festival of Purim.
Gomez's handbag was also embroidered with the words from Proverbs 31:30: "A woman who fears the Lord is a woman who shall be praised."
Queen Esther isn't prominent in Christian theology but Christian use of Jewish figures is nothing new, and Gomez, a Christian, speaks about celebrating strong women in an interview with Vogue.
The original Wonder Woman, Lynda Carter, meanwhile, wowed spectators with her dazzling crown, which included the Hebrew phrase "l'olam al tishkachi" (never forget), and her Star of David hair pin.
Carter's use of Jewish imagery comes from a different point of reference to Gomez's since Carter, a former "born-again" Christian, is now married to a Jewish man and has Jewish children; Carter is self-conscious of her use of Jewish symbols and their meaning.
'Evangelism through beauty'?
At the exhibition's recent press preview, the Archbishop of New York, Cardinal Timothy Dolan, commented:
In the Catholic imagination, the truth, goodness and beauty of God is reflected all over the place, even in fashion … the world is shot through with His glory and His presence.
Rather than trying to convert people through fashion, the church should take a leaf out of Rihanna's book and shift some of its approaches. While a Pope Rihanna might seem laughable or heretical, the church has been resisting increasing pressure to ordain women as priests. The Met Gala shows that religion is being killed by outdated ideology rather than a lack of interest in it. Rather than just over-the-top fashion statements, the outfits worn by Solange, Rihanna and others represent a challenge to the white patriarchal status quo.