The UK government has announced that Adjaye Associates and Ron Arad Architects have won the design competition for the new Holocaust memorial to be sited next to the Houses of Parliament.
The design is for a mainly underground space, beneath parkland, that leads visitors through into an exhibition and learning centre.
The winner announcement brings to an end the first stage of what has already been a contentious project. Concerns were raised regarding its location in Victoria Tower Gardens and the Imperial War Museum has suggested that the new learning centre could end up duplicating its own redesigned Holocaust exhibition.
But little public commentary has been given to the ways in which the memorial has been deliberately conceptualised as a "sacred site" and its highly politicised relationship with Britain's religious landscape and ideas of national identity.
Explicit language of sacredness has surrounded the memorial project with remarkable consistency. The report from the commission set up by the prime minister that first proposed its construction repeatedly described Holocaust remembrance as "a sacred duty". Meanwhile, the UK's chief rabbi, Ephraim Mirvis, spoke of the project as a chance "to create a sacred space for reflection". Several shortlisted design teams used the word "sacred" in their publicity videos and one architectural critic even remarked that "the act of choosing a design itself held a sacred dimension".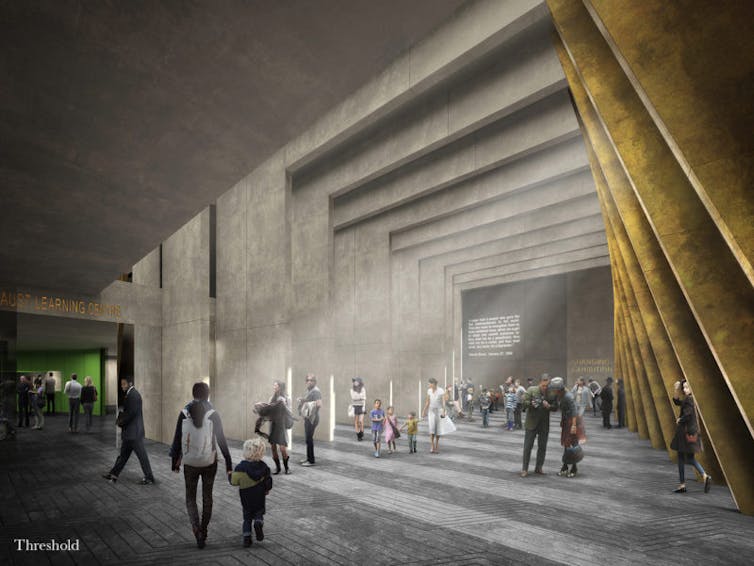 But underlying such recurrent vocabulary lies a vision of the memorial as spiritually transformative or, to borrow the language from the winning design team: a "holistic sensorial and emotive journey." Its plan includes a cavernous and dark "contemplation court" located within a larger underground complex that "envelops the visitor in the physical, intellectual and emotional experience".
Statement of 'British values'
Holocaust studies scholar Avril Alba has written of how remembrance sites in America, Israel and Australia function as "negative epiphanies" designed to instil in visitors a renewed appreciation for their own present-day societies. First announced by a government press release as a "permanent statement of our British values", it is clear that the sacredness surrounding the London memorial is intended to empower a similarly reinvigorated view of Britain and its governance.
Several designs for the London memorial featured sunken courtyards from which the visitor was pointedly positioned to catch sight of the looming Victoria Tower. Another included a vast architectural echo of a traditional Jewish prayer shawl that would deliberately frame the sight of the Houses of Parliament.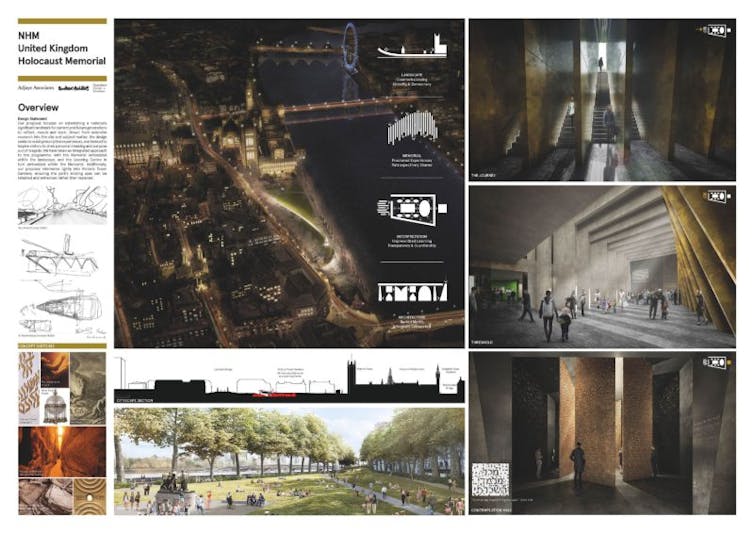 A description of the winning design similarly emphasised that "on leaving the memorial, the circulation route ensures visitors will emerge to see the classic uninterrupted view of parliament – and the reality of democracy". As the word "ensures" indicates, this will be a memorial journey in which a confrontation with historical horror is to be consciously partnered with a new and grateful encounter with an iconic landmark of British governance.
The memorial and religious communities
Yet if the new memorial is meant as a sacred location from which visitors are invited to emerge as (re)baptised inhabitants of British democracy, how does this all fit into the wider religious-secular landscape of the nation? Certainly the universal implications of remembrance were unambiguously clear in the minds of those that first proposed the memorial, with the commission report declaring its desire to "realise a bold vision … that will resonate with people of all faiths, from all lands, for all times".
But the relationship between the project's ideological underpinnings and specific faith communities is more uneven than such declarations suggest. Prominent Jewish groups were actively consulted, but in contrast to the community-funded Holocaust memorial unveiled in Hyde Park in 1983, the new memorial is a predominantly state-driven undertaking (paid for by the Department for Communities and Local Government).
With regard to Muslims and Christian communities, the memorial has particular relevance via its envisioning as a "permanent statement of our British values". The contentious term "British values" has its roots in anti-radicalisation policy and, during her term as home secretary, Theresa May made clear that the antithesis of "British values" is Islamist extremism. "British values" has, as such, become bound up in what looks set to be a long-running debate about the stigmatisation and othering of Muslims.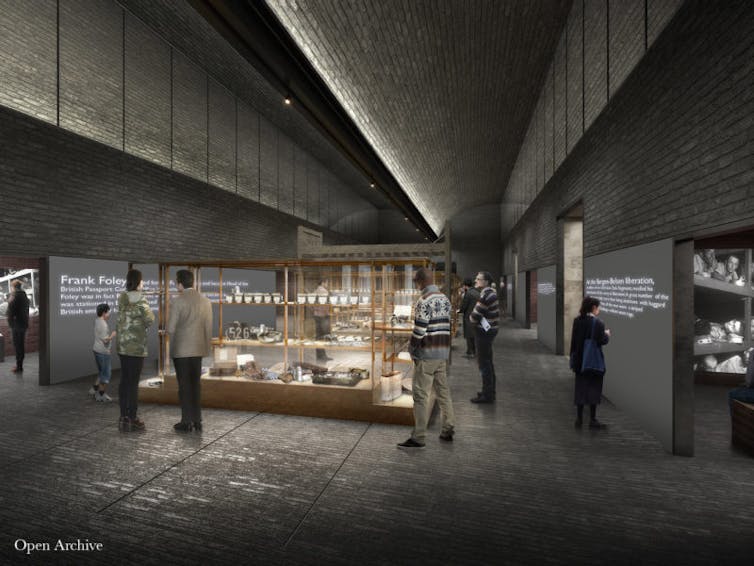 Both the former prime minster, David Cameron, and May have expressly linked national values with Christian heritage. This is awkward if we think simultaneously of the Holocaust memorial as an attestation to "British values" and the deep history of Jews having faced oppression at the hands of Christianity.
Veneration of the state
Underlying the interface between "British values" and public Holocaust memory is a fundamental point that, because of the side Britain fought on in World War II, remembrance of Nazi atrocities can appear to offer a moral clarity that ultimately bolsters national pride. Unlike other, messier aspects of British history (especially those concerned with colonialism and empire) a sacred site of Holocaust remembrance is ripe with potential to empower veneration of the state. And as I've suggested, this is not something that has been consistently resisted among those involved with creation of the new memorial in London.
In the design video that accompanied the original entry by the architects there is an oddly discordant moment when Ron Arad declares that: "We wanted something that is not trying to claim it for any kind of political purpose. We wanted to be free from that." But he then muses: "Can you be free from that?" It's hard to make sense of this comment in the context of a competition to build "a permanent statement of our British values" – in other words, one in which "political purpose" seems a part of its very conceptual origins.
But Arad's awkward aside attests to the tensions that lie at the heart of the project. Is it a site that valuably remembers the voices of survivors at a time when living witnesses to the horrors of the Nazi era may very soon pass away? Or is it a political endeavour bound up in the formation of 21st-century national identity that risks uncritically venerating the state? The problem, I suggest, is that the new memorial may be both.