Although sex workers around the world lobby for decriminalisation, sex work law remains controversial. This article is part of a series exploring sex work and regulatory reform.
---
In May 1984, Debbie Homburg, a member of the newly formed Australian Prostitutes Collective, told the ABC her organisation was calling on sex workers across Australia to declare a boycott on sexual services for MPs.
Within a couple of years, Homburg's comrades were not only holding negotiations on and off the couch, but meeting with the New South Wales attorney-general and running a government-funded drop-in centre for sex workers in Kings Cross. They were also visiting every brothel and sex worker in the state with condoms and advice for managers and workers about the then-deadly HIV/AIDS epidemic.
When NSW sex workers celebrated 20 years of decriminalisation in 2015, a party was held at Parliament House. Sex workers cut a gigantic birthday cake, watched by smiling MPs from both sides of the floor.
The Australian Prostitutes Collective later evolved into the NSW Sex Workers Outreach Project and Scarlet Alliance – Australia's peak national sex worker representative body. Today, they own a seat at the table whenever policy decisions are made that affect Australian sex workers.
The beneficial role of Australian sex worker organisations in contributing to the health and safety of workers and the wider community has long been recognised internationally.
Australian sex workers were actively involved in shaping and implementing the global gold standard in HIV/AIDS policy pioneered in NSW. That contribution would never have been possible without grassroots organising and campaigning by sex workers for radical law reform, backed up by groundbreaking research.
Decriminalisation allowed sex workers to step out of the shadows and into active participation in public life, where they've continued to shape law and policy in NSW over decades.
The push by sex workers for law reform in NSW began in the mid-1970s. Ironically, it was a community and police backlash against the 1979 repeal of street prostitution laws plus a government inquiry into prostitution policy that spurred the formation of the Australian Prostitutes Collective. Chapters were also formed in South Australia and Victoria.
An early Australian Prostitutes Collective street flyer describes how, following the 1979 repeal of street prostitution laws, controls were introduced to restrict the street sex trade to busy commercial roads where cars had difficulty pulling up to the curb. When they did, police charged the sex workers with obstructing traffic.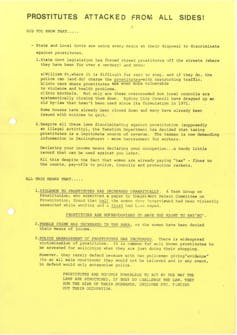 The police also revived an old law, the Disorderly Houses Act. Encouraged by the Sydney City Council, they used the act to close down brothels.
The Australian Prostitutes Collective declared that, in closing the parlours and forcing sex workers onto main roads, the police and council had increased violence against sex workers. Its research showed half of the approximately 100 women they interviewed had been violently assaulted while working. One-third had been raped.
The NSW collective members included sex workers, health and community workers, academics, lawyers and civil libertarians. However, its most active members were university students like Zoe, a former sex worker, who was one of the founding members and helped get the collective up and running.
Zoe said:
It's very important to me that it works and succeeds, and I need time - going to and around the parlours (brothels) and on the streets and talking to the women and getting to the grass roots of it.
Zoe and other collective members like academic, author and trans researcher Roberta Perkins spoke at public meetings and feminist groups advocating prostitution law reform.
Perhaps the collective's most outstanding and unacknowledged contribution was the ground-breaking research it produced for the New South Wales Select Committee of the Legislative Assembly on Prostitution 1983-86.
Perkins recruited Sydney University students to help interview more than 100 sex workers aged from their mid-20s to their early 60s. Women like Liza and Carole, who feature in the following audio clip, worked in the "houses" with open doors on Riley and other streets in East Sydney.
As was admitted in the inquiry findings, this committee was not – like earlier inquiries – forced to rely only upon information provided by sex workers who pass through the courts or drug rehabilitation centres. Some of these witnesses clearly saw themselves as "winners" rather that "losers" in "the game".
It would take another ten years for the NSW government to decriminalise brothels and adopt local council regulation of sex premises. But when it did, it ended a 16-year-long process. One that began with the decriminalisation of street-based sex work in 1979 ended with a bang in 1995.
In that year, the Wood Royal Commission into the NSW Police Force was set up. The commission heard evidence that corroborated sex worker testimonies about police corruption given to the NSW inquiry ten years earlier.
NSW, and now New Zealand, are the only two places in the world to have decriminalised the sex industry. Sex worker activists are hopeful South Australia will soon become the third.
In the early 21st century, a global movement has emerged that campaigns for human and civil rights for sex workers, and against the criminalisation of sex work. This campaign continues to be controversial. Several European countries have introduced the so-called "Swedish model", which purports to protect sex workers but criminalises their clients.
By contrast, Amnesty International, The Lancet, the World Health Organisation and more than 237 sex worker organisations describe full decriminalisation as the safest and most humane approach to the governance of sex work. That endorsement is the result of a process that sex workers themselves kick-started in NSW 40 years ago.
---
Read the rest of the articles in this series here.